When we turned off the narrow winding roads of Grasse and through the wrought iron gate to La Bastide Saint-Antoine, I knew this was going to be a special place. We drove down the olive-tree lined path, past rose bushes and breathed a sigh of relief… an air of relaxation surrounds the Relais & Château hotel. Even before seeing the five star rating proudly displayed at the entrance, the parking lot full of Mercedes, Porches and BMWs speak to the type of client who choose to rest their head here.
The front desk staff were kind and welcoming, and our bags were quickly gathered and brought to our room.
The first thing I saw upon walking down the hall in our room (yes.. our room has a hallway!) was a plate full of sweets and a letter addressed to Mr. and Mrs… My mom and I tried to figure out who was who as we devoured the macarons, jellied candies, and cakes.
La Bastide Saint-Antoine provides a kettle with a couple tea options and an SGL coffee machine with pods- a perfect afternoon tea upon arrival. After the Mr. and Mrs. discussion, we moved on to less confusing topics… like whether we'd have time to sit in the FIVE chairs in our room during our one-night stay.
The soft green and white motif seemed to make our room a continuation of the garden visible through the french doors in our room. It was a perfectly charming Provencal experience.
We put our things away in the cute hidden cupboards (which were stocked with extra blankets and two safes) and remarked about the creative use of space to hide a little shelf next to the bed.
The bathroom set up is perfectly for two travelers. Our toilet and bidet were located off of the entrance hallway and the tub and shower are in a room accessible from the bedroom. No waiting to go to the bathroom when someone (that would be me) takes too long drying her hair. Talk about a bathroom with a view… Our bedroom is just above the entrance, and has an incredible view of the surrounding village in the mountains.
If sweet views are your thing, take a walk through La Bastide Saint-Antoine's gardens. Stroll amongst the olive trees and be enveloped in the scent of lavender. The hotel has strategically placed benches around the property, and I wish I'd had more time to sit and read in the gardens.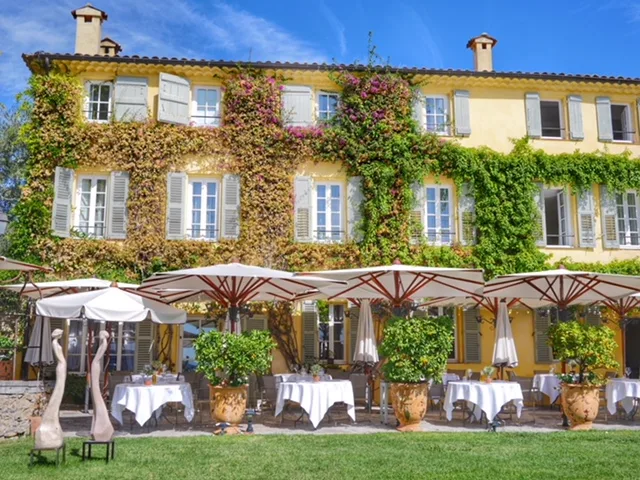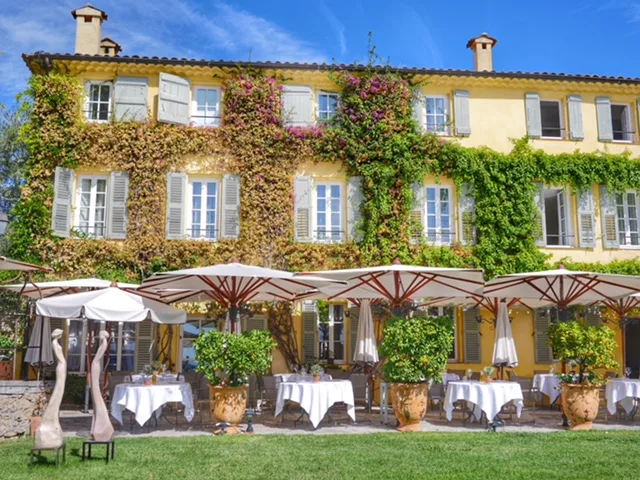 I visited in autumn, so it wasn't quite pool weather. I almost made an exception, though, because this pool and its views are fantastic. The jacuzzi has its own terrace overlooking the valley. If I hadn't been so very stuffed after dinner, the jacuzzi would have been the cherry on top of a very sweet day.
A Cause for Sweet Dreams
In case the welcome sweets plate isn't enough to satisfy your sweet tooth, Michelin-starred chef, Jacques Chibois' restaurant is just downstairs. The food and service is phenomenal, but the strawberry soup dessert was especially impressive. Comprised of wild strawberry soup, hibiscus, Japan pearls with bergamot from the garden served with a strawberry tartlet, and garnished with gold paper, this dish was surprisingly light and refreshing.
After the dessert was served, the waiter brought out an additional plate of gourmandises. We couldn't fit another bite in, so our waiter brought them up to our room in case walking up a flight of stairs caused enough space for more food. (It did.)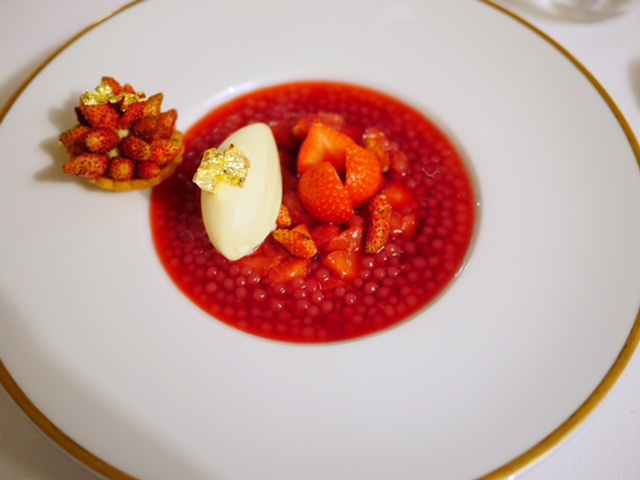 I wish you the sweetest time in Grasse, France, the perfume capital of the world! Be sure to stop by Fragonard, where you can make your own perfume! The Sweet Wanderlust's debut scent "I don't hate it" takes me back to Provence every time I spritz myself!
Pin this post!
SaveSave