After leaving the rest and relaxation of Peppers Cradle Mountain Lodge, Jean from The Traveling Honeybird and I headed for Launceston. Set on the Tamar River, Tasmania's second major city is known for its food and wine, and every local recommended we visit Cataract Gorge Reserve for its panoramic views.
Upon arrival at Mantra Charles Hotel we were greeted by Paul, the General Manager, who welcomed us with information sheets from Sophie, the Guest Services Agent with recommendations on bars, coffee, culture, shopping and secret spots.
Originally a hospital, the building was converted into a hotel by Czech winemaker Josef Chromy in 2010. In 2015, it was acquired by Mantra, and Mantra Charles Hotel has been welcoming visitors from around the world ever since. Today, Josef Chromy still lives on the top floor.
Spa Room
After sipping the beautiful complimentary tea in the lobby, we headed upstairs to drop off our luggage and freshen up after the drive.
When my keycard granted access to my room, my jaw dropped. The One-Bedroom Spa Apartment has a spacious spa tub built into the window of the bedroom overlooking the Tamar Valley. I've stayed in hotels with impressive tubs, but none within two steps of my bed! That evening, I stayed in the tub until my fingers and toes turned into prunes. And the next morning, I rolled out of bed and into the tub to watch the sunrise.
And while the pièce de résistance of this room is most definitely the tub, the rest of the room was pretty special, too. If I wasn't so obsessed with the tub, I could have written my best doughnuts of Melbourne post at the desk in the lounge room. Thankfully for me, the free WiFi works everywhere! And if the king bed wasn't so comfy, I could have eaten the cheese board with homemade fruit paste at the kitchen table.
The kitchenette was stocked with tea and coffee for a pre-breakfast caffeine fix, and the large flatscreen TV equipped with Foxtel kept me up to date with the latest news.
Pops of color from the artwork and orange chair that looks straight out of The Jetsons added a fun feel to this clean and modern hotel room. Every detail, right down to the Urban Skincare Co. toiletries reflected the funky, modern vibe of the hotel.
The Charles Restaurant
While I could have spent days just relaxing in the room… a girl's gotta eat and The Charles restaurant was a site for sore eyes! Our server, Mary-ann, has been at the hotel since it first opened and had some great stories to share! After a little chit-chat about how Launceston is growing and attracting more and more visitors, we started off with a bottle of Pepik Pinot Noir by Josef Chromy. Did you know Pepik is a Czech nickname for Josef?
I was feeling especially carnivorous (and perhaps a bit iron-deficient), so I opted for a completely red meat meal. The Seared Kangaroo Fillet, served medium rare with quinoa tabouli salad and lemon myrtle yogurt was the most delicious preparation of kangaroo I've tried in my two years in Australia.
I moved from red meat number one to red meat number two with a 300 gram Szechuan Spiced Scotch Fillet with celeriac, shallots and garlic. There must be something special happening in Tasmania, because this was the second perfectly cooked steak I'd tried in two days! I regretted leaving a couple bites on my plate, but knew that dessert was on its way.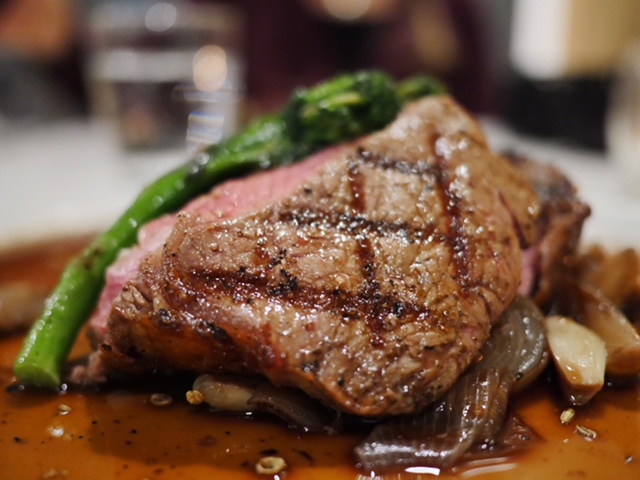 With options like Lemongrass White Chocolate Crème Brûlée, Chocolate Jaffa Marquise Mousse Cake and a Strawberry Frangipani Tart, the choice was difficult. But when I learned that a Nutella Fondant was on offer as a chef's special that evening, I jumped at the opportunity to try it. I hope for your sake that it's on the menu when you arrive, because it's one of the best desserts I've ever tried. When I cut into the delightfully rich cake, a thick chocolate-Nutella sauce oozed out all over the plate. I cleaned the plate and went off to bed with visions of fondant dancing my head.
The next morning, my sweet tooth was at it again. I opted against the healthy and savory options on the menu in favor of the pancakes with banana, bacon and maple syrup. Elvis would have been proud! While Melbourne has some of the most Instagrammable brunches in the world, this simple and delicious meal was one of the my favorites!
A Cause for Sweet Dreams
In case you're still craving something sweet, there are a few great options for desserts and sweet treats around Launceston.
Charlie's Dessert House
As a dessert-loving travel blogger, I was stoked to hear that Brooke Saward from World of Wanderlust started her very own dessert café. Although the Gorge was everyone's #1 recommendation for things to do in Launceston, Charlie's Dessert House was #1 on my bucket list. I stopped in for a Zupershake and was not disappointed! The cookie butter flavored shake topped with colorful popcorn was a great snack, and unlike most of the OTT freakshakes in Melbourne, this one didn't leave me with a sugar hangover!
Sweet Brew Espresso Co.
We visited Launceston just before International Donut Day, and jumped at the chance to do a little research. The donuts at Sweet Brew Espresso were nearly sold out before 8am, so we were lucky to try them. They alternate making donuts and cronuts, and the day we visited was a cronut day. The flaky pastry, deep fried to perfection with a cream or jam filling is a great way to start the day!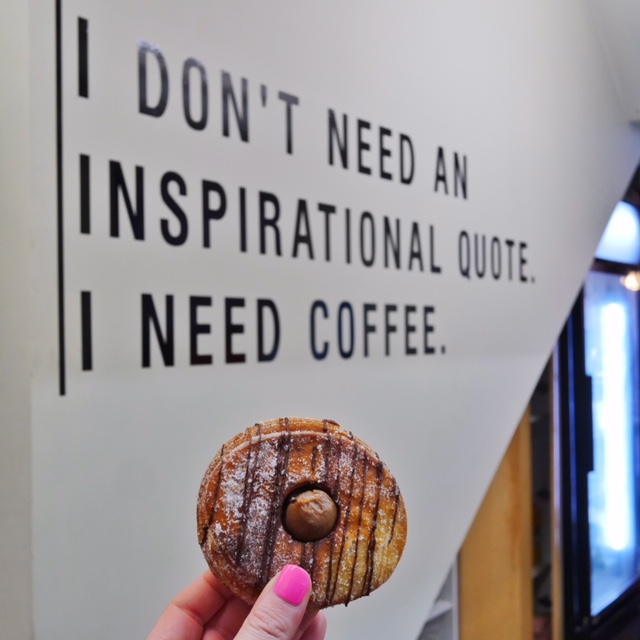 Wendy's
This is a far cry from the American burger chain, but equally as affordable. Stop in for a scoop of ice cream, or a $1 freshly made cinnamon sugar donut during happy hour. It's simple, but it sure made me happy!
Whether you're visiting Launceston to explore nature, wine or the dessert scene, you're sure to find what you're looking for. Have you visited Launceston?
Disclaimer: I was hosted at Mantra Charles Hotel and Charlie's Dessert House. As always, though, all opinions are my own, and I'd never recommend anything to you that isn't awesome!
Pin it!