Early Sunday morning, Jean from The Traveling Honeybird and I boarded a flight from Melbourne to Tasmania for an extended girls' weekend of relaxation, nature and (of course) good food. On arrival into Launceston, we hopped into our rental car and headed toward Cradle Mountain. It's a good thing Jean was driving, because I was too distracted by the gorgeous scenery to focus on the road. I attempted to take video, but in order to not trigger remote carsickness, I'll leave it to your imagination to conjure the feeling of driving winding roads between pine forests and towering mountains.
Stay
Traditional Spa Cabin
On arrival at Peppers Cradle Mountain Lodge, Jean and I checked in at reception, a rustic lodge warmed by a glowing fire. We were greeted with smiles and the woman at reception handed over a schedule of optional touring, the key to one of two family spa cabins on property and a map with instructions on how to get there. The family cabins have a queen bed in the main room and a separate bedroom with two twin beds, perfect for families or friends traveling together.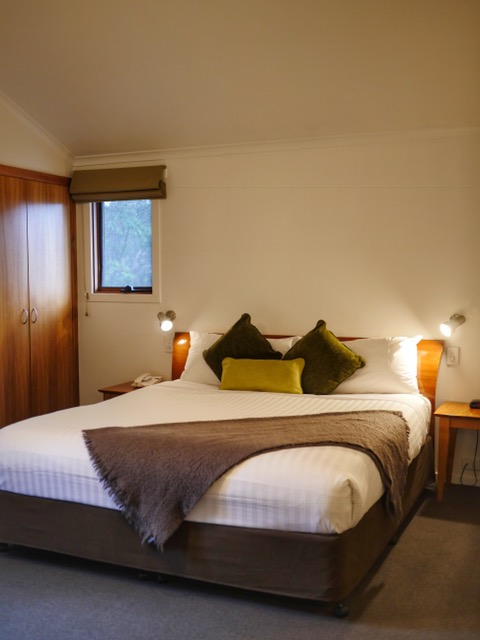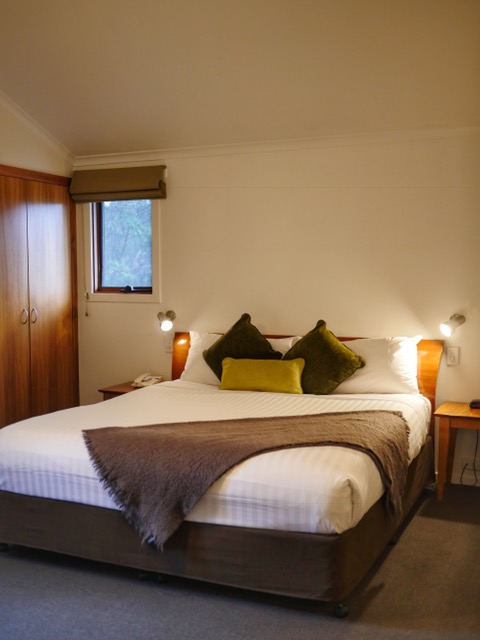 As we walked into our room, I was immediately drawn out the back door to the balcony overlooking a forest of Pencil Pine trees. I love city life, but after months in Melbourne, it was really nice to be away from noise and the busy lifestyle. The temperature was chilly, but standing on that balcony, miles from distractions, I felt at peace. That is one thing to note— there is no cell service or wifi in the cabins. If you need a Facebook fix, there's wifi in the lodge.
Back inside the cabin, I continued exploring. The wood-burning fireplace (stacked and ready to light) added to the rustic vibe. Crackling logs and the smell of a campfire conjures all the nostalgia of the great outdoors. And while the great outdoors are… great… I truly enjoyed the Peppers Cradle Mountain Lodge style of 'campfire' enjoyed on a couch with a cup of tea or sharing a bottle of sparkling wine.
If you like appreciating the great outdoors from the comfort of indoors, there's a picture window next to the giant spa tub that overlooks the surrounding Myrtle forest. I raided the kitchenette and made myself a Twinings tea to bring with me to the bath. The cabins are stocked with Appelles toiletries and their Ginger Lily Himalayan Bath Salts took my bath experience to the next level!
Eat + Drink
The Highland Restaurant
If you've been following my blog for long, you'll know I LOVE to eat. From donut burgers to Michelin-starred dining experiences, I am an appreciator of all food. But every once in a while, a dining experience stands out above the rest. Our 3-course dinner in The Highland Restaurant was one of those experiences.
We were greeted by the lovely Denah from Canada, whose smile and commitment to customer service never faltered. When I was indecisive about my wine choice (as per usual), she returned back with tasters of a few different reds for me to try. She made sure that I loved my choice. And when a french-speaking couple sat down for their meal, she spoke flawless french. I later heard her confess that she's not from the french-speaking region of Canada, which made me super ashamed at my (lack of) language skills.
Once we had perused the wine list and made our choices, we moved on to the main event. I am not usually a fan of fish, but Tasmania is known for their salmon, so I went a bit out of my comfort zone to get the full Tassie experience. I ordered the 40° Cured Tasmanian Salmon with horseradish crème fraiche, bickled baby beetroot and topped with salmon caviar, and from the first bite, I was a convert to Team Salmon. The flaky fish, creamy sauce and burst of the caviar was a perfectly light and yet decadent start to the meal.
If there's steak on the menu, I can't resist. I ordered the Tasmanian Eye Fillet, accompanied by butternut purée, sous vide cocktail onions, buttered spinach and port jus. I've made more than one Australian upset with my claims that I just plain don't like Australian steak. Turns out, I just hadn't tried Tasmanian steak yet. The eye fillet came out perfectly pink- just the way I like it. My compliments to the chef for the first truly medium steak I've had in two years.
At this point, I was stuffed. My dessert stomach still needed a little something sweet, though, so I ordered the Apple Fritter. Prepared differently than the North American donut that bears the same name, this dish is prepared with thinly sliced apples, lightly battered, fried and served with ice cream. A perfect ending to an amazing meal.
A buffet breakfast is served daily in The Highland Restaurant. Come hungry, because this is one of the best buffet breakfasts I've tried. Don't miss their pancakes or the homemade blood orange marmalade!
Tavern Bar & Bistro
Fancy food is my favorite, but there's something comforting about a substantial pub meal. After a day of hiking and spa-ing, we needed replenishment. Relaxation can be so tough! We headed for the pub and I ordered the chilli calamari spaghetti with house-made Napoli sauce and a Honey Porter to drink. The spaghetti was a Texas-sized portion, and despite my best attempts, I couldn't finish the delicious, warming meal with just enough of a spicy kick to it.
Devil's Lounge
Sure, there's a regular lounge that can be accessed by anyone in need of a game of Uno or a spot of Wifi to update Instagram. But if you're staying at Peppers Cradle Mountain Lodge, access into The Devil's Lounge is part of the package. Sink into plush leather armchairs and order drinks from a guests-only bar in the lounge. Secure a spot in front of the fire and enjoy!
Explore
Hike
I'm more of an "eat my weight in sugar and relax" kinda girl than a "go for a hike and exercise" kinda girl. But I was on holiday with The Traveling Honeybird, and she owns not one, but two pairs of hiking boots. So we laced up and set off for the iconic Dove Lake track. Be sure to buy a pass to get into the National Park at the Cradle Mountain Lodge reception before heading out!
The entire Dove Lake circuit takes around two hours, and is a relatively easy walk. I wore Jean's boots, but since we visited in autumn, it would have been easily accomplished in a pair of running shoes. During winter, you can trek Cradle Mountain in showshoes!
During your walk, be sure to climb onto Glacier Rock for incredible views of the surrounding area. Look down at the striations in the rock for a glimpse into the geological history of the area. The scratches in the rock were caused thousands of years ago from debris in the glacier that moved over this rock.
The boardwalk takes you through the Ballroom Forest, and while there was no foxtrotting going on while we were there, I'm sure a spotted-tail quoll or two have made moves through the area.
Stop at the boatshed, a relic of times gone by. Built in 1940, this boatshed was a hub of activity when boating was popular on Dove Lake. It's still quite popular today and is a favorite of tourists and photographers.
Wildlife
Australians are quick to tell you all about Drop Bears, the koala's lookalike with a violent temper. The government even has a page dedicated to warning tourists about these vicious creatures. The only problem? They don't exist.
When we booked our trip to Tasmania, my Kiwi and Aussie friends were excited to tell me all about the animals I'd find there. And perhaps it says something about my trust issues that I Googled each and every one to ensure that they were, in fact, real.
The following animals DO exist and are all spottable at Cradle Mountain Lodge and the surrounding area. Go on your own, or join one of the daily wildlife-spotting tours from Peppers Cradle Mountain Lodge to go with a pro who knows all the best spots to find Aussie animals.
Wombats
The wombats at Cradle Mountain Lodge are fearless! I was so excited to get so close to the wombats I could hear their teeth chomping as they munched on grass.
Pademelon
Pademelons look like a cross between a wallaby and Rottnest Island's quokka- the happiest animal in the world. They're a bit jumpy, though, so approach quietly or they'll bounce away.
Platypus
Rumor has it that there's a platypus in the lake just outside the lodge, but try as I might, that little guy just didn't want to be spotted!
Tasmanian Devil
Just down the street, Devils @ Cradle offers the opportunity to learn about the world's largest carnivorous marsupial, the Tasmanian Devil. Named for the screeching sounds they make when they fight for food, these cute creatures pack a punch, so don't ever approach them.
Relax
Waldheim Alpine Spa
The Sanctuary
I love a good spa session as much as the next girl. Saunas, steam rooms and hot tubs are the perfect way to relax. But there was a bit of a damper on my last spa experience when I noticed man in goggles ducking under the surface in the public spa that made me a bit uncomfortable. The Sanctuary at Cradle Mountain Lodge's Waldheim Spa is the perfect answer to alleviate any creepy-dude fears.
After my massage, we were escorted back to The Sanctuary for a perfectly private spa experience. With one hour to enjoy our very own sauna, steam room, cold plunge pool, outdoor spa pool and private relaxation lounge, we aimed to make use of them all. With the last traces of daylight, we headed outside to the hot tub and watched the sun set over the Pencil Pine River and Towering King Billy Pines. As we sat in the hot tub, enjoying the contrast of toasty warm water and frosty breeze on our shoulders, we were treated to a few cloud-free minutes and watched the first stars emerge over Cradle Mountain. It was a truly magical moment.
I was brave and hopped into the cold plunge pool and was faced with immediate regret until realizing that the cold water is quite invigorating and makes the hot tub even cozier.
We tried out the sauna and steam room too, and left The Sanctuary feeling refreshed and relaxed.
The experience is $120 for two people with the option to purchase beverages if you'd like to loosen up a bit more (if that's even possible). The time spent in that hot tub took months of stress off my body and was a perfect spot to watch the sunset.
When it was time to check out, I didn't want to leave. The Cradle Mountain region is lovely, and Peppers Cradle Mountain Lodge was the perfect base for an active, yet luxurious holiday.
Disclaimer: I was hosted at Peppers Cradle Mountain Lodge, but all opinions are my own and I'd never recommend anything to you that isn't awesome!
Pin this post!