She sells seashells by the seashore was a fun tongue twister when I was young. Now that I'm a bit older, I much prefer this updated version: She stays at Seashells by the seashore. On my recent trip to Broome, I checked into Seashells Broome, an award-winning property with a choice of 4.5-star AAA rated fully self-contained 1 and 2 bedroom apartments and 3-bedroom bungalows just steps from Cable Beach.
Seashells Broome
Honey, at the front desk was an absolute gem, offering advice and making our check-in process a breeze. Throughout our stay, she'd follow up on previous conversations as we passed by reception– it's little touches like that that that make the difference between a good and a great stay. Once we received our key and a rundown on the property's amenities, we set off to find our apartment.
From the outside of the property, Seashells Broome looks like a deluxe resort. From inside, it is both deluxe resort and tropical oasis. We wheeled our luggage past the lagoon pool (more on that later) and under a canopy of palm trees through the resort, which is situated on the grounds of the old Pearl Coast Zoo developed by Lord McAlpine in the mid-1980s.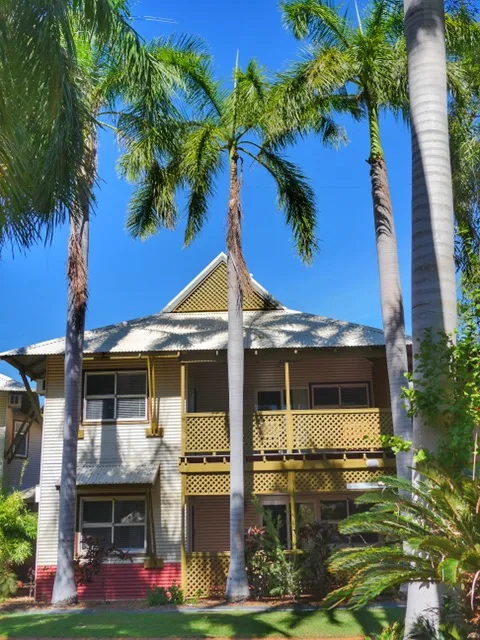 Self-contained 2-bedroom apartment near Cable Beach
Upon entering the 2-bedroom self-contained apartment, we had a little dance party of excitement. (And there was plenty of room, because the open plan kitchen, dining area and living room are among the most spacious I've ever seen in a resort!) Little details from the tinges of red and orange in the couches and window treatments to the art on the wall remind you that you are in the Kimberley. I was torn between plopping onto the oversized couch to watch a bit of tv (I haven't had a tv in years!) and exploring.
The adventurer in me won out. We each claimed a room- the master bedroom is equipped with a king sized bed and an en-suite bathroom with a spa tub and rain shower head.
The second bedroom has two twin sized beds, which makes this apartment perfect for a family with children or group of friends traveling together. There's a second half bath with a toilet and sink off of the main hallway, so late-night bathroom stops won't wake whoever is sleeping in the master bedroom.
The two-bedroom is $385AUD per night and can accommodate up to four adults. A little searching revealed that this apartment is the least expensive option for a two-bedroom hotel or apartment in Cable Beach.
Free Laundry & Wifi
After one week of exploring the Northern Territory before heading to Western Australia, we were in dire need of some clean clothes. I knew I hit adulthood when laundry duties came before pool time. But a little adulting never hurt anyone! Seashells Broome offers free laundry powder, which lasts for about 4 loads. Plus…. there's a dryer! This American girl was stoked to have tumble dried clothes after a year of hanging them out to dry!
While the clothes tumbled dry, we posted updates of our time in Broome on Instagram with the free wifi. It's limited to a free 500MB per day, but you can purchase additional or put down the phone and go to the pool!
Lagoon Pool
With clean clothes ready, our pool day could begin! Seashells recently renovated their outdoor lagoon swimming pool and childrens' paddling pool, outfitted with new outdoor lounges for sunbathing. The overhead sails offer plenty of shade, but there's always a spot in the sun, just in case you're an American about to return home from winter in Australia and desperately need a bit of color. If you're not sold on the gorgeous turquoise water and the relaxing atmosphere… it's temperature controlled. Perfectly pleasant all year!
Dining
The kitchens at Seashells are equipped with all the cutlery, cookware and utensils to cook meals – just add ingredients! After a day on the water with Absolute Ocean Charters, we came home with a mackerel, black snapper and two Spanish flags. If we'd chosen a traditional hotel, that deliciously fresh fish would have gone to waste. But thanks to the stovetop and outdoor gas barbecue grills in the garden, we feasted on fish for two days!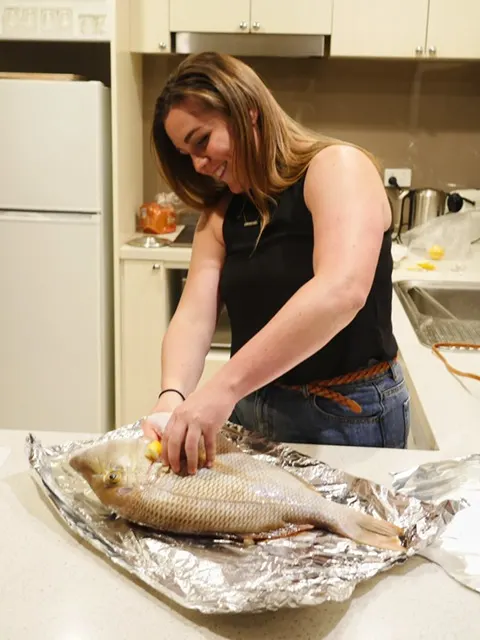 If you need a full grocery experience, the closest store is accessible by the Broome Town Bus. If you just need a couple items, Seashells has a mini store on site with essentials like ice cream, Tim Tams and Shapes.
Not much of a chef? The Zookeepers Store is a gourmet delicatessen a one-minute walk from Seashells. We loved the Keepers Benedict so much that we were three times for breakfast! The restaurant has won Best Breakfast and Best Restaurant in Broome, so be sure to stop by at least once!
Accommodation near Cable Beach
Cable Beach is consistently named one of the top beaches in the world and rightfully so. It's 13 miles of white sandy beach with some of the best sunsets in the world. Those staying in Broome will need to take a bus from town into Cable Beach, but not you!
In about 10 minutes, you'll go from the comfort of your couch at Seashells to digging your toes into the sand. Be sure to show up 45 minutes before sunset to claim your spot and watch the famous Broome camels walk the beach as the sun begins to dip in the sky. Stay until the stars come out to make sure you don't miss any of the color-changing magic of a Cable Beach sunset.
Things to do in Broome
Seashells offers a free app with local attractions in addition to FAQs about the property. Want to know about restaurants nearby or how to work the washing machine? It's all on the app.
If you're curious about astronomy, dinosaurs and a dolphin breed you won't see anywhere else, read about some unique things to do in Broome that you can't try anywhere else.
Check out
When it came time to leave, we left it until the very last second, enjoying moments on our private veranda and taking one last dip in the pool. The General Manager, Deb, and her team have fostered a friendly, yet luxe, environment suitable for friends, couples and families looking for an affordable dream escape near Cable Beach.
Disclaimer: We stayed at Seashells Broome at a discounted rate. As always, all opinions are my own, and I wouldn't recommend anything to you that isn't awesome!
Pin this post!