When I visited Scotland last Autumn, I went with two goals: to find the Loch Ness Monster and to discover the most unusual places to stay in Scotland. I succeeded at only one of my goals.
The weather in Scotland was to blame for many of my planned activities' cancellations (apparently it's not safe to go canyoning in a torrential downpour), so my accommodation in Scotland was a nice respite from the rain. I stayed in a sleeping car reminiscent of the Hogwarts Express just minutes from the Glenfinnan Viaduct where Harry Potter's opening scene was filmed and channeled my inner Hermione. The Highland Cows and I hung out when Nessie was nowhere to be found. And after checking out some of the best whiskey distilleries in the world, I slept in a real-life castle and lived my best Disney Princess life.
The most unusual places to stay in Scotland
Converted sleeping car of a train near the Glenfinnan Viaduct
Glenfinnan
If you're a fan of Harry Potter, the Glenfinnan Viaduct will be a familiar sight. The Hogwarts Express makes its journey over these tracks in the films, and it's located a two-minute drive or a 30-minute walk from this Glenfinnan accommodation. While I can't guarantee you'll wake up at Hogwarts, boarding this train is definitely a good idea.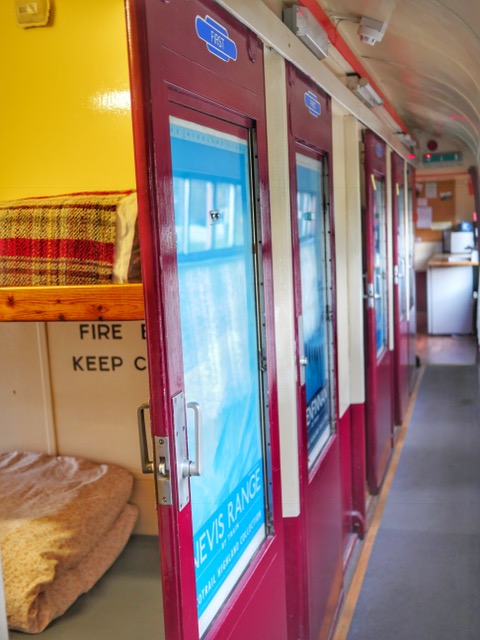 The Glenfinnan Station Museum's Sleeping Car offers individual sleeping coaches for £20 per night. This is quite possibly the best deal on a private room you'll find in the UK. The room has a bunk bed and a heater, and just enough room to store a suitcase, but it's really all you could possibly need.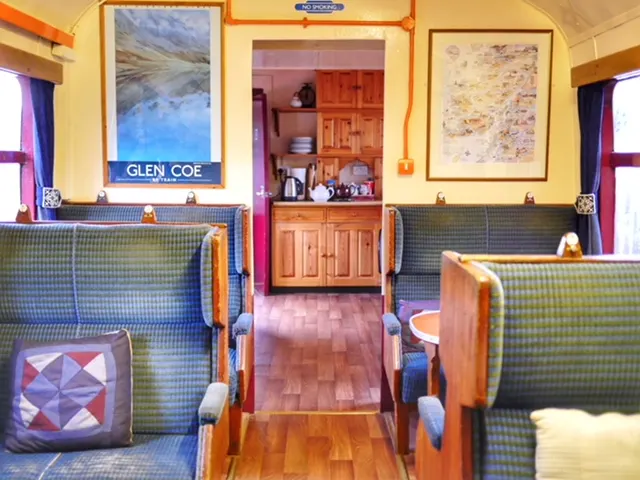 Feeling peckish? The Dining Car serves breakfast and lunch and I highly recommend the chocolate tiffin. The sleeping car also has a full kitchen and dining area if you'd prefer to save a bit of cash and cook.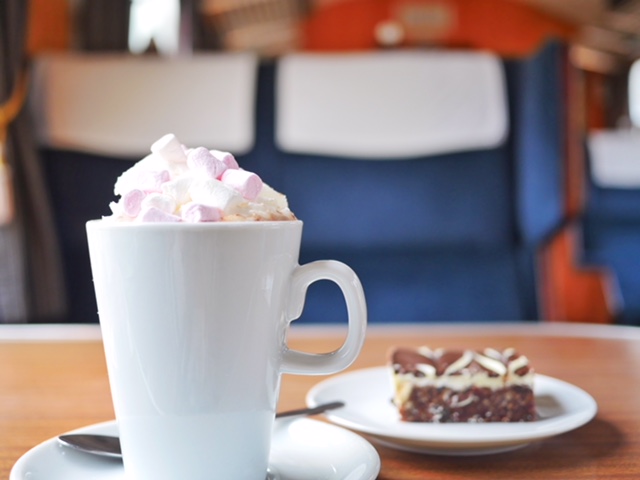 Sit back, relax and pretend you're Harry Potter (or Hermione) on your way to Hogwarts. Bertie Bott's Beans and Chocolate Frogs not included.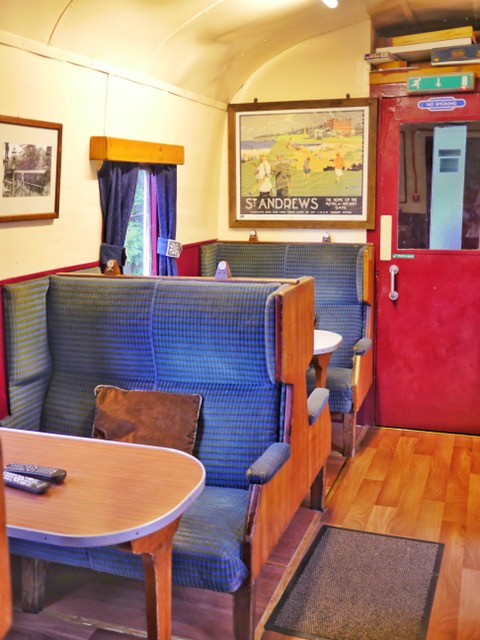 Glamping near Loch Ness
Drumnadrochit
From the time of St. Columba's Loch Ness monster sighting in 565AD, there have been over 1,000 recorded sightings of something unexplainable in the waters of Loch Ness. I didn't find Nessie here, but I got to meet the resident sheep, ponies and Highland cows at Loch Ness Glamping Pods!
Graham and Sonia's business started as a bed and breakfast which took off once they added the glamping pods. I was lucky to get a night here, as they were mostly booked out, even at the end of the season. I booked my stay in an Armadilla, a self-contained pod with a double bed, toilet, sink, shower, closet and refrigerator. (Usually, glamping pods share a communal toilet and shower, so this was quite a treat.)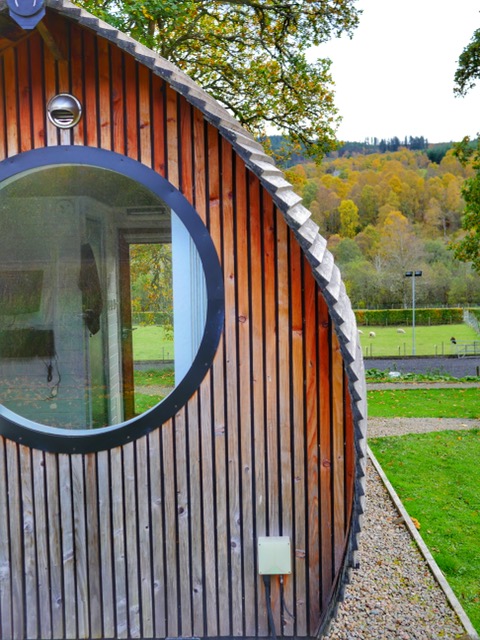 The pod even has a tv with a DVD player and a sound system. I took advantage of the lending library to do some research in the form of the 1996 film, Loch Ness
. (Unfortunately, this was my only sighting of Nessie, even though I scoured the loch and visited the Loch Ness Centre and Exhibition).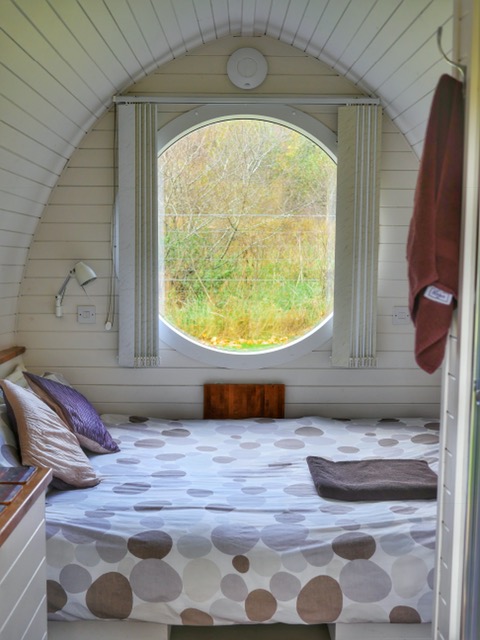 I was impressed at how spacious the tiny house actually is, and love that it is self contained. If you'd like to do a bit of cooking, Graham and Sonia sell meat from their farm and provide barbecues for guests' use. There's also a community pod, with a grill in the center for cooking and heat. Some guests choose to dine around the fire for breakfast, which can be purchased from Graham and Sonia for £7.50. It was nice to receive a hot breakfast before leaving, and I was brave and tried the haggis.. not bad at all!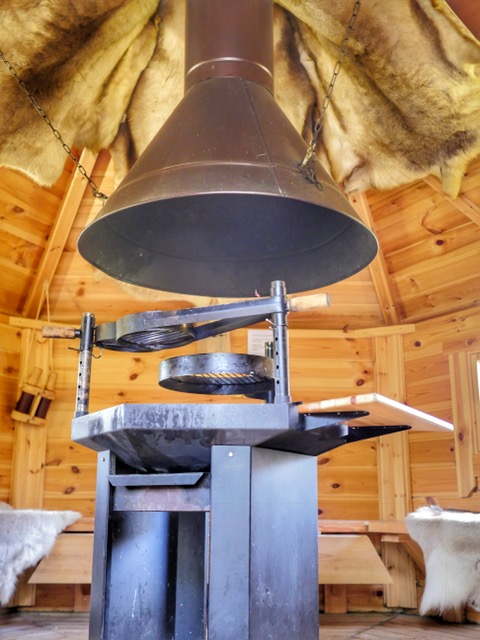 The pods are a bit out of Drumnadrochit, but Cobbs Restaurant in The Loch Ness Clansman Hotel provides a free shuttle service so you can enjoy a cocktail or two at the only restaurant that overlooks the loch. I recommend the Loch Ness Lager.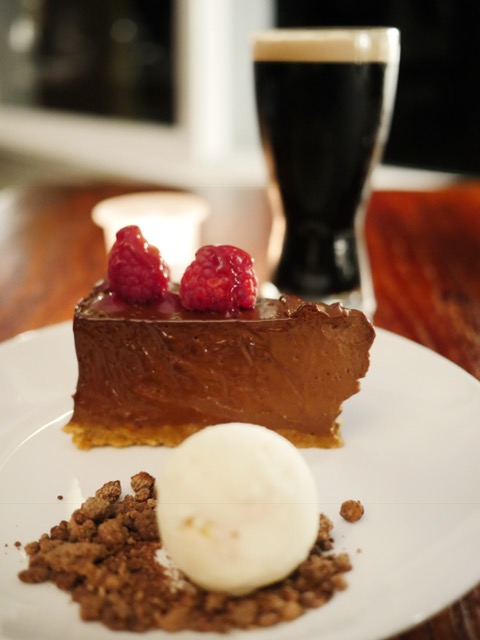 MOO-ve on up to the Isle of Skye and stay at The Cowshed
Uig, Isle of Skye
Hostel life can be hit or miss, but The Cowshed on the Isle of Skye was clean, comfortable and as private as possible in a room with six people.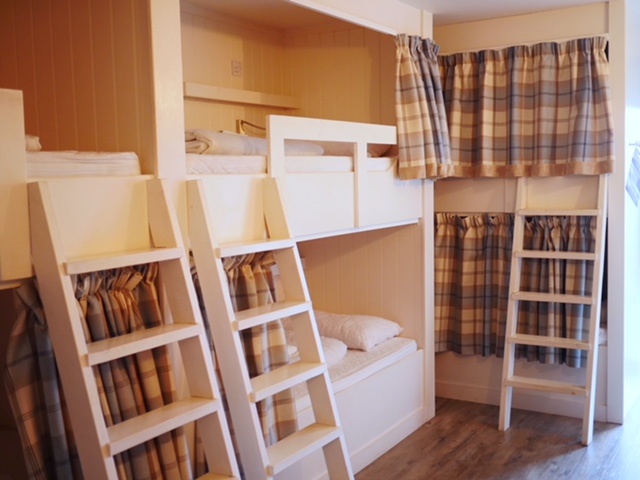 The wooden cubby bunks were sturdy (no weird squeaks) and each bed has a light, power point, and curtain to close your capsule. The Isle of Skye is one of the most scenic parts of Scotland, and if you're following this Isle of Skye itinerary, the mysterious Fairy Glen is just down the road from the hostel. Depending on who you ask, the rock formations are either left my other-worldly creatures or tourists. Which story do you believe?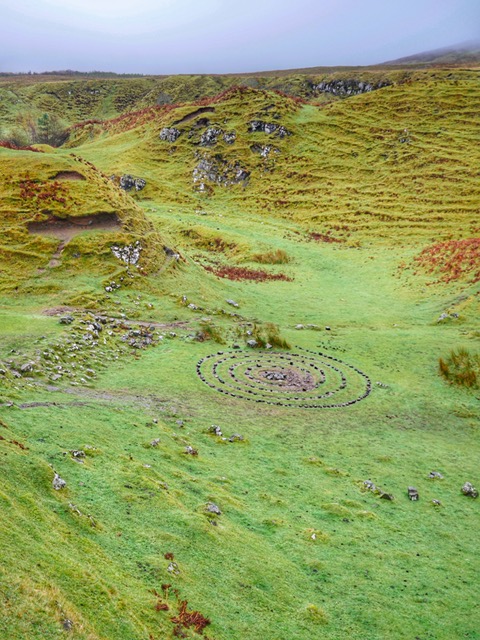 Live your best princess (or prince) life at the Castle of Park
Aberdeenshire
Before my trip to Scotland, I explained to anyone who would listen that my itinerary was based around my plan to 'princess my way through the country.' I was mostly met with snorts of 'well, don't expect to be treated like one'.
I'd planned my trip around the available dates at Castle of Park, the most castle-y looking castle I could find. And my inner-princess senses were absolutely right. I was met and welcomed by Becky Campbell-Wilson who made me feel immediately at home. I always thought I'd feel at home in a castle!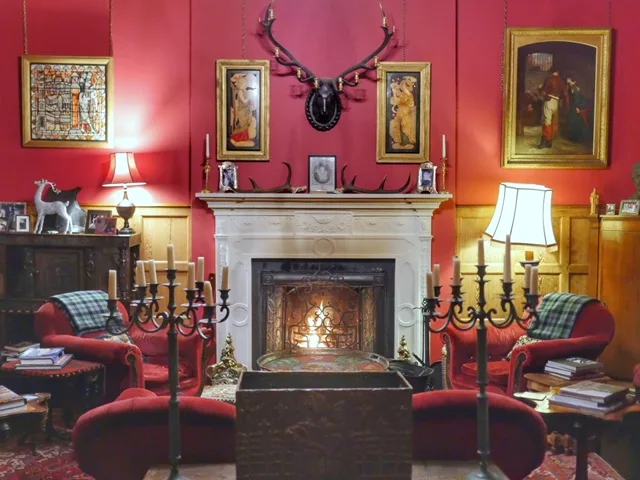 The decor was perfectly royal, and I had to tear myself away from the velvet armchair and Scotch whiskey from Tomatin Distillery by the fire. Luckily, a herd of Highland cattle on property were the perfect excuse to leave the Great Hall.
You can read more about my time at the most awesome castle accommodation in Scotland here. Staying closer to the city? Check out the best castles near Edinburgh!
Glenshee Glamping Pod and llama trekking
Glenshee
If you've been following me on Instagram, you know that I have a bit of an obsession with alpacas and llamas. It all started on the Inca Trail and has grown ever since. After passing a farm full of alpacas, I did some research on llama interactions in Scotland and was rewarded when the Glenshee Glamping Pod and Llama Trekking Company popped up. I booked myself into a 'romantic pod for two' and reserved my spot on the llama trek for the next day. I spent a super exciting morning trekking the Cairngorms and getting to know Scotland's reindeer herd before heading to Glenshee.
After a bowl of soup at the Wee House of Glenshee, I made it to the Glenshee Glamping Pods around sunset and was greeted by four llamas and two donkeys eating dinner.
I checked into my pod, a romantic wooden bungalow with a heart above the bed. This pod is for sleeping only, so showers, toilets and sinks are located in another building nearby. There's also a community area for guests to congregate.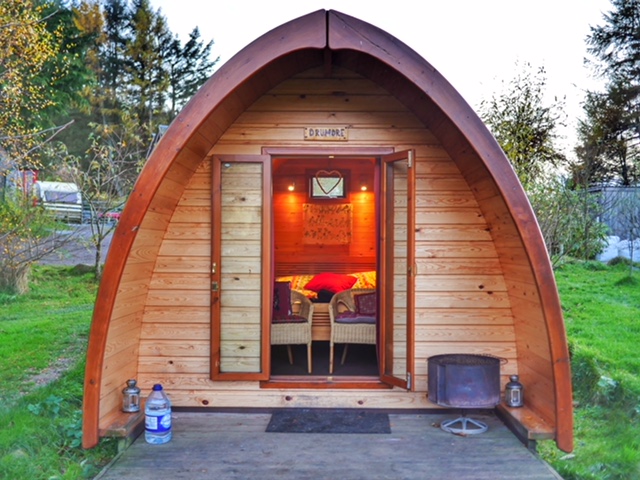 I hoped the clear night would provide an opportunity to see the Northern Lights, but the elusive lights didn't make an appearance. It's not unheard of in Glenshee, though, and I was overcome with jealousy when I heard the story about one New Year's Eve when the lights danced across the sky.
The next morning, I was up and ready to meet the llamas and explore a bit of the Scottish countryside. I was introduced to the llamas, and learned that three of the four would be coming with us. Llamas are pack animals, so if one of the three got left behind there would be some major llama drama later. The fourth llama is a rescue and is happy to stay back with the donkeys.
Once we got the llamas in the trailer (and I experienced my first instance of llamas spitting at each other), we drove to a nature trail and set off. The llamas were well behaved and truly seemed to enjoy the walk. I'd never heard llamas make noises, but Jet whined what is apparently a contented whine for 2/3 of the trip.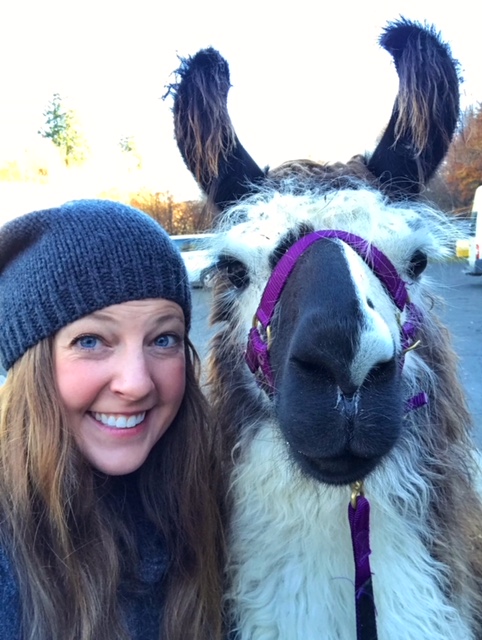 The walk was over too soon, but I made some amazing memories and got a pretty rad selfie. I don't think this is Atticus' first rodeo!
The Drovers Inn
Loch Lomond
You are out of your ever-loving mind if you think I'm going to stay in Scotland's most haunted hotel… but I was brave enough to stop for a coffee. (I should note that I visited near Halloween, so the decorations were a little more OTT than what you could normally expect.)
As I sat sipping my latte, I read up on the hotels ghostly guests on their website. All the money in the world couldn't convince my scaredy-cat self to stay, but if you're braver than me, I'd love to hear your stories!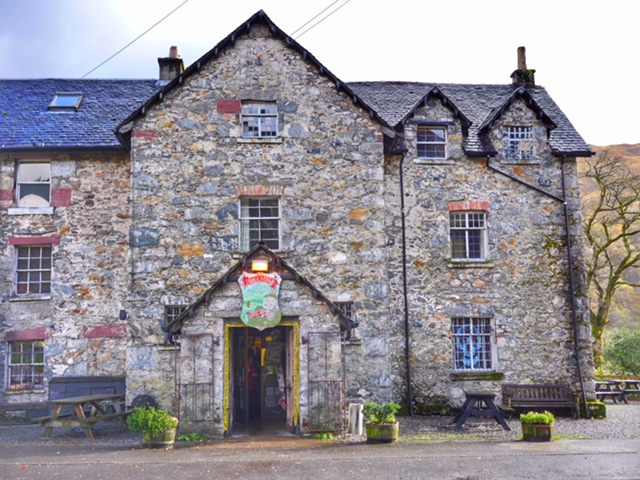 This trip around this country was an adventure of a lifetime and the awesome and unique accommodation in Scotland meant I had sweet dreams for the duration of the trip.
Which of these Scottish hostels, hotels and castles sounds most interesting to you? Have you stayed in an interesting hotel in Scotland or anywhere else around the world? Let me know in the comments!
Pin this post!