The UK is currently celebrating Sugar Awareness Week, whereas I celebrate sugar on a daily basis. Unfortunately, this awareness week has put freakshakes in the crosshairs with a call to ban these delicious creations with "grotesque levels of sugar and calories." I choose to describe them as containing an immense amount of happiness… but po-tay-to, po-tah-to, I suppose.
Since freakshakes are now an endangered species, it's time to get them while you still can! Here's a list of the best freakshakes in London and where you can find them.
The best freakshakes in London
Creams Cafe
London Bridge
Creams Cafes have been around for 10 years, and they're known for flamboyant desserts! They want visits to be an "adventure for the senses" their desserts are to be consumed as an "every day celebration." I completely support celebrating daily with freakshakes. The day I visited, I was 'celebrating' a free tour that never happened. I showed up, the guide did not. I guess I got what I paid for! Ever since then, Strawberry Tours is the only company I'll support for free tours in London!
The S'more-E-Oreo definitely lifted my spirits. After one sip, of this Oreo gelato and chocolate brownie gelato shake topped with mini marshmallows and chocolate sauce, I'd forgotten all about the tour! The flavor isn't too in-your-face, so it's great if bubble gum and triple chocolate shakes seem a bit too over the top for you.
The Canvas Cafe
Shoreditch
I never thought I'd say this, but I'm craving vegan milkshakes thanks to The Canvas: Cafe, London's first happy cafe! When I visited last year, I tried a raspberry and banana vegan shake, topped with a gluten-free chocolate cake. When I visited recently, they pulled out all the stops, offering a Lotus Biscoff freakshake, topped with a homemade chocolate almond cake and vegan whipped cream. There were SO many Biscoff cookies blended with the vegan ice cream, this puts other thick shakes to shame. At times, I'll refer to a freakshake as a Barbie shake: beautiful, but a bit plastic. This is not one of those shakes!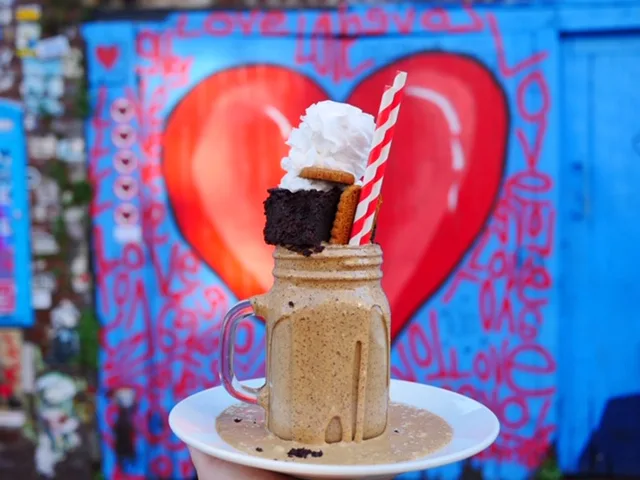 This shop loves its community and the pay-it-forward board is evidence that the community loves each other, too. This not-for-profit creative space, community hub and café says that they are a "blank canvas for positive change, supporting the thought leaders of tomorrow, enabling new ideas to be launched and new stories to be told."
When I'm in Shoreditch, this café is my workspace of choice. As I made use of their free, fast wifi, the café saw a steady stream of people from all backgrounds pass through its doors. And all were welcome.
Soft Serve Society
Boxpark in Shoreditch
London's Box Park concept is the coolest. Shipping containers line the streets and shopkeepers turn these blank canvases into fashion hubs, gift shops, or my personal favorite: a freakshake emporium! Soft Serve Society serves up creative ice cream flavors like matcha and charcoal topped with burnt marshmallows and epic freakshakes! I loved the strawberry shake topped with meringue, jelly roll, marshmallow wafer, and candy floss of course!!
My friend went a more traditional route with the chocolate shake, topped with a chocolate brownie and a burnt marshmallow.
Both shakes were equally delicious, and we finished Every. Last. Drop.
Maxwell's Bar and Grill
Covent Garden
Maxwell's launched their freakshake in 2015, and have served up over 20 flavors since! Unfortunately, I missed their highly Instagrammable Pokémon shake with Squirtle and Bulbasaur, but I arrived just in time for a very pink collaboration with Candy Kittens! Made In Chelsea's Jamie Laing's adorable sweets brand makes all-natural gummy candies, which were the perfect topping for this shake! I was warned that the Candy Kittens Eton Mess shake is very sweet, but I rose to the challenge!
This collaboration is over, unfortunately, but you can stop by for their Salted Caramel Donut Freakshake, Oreo Cookie Freakshake, or the Freakshake from Mars anytime! If you visit soon, be sure to ask for the Unicorn Freakshake… this magic disappears November 19!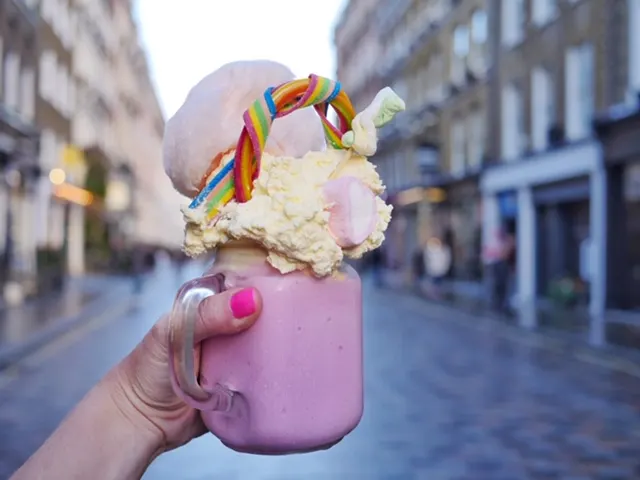 Cereal Killer Cafe
Brick Lane
For the biggest scaredy cat in the world, I'm surprisingly into murder podcasts, even though they give me nightmares. And then I went to London and willingly visited a cereal killer! You read that right! I walked myself up to the counter and ordered and ordered a shake that is to die for!
Despite its location in the same neighborhood where Jack the Ripper claimed his victims in 1888, the Cereal Killer Cafe on Brick Lane feels like stepping back in time to a 90s Nickelodeon game show. We watched Clarissa Explains it All in a room surrounded by floor to ceiling retro cereal boxes.
With over 120 types of cereal and a selection of milk and toppings, you're sure to find a sugar buzz you love. I found a Fruity Pebble-topped freakshake that had me saying "Yabba Dabba Doo!"
Miki's Paradise
Holloway
Miki's Paradise isn't in central London, but it's worth the trip to Zone 2 if you're feeling a little naughty.
Their naughty-naughty freakshake blends Ferrero Rocher, Kinder Bueno and Nutella in a mason jar dripping with everyone's favorite chocolate hazelnut spread and topped with your choice of an ice cream cone or brownie. Get the brownie! When I visited, the brownie of the day was Oreo and it was so good I had to hold myself back from ordering a second!
Miki's Paradise also offers takeaway freakshakes at the Camden Market near the Camden Lock Bridge.
There are so many OTT treats in London, and hopefully they'll be around for a long time to come. Just in case, though, better get eating! Let me know your favorite one in the comments!
Love freakshakes? Check out the best freakshakes in Auckland, New Zealand, Melbourne, Perth, and Sydney, Australia and Dallas, Texas.
Pin this post!