This is the story about the best plum and almond tart I've ever tried, but it's so much more than that. It's the story of Vera Miklas, a woman from the Czech Republic who married an Irish man from Munster Vales more than 20 years ago.
In the Czech Republic, Vera worked as a physiotherapist for 12 years in Prague before marrying and moving to Ireland. Although she had the experience, her qualifications did not transfer and her path in life drastically changed. She and her husband have four children, and Vera went back to her roots as she baked for her children. She says that "Each branch of the family held dearly their recipes for the tradition of celebratory cakes for Christmas (Vanoce). My Mother had hers handed down from her own Mother and Grandmother's family and my Father from his Slovak roots. I started to make celebration cakes for my children, knowing nothing about sugarcraft."
A pastime that was reserved for her family soon grew and she learned more about baking and what it takes to make amazing cakes. Over time, she discovered that modeling chocolate is the tastiest, most robust and most user friendly medium for personalizing cakes.
She noticed that all modeling chocolate in Ireland was imported, so she launched a brand that caters to pastry chefs as well as home bakers. Vera sourced high quality chocolate from Belgium to create her modeling chocolate as an easy-to-use alternative to sugar paste or fondant. In fact, it's so user friendly, Vera has launched three modeling chocolate kits for children. I had the chance to test it out with a friend's nephew, and we all had a blast making a chocolate monkey.
Check out my first attempt at making a chocolate rose in the video below. Not bad for a first try, huh? I loved playing with this edible 'play dough.'
Award Winning Modeling Chocolate
Vera's high quality modeling chocolate became a big hit with pastry chefs around the world. Forget leprechauns and their pot of gold… Vera's chocolate seems to be an even more reliable source for gold! Her modeling chocolate was used by the Irish team (Tanya of Novel –T cakes and Maria of Sugar Studio 49) along with Satin Ice and they won 1st prize at the Global Cake Challenge at The America's Cake Fair in October 2017.
Another Irish cake artist Karen Keaney of Roses and Bows Cakery won Gold and Best in the Show at the same fair using Vera's modeling chocolate.
Tips from Vera for working with modeling chocolate
Modeling chocolate is made from white, milk and dark chocolate. You can color your white modeling chocolate with gel colors and if you need black you can color your milk or dark modeling chocolate using again black gel color.
If you want to cover your cake with modeling chocolate you have to keep in mind that it doesn't stretch as fondant. If you need some stretch then I would suggest combining fondant and modeling chocolate. The ratio is really up to you. Maybe 50:50 or 60:40.
Modeling chocolate is also very forgiving. You can work on your piece for several days, you can be adding different layers and with the heat of your fingers you can make the seams invisible.
You can roll out modeling chocolate really thinly especially if you use pasta maker/ roller. It's great for ruffles, flowers….

Vera Miklas' plum and almond tart recipe
Ingredients:
Shortcrust Pastry – use your favorite recipe or buy in the frozen food section
Frangipane
200g/7¼oz unsalted butter
200g/7¼oz caster sugar
2 free-range eggs
200g/7¼oz ground almonds
5-6 ripe plums, each cut into eighths, stones removed
Method:
For the frangipane, beat the butter and sugar together in a bowl until light and fluffy. Crack the eggs into the bowl one at a time, beating well after each addition. Add the ground almonds and mix well until combined. Set aside.
Preheat the oven to 180C/350F/Gas 4. Dust the work surface with flour and roll the chilled shortcrust pastry out thinly. Use it to line one large 25cm/10in tart. Trim away any excess.
Spoon the frangipane into the tart case so that it comes about halfway up the sides. Smooth over the surface with a spatula and cover the frangipane evenly with the plums.
Bake for 30-40 minutes or until the pastry is crisp and golden-brown and the fruit is tender.
Remove the tart from the oven. Dust with icing sugar and serve warm with whipped cream or crème fraîche.
When I visited the Munster Vales region in October, Vera was the first of many warm and welcoming locals I met. Her incredible hospitality (including that amazing plum and almond tart), creative approach to growing her modeling chocolate business and a home full of chocolate was a perfect start to my Munster Vales holiday.
Note: I visited Munster Vales as a guest of the Munster Vales Tourism Board. However, all opinions are my own and I wouldn't recommend anything to you that isn't awesome!
Pin this post!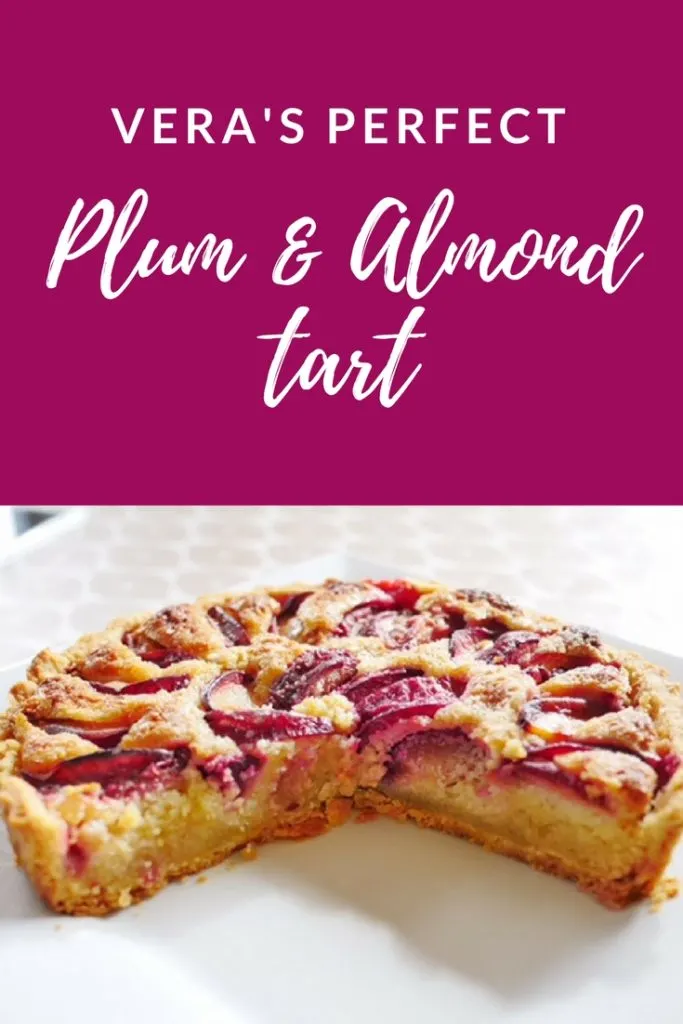 SaveSave
SaveSave
SaveSave