When I booked my trip to the Philippines, I assumed the trip would be focused on the "taste for adventure" aspect of The Sweet Wanderlust's tagline: A travel blog for people with a sweet tooth and a taste for adventure. But when friends and followers began tagging me in posts about The Dessert Museum in Manila, my sugar-loving heart began to pitter patter with anticipation.
My excitement level grew as we neared The Mall of Asia in our Grab car (similar to Uber, but WAY cheaper). Situated in this high-end mall, near the Conrad Hotel, is a museum that is the cause of sweet dreams.
Visiting the Dessert Museum in Manila
Store Front
Before entering the welcome area of The Dessert Museum, it's evident that this shop is something special. The chocolate dripping down the candy pink exterior with an Oompa Loompa-sized door beckons anyone with a sweet tooth to come closer… I recommend you book ahead to save a little money and major disappointment if it's sold out. Walk-ins are charged P799 (approximately $14.80), while online bookings cost P699 (approximately $13).
The waiting area is adorably decorated with sweet tooth heroes and chocolate chip cookie stools.
Collect your pink wristband, which will enable you to collect your free dessert in every room. Yeah.. you read that right! In addition to full access to eight Instagram-perfect rooms for two hours, you'll also receive a tasty treat in every room!
Raining Donuts Room
I'd love to live in a rain-free world full of rainbows and sunshine. Donut rain is an exception to that rule.
Slide into a little piece of heaven in the raining donuts room! I half expected Homer Simpson to come in at any second and start devouring the pink iced donuts hanging from the ceiling!
The Dessert Museum staff member posed for photos and handed out desserts… this sugarplum fairy is quite the multi-tasker!
Room of Ten Thousand Marshmallows
I'm not sure if this room *actually* contains 10,000 marshmallows. I stopped counting when I noticed the hot pink and bright purple waterfalls of chocolate fondue, just waiting for an oversized marshmallow to be dunked! (There are safety lines around the fountains to discourage faces from going into the chocolate— just in case you had any ideas!)
Candy Cane Groves
Leave the Room of Ten Thousand Marshmallows via a Naughty or Nice door, and choose your fate in the Candy Cane Groves. In this room, you'll jump, swing, and find your inner child as you play your way through this sweet room.
Whether you're naughty or nice, collect a lollipop from Santa's stash before heading on to the next room.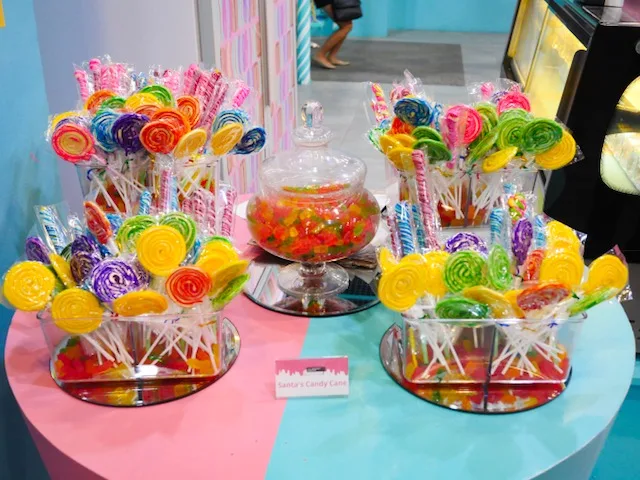 The Ice Cream Room
I don't know about you, but visiting a new room in a traditional museum doesn't cause too much excitement for me. Now, in the Dessert Museum, each room is a big surprise and often causes shrieks of delight. (You can check those out in my Story Highlight on Instagram!)
The Ice Cream Room was one of the most exciting rooms for me! Fall into a ball pit beneath thousands of balloons arranged to look like ice cream cones. Imagine that you're going up, up and away in an ice cream cone, and come down to collect your sweet treat.
Choose between Mango Madness and Frozen Avocado Cream. I chose the latter which was refreshingly delicious!
Room of Never-ending Bubbles
Every room has a bit of trivia. Some trivia is interesting, some is funny, and others (like this one) make you say EW!
I couldn't think about Chewing Gum Parties for long, though, because the life-size gum ball machine was open for business! Stand in the midst of swirling, twirling gum balls and leave feeling windswept and riding a sugar high!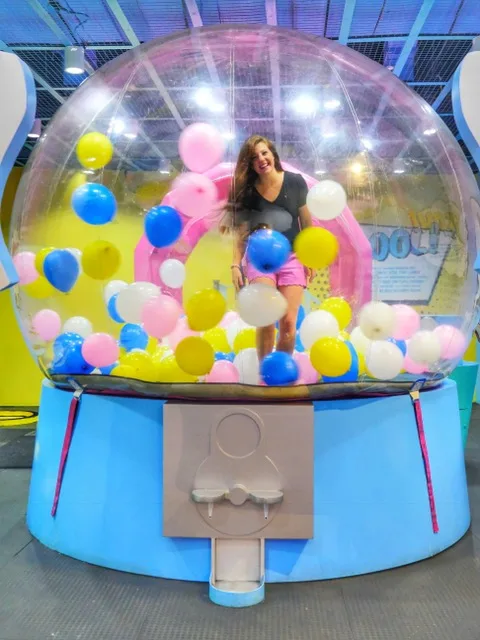 Land of Giant Gummies
I've said it before, and I'll say it again: each room is better than the last! A well-placed mini trampoline in the midst of the Land of the Giant gummies beckons you to forget all those desserts you've been eating and bounce around.
Once you've exhausted yourself there, you can relax in a bathtub underneath interesting trivia. Did you know that fast-digesting carbs like gummy bears are a great post-workout snack!? Or that the biggest gummy bear on sale weighs 26 pounds and contains 32,000 calories! You'll need a big workout after that (and then more gummy bears)!
Cotton Candy Forest Room
If all forests were made of cotton candy, I'd get into camping for sure! Walk under a canopy of fairy floss trees and check out the giant cotton candy machine.
I don't know who lives in this giant tree… but I'd love to be friends with them.
Cake Pops Carnival
I channeled my inner Miley Cyrus and came in like a wrecking ball in this cake pop exhibit! It's possible that I judged Miley a little too harshly… this is a whole lot of fun!
Shoot some hoops with sugary plush toys and read up on the history of cake. My favorite fact: "During Roman times, wedding cakes were crumbled on the bride's head. They called it 'crowning the bride' and this was done to appease gods".
If you ever crumble cake on my head, you better start praying because I don't take kindly to cake-wasters!
Souvenir Shop
Collect your final dessert and say goodbye to your wristband… but the fun isn't over yet! In a place as Instagram-perfect as the Dessert Museum, this souvenir shop doesn't disappoint.
Stop by the photo booth to purchase snapshots from your experience. The photographers are pros, and you'll be left with sweet memories to take home!
The rest of the gift shop is full of sequin, ice cream cone and unicorn-adorned products that are sure to bring a smile to your face! I'm currently hatching a unicorn I picked up in the shop! And I can't wait until it gets a little cooler outside so I can warm my feet with my new pink unicorn slippers.
Whether you're young or old, a social media maven or a technological Luddite, the Dessert Museum in Manila is sure to bring a smile to your face.
Thank you to the Dessert Museum for hosting me on one of the best days of my life! Your sweet creativity and hospitality will be remembered for a long time!! As always, all opinions are my own and I wouldn't recommend anything to you that's not awesome!
For awesome accommodation in Manila, check out this affiliate link great deals on Manila accommodation.
Pin this post!