It's located in the Crown Casino, but Dinner by Heston Blumenthal is no gamble! When I saw the dessert that comes in a white chocolate ostrich egg, I knew I had to eat here, but when I saw the price tag, I knew it would be a special occasion kind of evening.
Luckily, I have a foodie friend who drooled nearly as much as I did while scrolling through Instagram photos from Dinner by Heston Blumenthal. (Is it ok that I just used the word drool in the same sentence as ultra-classy Heston?) We booked a table for two for one of my last evenings in Melbourne… saying goodbye is a great excuse to get dressed up and stuff ourselves with delicious food.
I booked the table a month before our dinner and our only option for a Saturday evening was a 10pm reservation. When I called about an earlier reservation, the hostess said she could fit me in for a 7:30 reservation… in two and a half months. The moral of this story? Book early if you want to eat early. And be sure to request a table by the window to see Crown's Gas Brigade, eight towers that shoot the world's largest fireballs into the air every hour.
While waiting for our 10pm reservation, we threw away money did a little gambling before deciding to be fiscally responsible and spend our money on drinks at Atrium Bar. The Jimador's margarita is one of the best I've ever tried. Don Julio reposado tequila, Solerno blood orange liquor, Agave nectar, jalapeño and lemon juice, served on ice made for a perfectly sweet, sour and hot cocktail.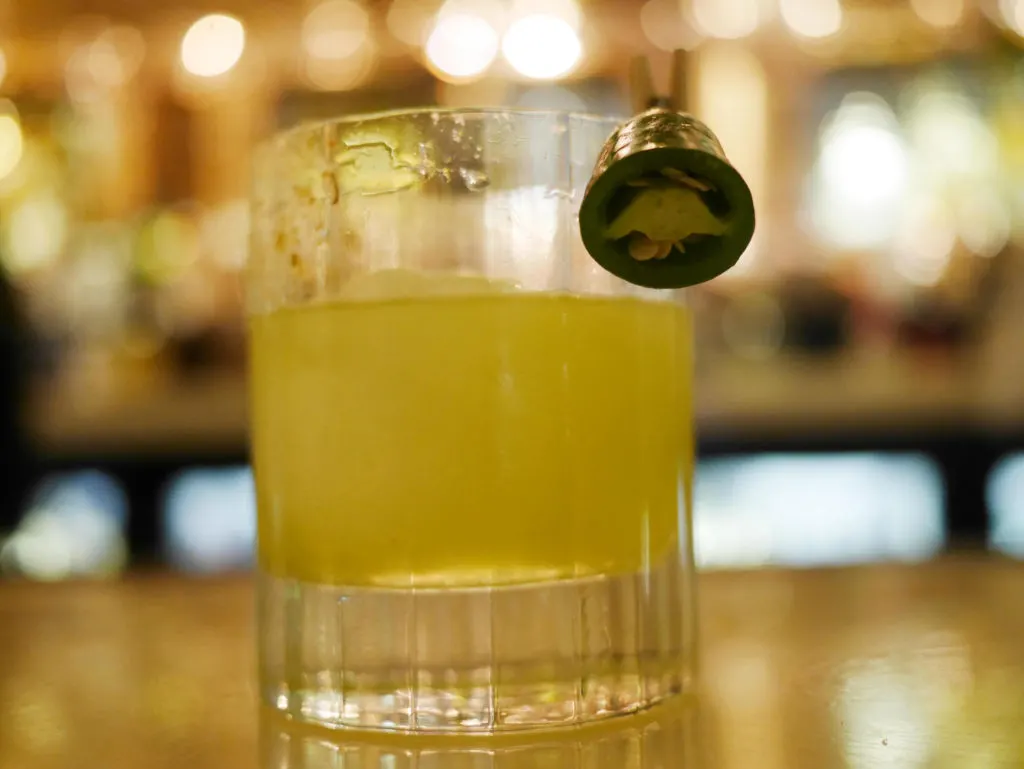 A few minutes before our reservation, we made our way to the third floor and through the dark, sleek hallway to Dinner By Heston Blumenthal. When the sliding door opened, I nearly fainted… this was the moment we'd been dreaming about since October! But we kept our cool in front of the chic hostess who led us to our table. Along the way, we were guided past the giant windows to the kitchen where the chefs were working hard and food was being gorgeously plated. We passed the spit-roasted pineapples dangling on chains, being raised and lowered as they cooked, preparing to become dessert. And finally, we reached our table, where chairs were pulled out and napkins were placed in our laps.
The sommelier was the picture of class and talked me down from the super sweet cocktail I'd had my eye on in favor of a Cider Gimlet. This cocktail was light and refreshing and didn't ruin my appetite the way a nectar-like drink would have.
As my friend, Anna, and I perused the menu, we already had a good idea of what we'd be ordering thanks to text messages involving menu items and lots of exclamation points earlier in the week. We decided on two entrées, two mains and three desserts. Our waiter was great: "It's usually at this point that I suggest sides… but with three desserts, I think you'll be just fine."
Dinner By Heston Melbourne entrée: Meat Fruit (c.1500)
Mandarin, chicken liver parfait & grilled bread
First up was the meat fruit, one of Dinner by Heston's most instagrammable entrées. The pâté was creamy and the mandarin flavor was subtle but added the perfect amount of sweetness to this starter. I'm fairly certain I could eat this every single day for the rest of my life and never get tired of it.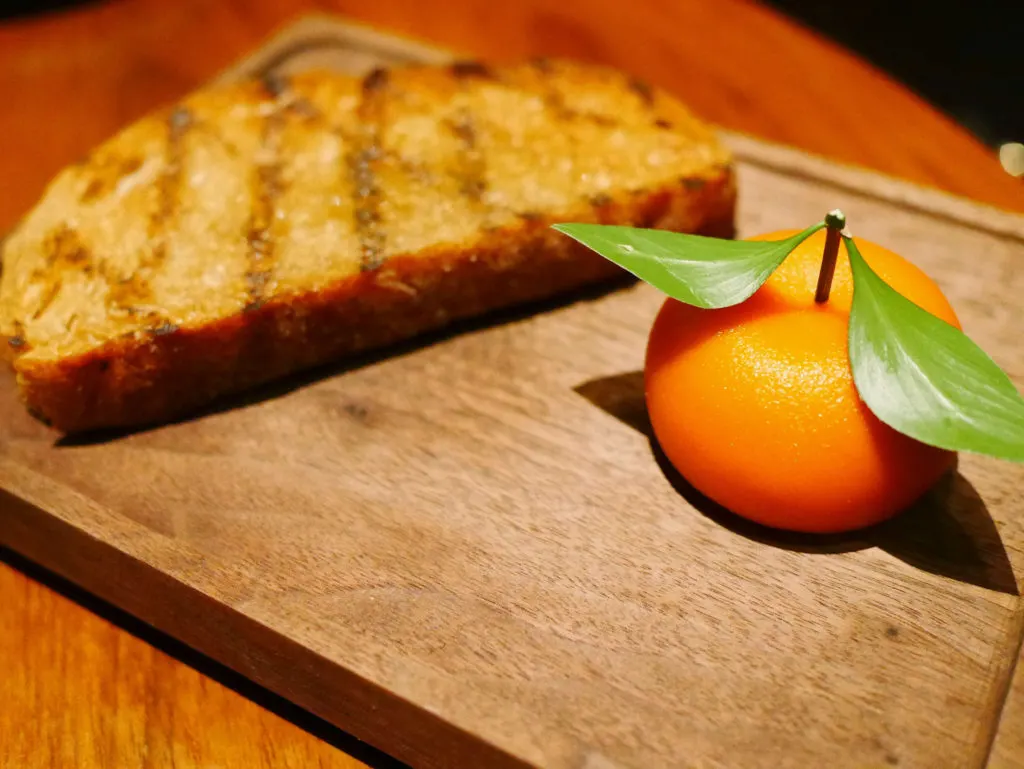 Dinner By Heston Melbourne entrée: Roast Bone Marrow (c.1720)
Welsh cake, snails, piccalilli, anchovy, mace & pickled vegetables
I ate a snail… and I liked it. That has a nice ring to it… Perhaps Katy Perry could use it on her next album? The combination of ingredients sound a little scary, but oh. sweet. heaven. It was perfection. I thought that we had peaked with the meat fruit, but Heston is clearly not a one hit wonder.

Dinner By Heston Melbourne main: Black Angus Ribeye (c.1830)
Mushroom ketchup & triple cooked chips
I love steak (Texas girl to the core right here) and had to give this $80 steak a try. It was delicious and any other day, it would be the highlight of the meal. However, in comparison to the creativity displayed in the other dishes we ordered, I'd trade the ribeye for something a little more… Heston. (Don't miss those triple cooked chips though, because they are the best I've ever eaten.)
Dinner By Heston Melbourne main: Roast Quail (c.1860)
Confit butternut, pumpkin puree, spiced crumb & chard
Quail is usually not my first choice. It's a very tiny bird, which means it's likely to dry out while cooking, and it seems like more trouble than it's worth. But this is a night to try new things and erase preconceived notions and thank goodness! The meat was juicy, cooked to perfection, and the butternut and pumpkin puree complemented the flavor beautifully.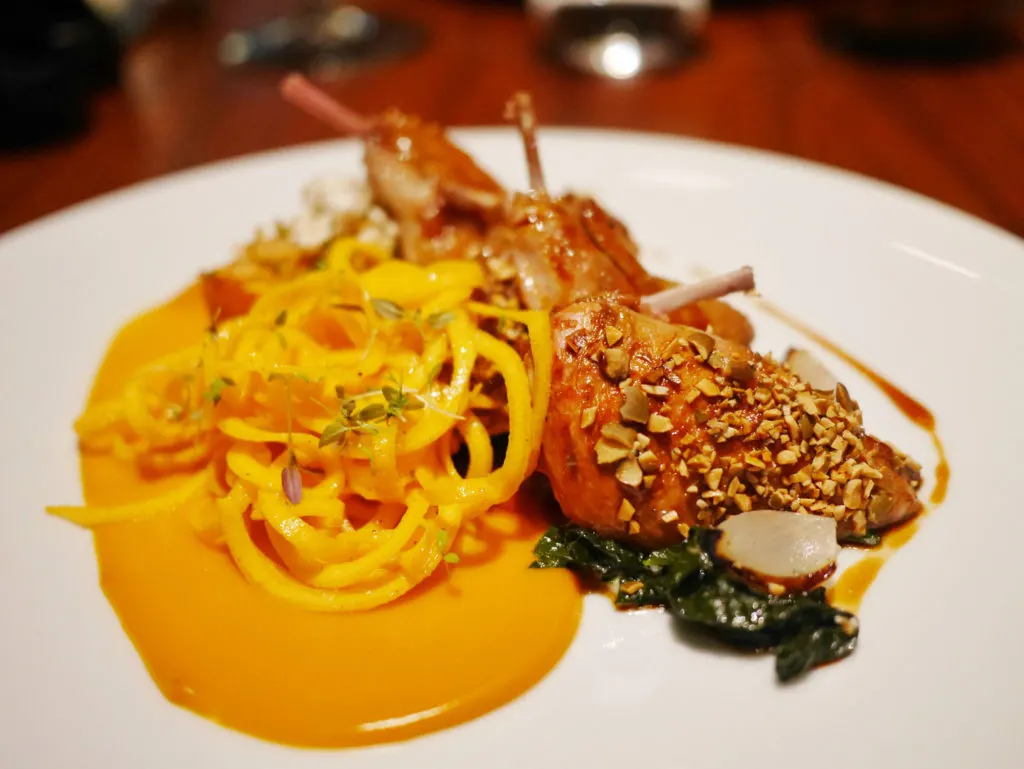 Dinner By Heston Melbourne dessert: Ice Cream with Vegemite (c.1920)
Toasted barley cream, yeast caramel, macadamia, puffed spelt & sourdough crumble
Please don't kick me out of Australia, but I just haven't gotten on board with Vegemite yet. I thought trying it in ice cream form would be my ticket to the Vegemite fan club, but I'm just not there yet. That being said… this ice cream was salty/ sweet and had great flavor… unfortunately, the flavor was Vegemite. I'll keep trying!
Dinner By Heston Melbourne dessert: Eggs in Verjuice (c.1730)
Coconut pannacotta, coffee parfait, verjuice & citrus
This dessert is the reason I booked at Heston. I began calling back in October to ensure that this dessert would be on the menu when I dined with them, and bided my time until it was on the menu. Cracking the white chocolate egg is more difficult than it looks, but a fun way to enjoy the pannacotta. It's subtle in flavor until you hit the citrus yolk, which adds a nice zing to the dish.

Dinner By Heston Melbourne dessert: Sambocade (c.1390 )
Goats milk cheese cake, elderflower & apple, pickled blackberries & smoked candied walnuts
As excited as I was about the eggs in verjuice, the sambocade came out the winner of dessert for me. My only regret with this rich goat's milk cheesecake, is that I was already 99.9% full when it arrived on our table. The creamy, sweet, rich cheesecake has a bit of tartness added from the pickled blackberries, which earned it a spot in my all time top 3… and I've eaten A LOT of dessert.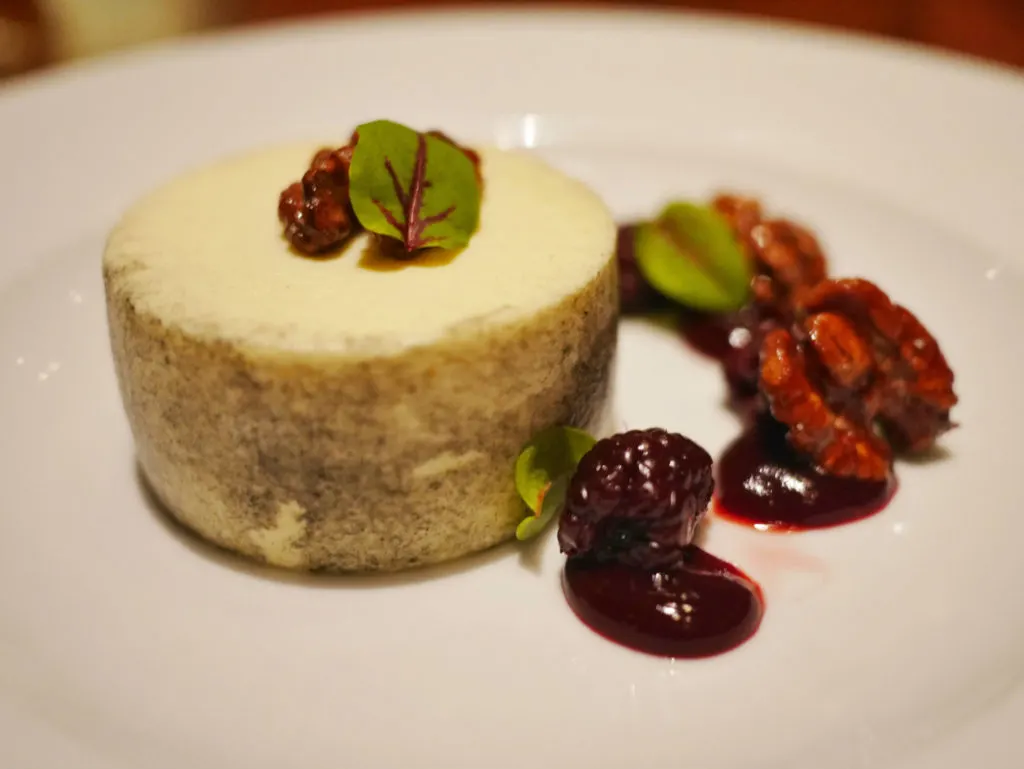 And then we were given a bonus dessert! The chocolate ganache was the thing that set us over the top. Rich, decadent and unfortunately, not in a takeaway container.
We left a few precious spoonfuls and major regrets on the table, but we had full bellies, happy hearts and deep gratitude to Heston for creating something so wonderful.