Exmouth, Western Australia is known for whale sharks, manta rays and humpback whales. These gentle giants cruise the waters of Ningaloo Reef, and the amazing people of this area have developed ways for us humans to interact with them. But what about when you're out of the water? The 'cherry on top' of an already sweet day, is an equally sweet dessert. What follows is what I consider Exmouth's best desserts.
Cadillacs
When my 5:30am flight from Perth arrived in Exmouth, I stumbled, sleep-deprived off the airplane and checked into my hostel. I asked the women at the front desk whether they knew of anyone hiring in tourism or hospitality (so I could work towards my second-year visa) and they told me to head down to Cadillacs at 2:30 for an interview. As I made that very warm walk in April, I had no idea I would be walking into Exmouth's very own Nashville-themed restaurant, filled with images from the city where I attended university.
I get to wear a cowboy hat every night and no one bats an eye when I say y'all. I also get to see some delicious desserts come out of the kitchen every night. My favorite is the Cupid's Got a Shotgun, two chocolate chip cookie sandwiches, filled with vanilla ice cream and smothered in chocolate sauce Word on the street… it's Keith Urban's favorite, too.*
*This statement is actually completely made up… but it could be true!
Ari's Cakes & Cookies
I heard about Ari within the first month of moving to Exmouth, but had to wait an excruciating two months to try her baked goods. Your best bet for trying treats from this talented home baker is to visit her stall at the Exmouth Community Markets. On my first Sunday visiting her at the market, I purchased a wagon wheel slice, a bounty slice, a lemon delicious and a yoyo to get me through the week. Of course, they didn't even make it to Monday… so there's a glowing recommendation for you! Delicious, but they won't last long!
Ari also makes some epic birthday cakes, and I know someone with a birthday coming up. *cough cough* August 14 *cough cough*
Mantarays Ningaloo Beach Resort
We've all heard the cheesy 'traveling is the one thing you buy that makes you richer' line… but have you ever EATEN something that made you richer? Mantaray's Textures of Chocolate dessert is a medley of chocolate prepared 6 ways and is painted with gold dust. Y'all… you heard it first here. Edible bling is the new freakshake.
When I heard about their Textures of Chocolate dessert, I knew I'd be visiting for a chocolate overload. This dessert starts with a base of dark chocolate sponge, topped with dark chocolate mousse, caramel ganache, and caramel cream, finished with a tempered milk chocolate disc painted with edible gold dust. The plate is decorated with hazelnut praline and cocoa nibs.
The crowning jewel on this already rich treat is chocolate sauce enriched with Chambord poured table side by the chef. This decadent sauce melts throughout the dessert and is the perfect final texture. Textures of Chocolate is rich, but not overbearing, and doesn't leave you feeling drunk on chocolate.
It makes sense that the most beautiful dining spot in Exmouth would have the most gorgeous desserts. Be sure to book a table outside for the best view!
Froth
Any food blogger will tell you that one of the most important aspects of food photography is the background. It makes my heart sing when I go to dinner with a friend and they're scouting Instagram-worthy backdrops for me before we even order.
And so when I placed my order for Froth's mint, cinnamon and sugar churros, I already knew that I'd be trekking across the restaurant so the churros could chum it up with the fish in their mural for the photo. I got distracted by a table of girls oohing and ahhing over my churros, and the decadent chocolate dipping sauce took a tumble. And not just a little tumble. Like all over the floor, walls, and cute leather pants I was wearing. The girls shrieked "2 second rule" at me, so I wouldn't waste a single churro as I desperately tried to clean the chocolate off everything. (Sorry for the mess, Froth.)
All that preamble to say… those churros were worth the messiest food photo I've ever taken. They're not your typical Spanish churro, though. The inside is eggy and light, almost like a soufflé or canelé, and the fried dough is as close to a doughnut as I've found in Exmouth. The mint and cinnamon flavors are barely-there, but the chocolate and crispy fried dough combo is really all a girl (or guy) could ever ask for.
My friend ordered the lemon creme brûlée tart and it did not disappoint! I'm a fan of anything covered in sugar and the caramelized topping balanced the tart flavor of the lemons perfectly.
The BBQFather & Pinocchio's
I'm a big fan of this Italian joint… and not just because they bought their pit smokers from Texas! I've traveled around the world eating ice cream, and the gelato here is some of the best outside Italy!
Whalers
The only thing better than one dessert is four desserts. Whalers understands this, and offers a dessert tasting plate for two. We all know I can put that thing away on my own, though… This plate comes with Whaler's top picks: banoffee pie, lemon lime tart, Tia Maria cake, and your choice of gelato.
Because we were sharing amongst three, we also added on a full-sized sticky date pudding.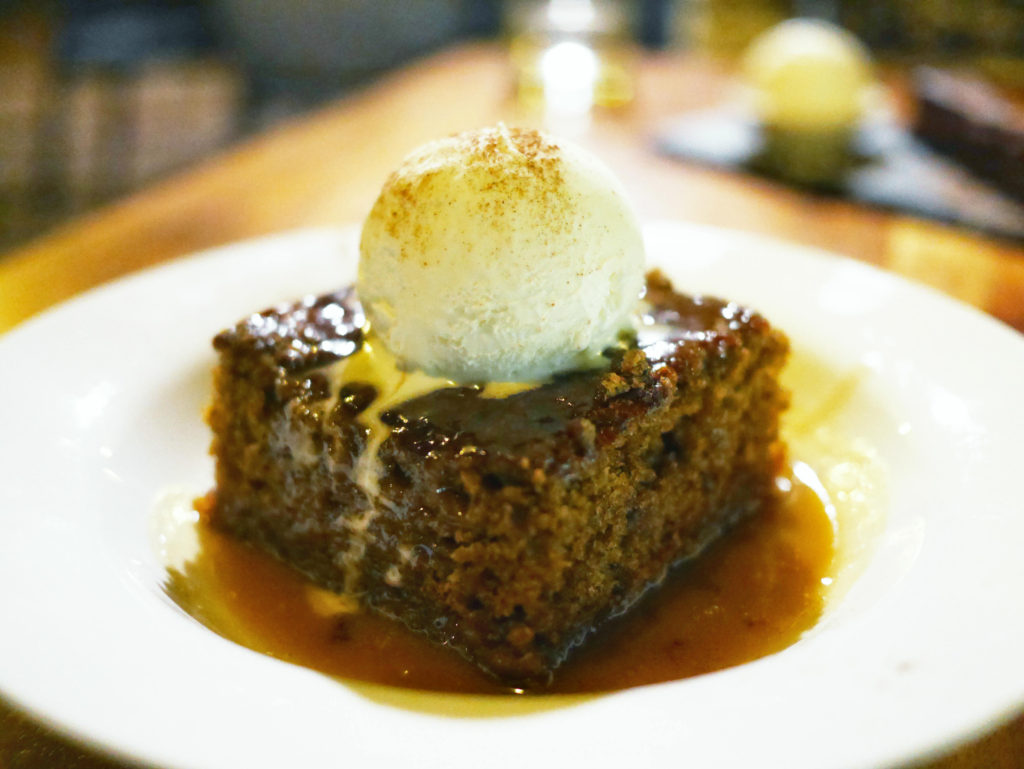 I had trouble focusing on just dessert, because every one was equally delicious. The Tia Maria was decadent and rich, while the lemon lime tart was light and fresh. I fully enjoyed my first experiences with Aussie classics: banoffee pie and sticky date pudding. Next time, I'm ordering a banoffee pie all to myself!
What do you think is Exmouth's best dessert? Is there anything I've missed on my quest for the best? Let me know in the comments!
Pin this post!