One of my life missions is to find the world's best desserts and although I'm not done exploring, I'm ready to declare Melbourne the dessert capital of the world. Melbourne is a foodie's dream and a sweet tooth's delight. Although the freakshake was not invented here, it got here as fast as it could. And I've attempted to try every single one. I think I might be doing something wrong, though, because I have tried A LOT of shakes and there are still no boys in my yard.
The creative chefs around this city each try to outdo the next as the shakes get bigger and more beautiful. It can be tough to know where to start… so little stomach space and so many shakes. Never fear, sweet readers, I've got you covered with this list of 12 cafés serving Melbourne's best freakshakes.
Want up-to-date sweet inspiration? Follow me on Instagram @thesweetwanderlust!
Three One 2 One
Call me a lost boy, because I want to live in Neverland. (That's the name of this freakishly epic freakshake from Three One 2 One.) The milkshake is cookies and cream, caramel and macadamia ice creams, blended in harmony. THEN… it's topped with whipped cream (take it or leave it in my opinion… but it's a good base for maltesers, Tim Tams, and snickers.) The rim of the mason jar is coated in Nutella with gummy bears trapped in the deliciousness. And it's all topped off with a unicorn mane of turkish delight flavored fairy floss and a giant, swirly lollipop!
And once I move on from Neverland, I'd like a direct ticket to The Pleasure World. This shake is a gorgeous blend of rainbow ice cream, banana, and white chocolate, topped with a waffle, and decorated with a donut, candy belts, Kit Kats, marshmallows, licorice and fairy floss.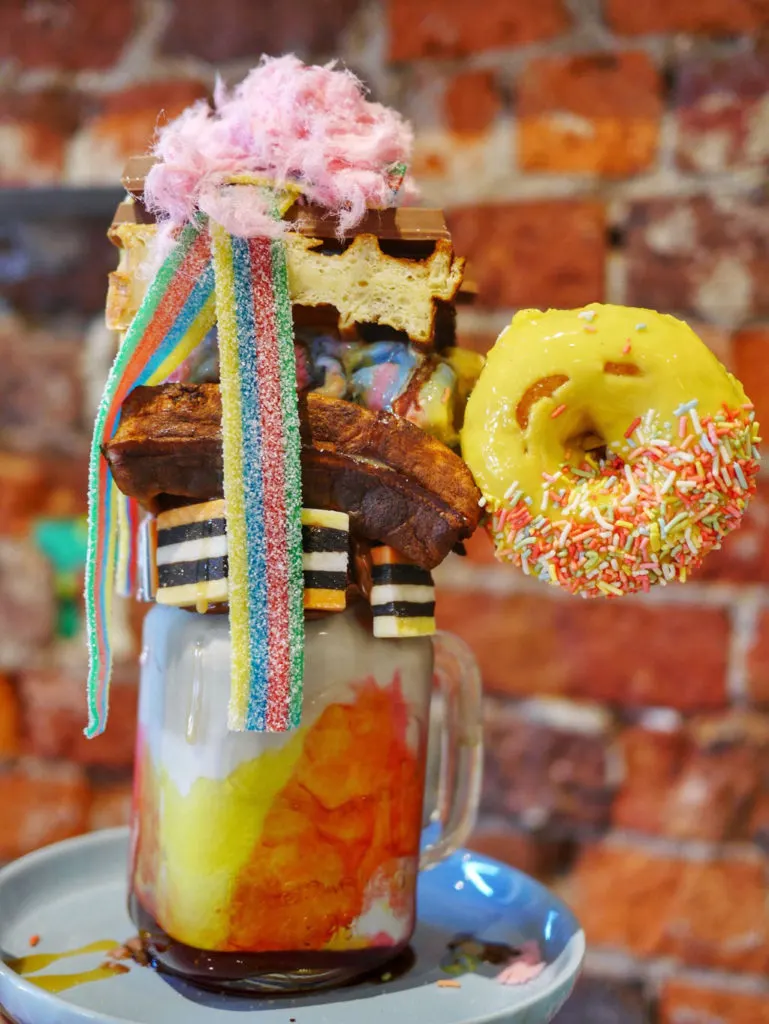 Naughty Boy Eatery
I'm generally not a fan of naughty boys… Sure, they're usually quite attractive, but an encounter with one always ends in tears. Not so with this Naughty Boy! The only tears will be tears of joy when one of their beautiful Instashakes is placed on your table. I tried the pavlova flavor and was so happy with my decision. Made with coconut and almond milk, this shake tastes like a strawberry smoothie. And the passionfruit, kiwi, berries and mango could convince anyone that this is basically a health drink. Ok… the meringue and fairy floss kind of ruin the healthy perspective… but we'll pretend like they're calorie-free.
The Grand Trailer Park Taverna
The Grand Trailer Park isn't the freakiest of freakshakes… but with a bit of added alcohol, these are some dangerous shakes! I chose the salted caramel with bourbon, which came topped with maple bacon. Can you believe it?! Ice cream and bacon… Together? It's a match made in heaven… or the trailer park. Either way, it's wonderful.

Cafe Lafayette
Holy moly, y'all! Cafe Lafayette is the picture of creativity, with their raindrop cakes, rainbow lattes and beautiful brunches.
But the crowning glory of this beachside cafe are their freakshakes. I prefer doing my research with friends so I don't have to settle for just one shake. I roped some friends into a tram-trip, and we ordered the chocolate and berry shakes.
Because sometimes, a shake is not enough, Cafe Lafayette tops their berry freakshake with a donut. Yes and amen.
Sweet Espresso
This Mentone-based cafe is home to some of the most OTT freakshakes in Melbourne! Choose from a small or large (I say go big or go home!) and you'll be dazzled by the incredible array of sweets on the freakshake! Choose the Willy Wonka shake or the Cookie Monster… of get crazy and choose both! You'll be on a sugar high for days!
Common Galaxia
The milkshakes at Common Galaxia are out of this world. (See what I did there? Galaxia… Space pun? I digress.) I tried the Lamington Milkshake and left feeling a little more love for Australia (as if that was even possible). The shake is a combination of cherry and chocolate, which is basically like sipping a Cherry Ripe through a straw. Then, it's topped with coconut ice cream, which is fresh and delicious, a Lamington, fairy floss, strawberries and a cherry. I took so long taking photos of this gorgeous creation that my fairy floss fell on the floor as the ice cream began to melt. But, no crying over fallen fairy floss (my French toast was topped with the sugary treat, too).
The Ormond Provedore
I got lost on my way to Chadstone, but it turns out I was lost in exactly the right place! The Ormond Provedore has been on my list for 6 months, and I was so excited to finally make it out to the 'burbs for one of their freakshakes. I tried their chocolate shake and while it's not the chocolatiest of chocolate freakshakes, I did appreciate the wrapped Flake to eat as a snack later.
Stokers Fine Pancakes
Do not be fooled— those are not bacon strips in this freakshake. (Although I'm definitely not opposed…see The Grand Trailer Park Taverna.) Those are crispy pancake strips slathered in Nutella and served as a crunchy accoutrement to a Nutella milkshake. It was yummy and simple (as simple as a freakshake can be, I guess) and beautiful.
Sugar Buns
Ok… So I wanted to live in Neverland until I realized that Candyland is a real thing. I traveled 3.5 hours roundtrip across three types of public transport for the Candyland megashake, and I'd do it again. The strawberry shake was exquisite, and it was topped with candies I had only dreamed about. My favorites were the flying saucers filled with fizzy candy, gummy bears, fairy floss and a random eyeball thrown in there (because why not?). But there was so much on there that it wasn't until looking through photos later that I realized I never ate the colored chocolate on top… I've never experienced such deep food regret. So.. Don't be like me. Eat it ALL!
Johnny Pump
According to Johnny Pump, "the best preparation for tomorrow [is] having a delicious dessert shake today." Although we asked for the most beautiful shakes they had, I thought these were a little heavy on the whipped cream (remember, I'm not a whipped cream fan). I'll give them the benefit of the doubt, though, because the shakes we had tasted great and I'm seeing some gorgeous OTT shakes on their Instagram.
Cupcake Central
Cupcake Central's cereal shakes promise a certain walk down memory lane with your childhood favorites blended up and served as dessert. If you were one of those kids who loved to let the milk and cereal sit until one was almost indistinguishable from the next… this is for you. Slurp up the soggy (in the best way possible) Fruity Pebbles along with popping boba or choose a chocolatey treat with chocolatey milk and Cocoa Pebbles. And be sure to use a spoon (or your finger) for the edge of the cup… the marshmallow fluff is perfection.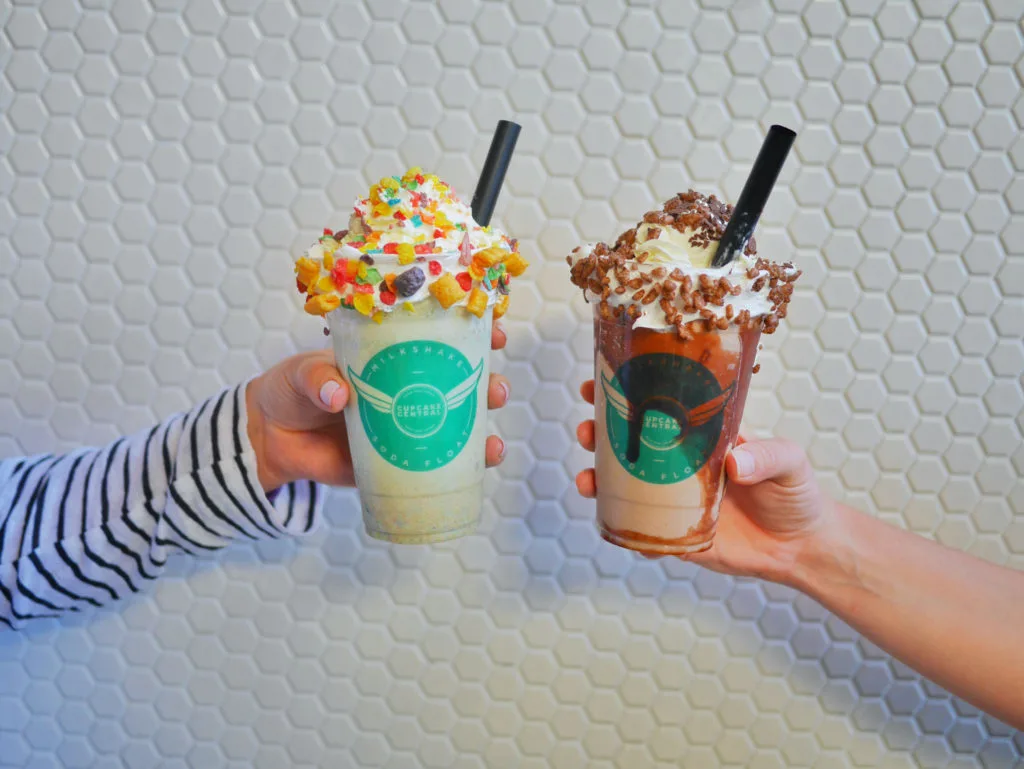 Demazzi
I saw the photos on Instagram of what looked like a milkshake, topped with an ice cream cone, full of ice cream and Nutella, topped with a Ferrero Rocher. Guided by my innate inner-Nutella tracker I set off for Essendon. Joined by the lovely Jean of Traveling Honeybird and her husband, James, we made a plan to destroy three of the western suburbs biggest, baddest freakshakes. We ordered the Ferrero Rocher, Golden Gaytime and Honeycomb, and although slightly intimidated, we did not back down. The Nutella shake in the Ferrero Rocher is one of the most delicious bases of any freakshake yet, transporting me to my happy place at first sip with the combination of addictive Nutella and smooth cookies and cream ice cream. Not a Nutella fan? Order the Honeycomb shake with a waterfall of Crunchie candy or a Golden Gaytime shake, which comes complete with a chocolate koala.
Ten One Ate
I almost missed Ten One Ate, but thank goodness I didn't! It's Essendon's crowning glory: tasty, colorful and over the top gorgeous. Their menu is ever-changing and always good. (Check them out on my list of the most Instagrammable brunches in Melbourne.) Their Unicorn freakshake is an absolute work of art! From the gorgeous glass to the precision of the decorations, it looks AND tastes great!
The Fairy Bread freakshake is Australiana at its finest, with Snakes Alive outside the cup and fairy floss on top. Inside is a light, drinkable strawberry milkshake.
Rock me mama like a Wagon Wheel… this freakshake is enough to make anyone go country! It's the special shake at Ten One Ate this month. With Wagon Wheel cookies, a toasted marshmallow and raspberry sorbet and fairy floss, special is just the word I'd just to describe it.
Son in Law
Ok, so this might not *technically* be a freakshake… but if you love sugar on top of your sugar, you'll love Son in Law's fairy floss character drinks! Choose from a unicorn, Totoro, a caticorn, or almost anything else your sugary dreams are made of!
Rowena Corner Store
Sadly, Rowena Corner Store no longer makes freakshakes. Fortunately, they still make amazing milkshakes!
When I say I loved the sinful shakes at Rowena Corner Store, I'm serious. It's my go-to when out of town friends want to experience their first freakshake. Rowena Corner Store's website says their shakes are made with love and consumed with lust… and I can't say they're wrong. The mint 7 Deadly Sin shake is one of the best mint shakes I've ever had.
There's a saying on the menu at Rowena Corner Store about two straws being better than one. And I hate to be a naysayer… but I think that two freakshakes are better than one (and seven are better than two).
Which shake is your favorite? Have any succeeded in bringing the boys to the yard? Inquiring minds want to know…
Don't miss the best freakshakes of Perth, Sydney, London, England and Dallas, Texas!
Pin this post!