Perth may be one of the most isolated capital cities in the world, but don't assume that makes them behind the time on food trends! The freakshake is sweeping the world, and Perth is no exception. Although I haven't spent much time in Perth, I made it my mission to find Perth's best freakshakes. I visited 7 cafés around the city and have found some delicious and over the top options for people with a major sweet tooth. (Be sure to scroll to the bottom to find a handy-dandy map of each café's location.) Sydney and Melbourne… watch out! Perth is here and their freakshakes are just as awesome!
Jersey Jack Gelato
I truly appreciate it when an ice cream shop focuses first on flavor and then creates something magically delicious out of fresh products. Jersey Jack did not disappoint. While my friends ordered the Little Monstro, I upgraded to the Monstro Shake. I was prepared with my three flavor choices, but at the last moment, I had to choose two more gelato flavors (bringing the total flavor count to FIVE). You know you've ordered well when customers from around the shop descend on your dessert to take a photo. I stepped in after 3 people got their shot… because I paid $22 for this bad boy, and I wasn't going to let them get all the non-melty shots!
This shake tasted as good as it looked, and I enjoyed trying unique Malaysian flavors like Gula Melaka (salted palm sugar) Pandan and Teh Tarik (Malaysian tea). I also tried their Durian soft serve, although I wouldn't exactly say I enjoyed that flavor. It's available Friday, Saturday and Sunday, so if you're there on a weekend, be sure to give the stinky fruit soft serve a try!
Whisk Creamery
Whisk Creamery offers tasty freakshakes at some of the most competitive prices I've ever seen! My Yuzu & I was only $11.20, but was full of flavor with a dark chocolate and yuzu citrus milkshake, milk chocolate cream, creamy yuzu curd, tangy lemon jellies and biscotti crumble. I'd never paired lemon and chocolate before, but I certainly am going to try it again the next chance I get!
In addition to gourmet milkshakes like the Croinutella and Fruity Pavlova, they also offer several other creative confectionaries. Whether you like croinuts, gelato, or a mix of the two, Whisk Creamery has you covered. No matter what you choose, you're sure to end up with something amazing.
The Grumpy Sailor
Nothing says badass like a crazy shake in a skeleton mug. The Grumpy Sailor is the most unique freakshake serving joint I've ever visited… you're just as likely to see burly, tattooed men as you are to see a gaggle of Instagrammer ladies. The shop is also lined with books available for swap, so bring a book or two and leave with something new to read.
After much deliberation, I ordered the Tim Tam smoothie. Now I'm no nutritionist, but since these are technically smoothies, I'm pretty sure they're also healthy. The cloud of cream on top began melting almost immediately after I received it, so we rushed to the awesome airbrushed wall to take photos. I got a couple clicks in when disaster struck (the cream fell off). Thanks to my ninja-like reflexes, I caught the cream and replaced it.
MOP Donuts
MOP Donuts was my first stop after leaving Melbourne and its incredible freakshakes. When I heard that MOP offers Freekshakes topped with cheeseburgers, corn dogs or red velvet crusted fried chicken, I knew that my freakshake obsession wouldn't end in Victoria.
Another blogger friend and I stopped by to check out these Texas State Fair-worthy concoctions. Chantae ordered the Rainbow Brite, while I tackled the Red Velvet Chicken shake since they were out of slider buns for the cheeseburger shake.
Meat on top of a shake might have been just a tad over the line for me, but if over-the-top is your middle name, MOP is for you!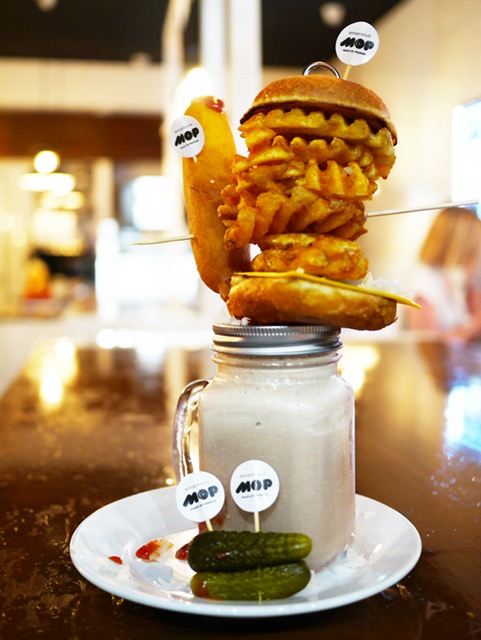 Rabbit in the Moon
I was drawn in to Rabbit in the Moon by the giant sign advertising Unicorn Freakshakes. It was as if my whole life has been leading up to the moment when my two greatest passions unite. But when I ordered, I learned that they no longer make the magical treat. Cue major disappointment. I got back on track though and ordered their Seasalt Caramel Waffle Shake, which comes decorated with caramel popcorn and giant flakes of seasalt. Chantae ordered the Peanut Butter Chocolate Shake. Her boyfriend left the sugar rush to us and ordered a lemon, ginger and honey while holding props as we clicked away.
Rise & Grind
As the self-proclaimed 'sweetest spot in Perth,' I knew I'd discovered something special from the moment I walked in the door. Down the hall with chalk art about the 'destination being the journey' and into the sunny cafe, the only conflict was deciding which shake to choose. The decision came easy, though when I saw a unicorn shake on the menu! Hello sweet redemption! The flavor of the shake? It's magic. And its ingredients? Well… it looked a whole lot like nerds, marshmallows and sour candy, but I'm pretty sure it was a perfect blend of unicorn poop and tears, in the most delicious way possible.
Diabetes isn't a laughing matter… but Type II makes a pretty great shake. Topped with a brownie and loaded with chocolate, this shake is sure to induce a sugar coma.
Babooshka
I saved Babooshka for last because a triple donut, whiz fizz and fairy floss shake is as over the top as they come (without adding meat, of course). This donut flavored shake is topped with two and a half donuts, sour belts, cocoa krispies, pretzels and rose flavored fairy floss. Inside, there's another donut, so if my math is correct, it's actually a 3 and a half donut shake. Holy moly.
Bonus: Lucky Chan's
This is in no way, shape or form a freakshake… but it's a unique cocktail in a pretty rad location. Lucky Chan's is located just down the street from Whisk, so it's the perfect pre or post stop if you're in need of something a little less sweet. Pop into this converted laundromat and order one of their delicious alcoholic Bubbletease. I'm a major bubble tea fan, but my fandom has increased tenfold now that I know there are cocktail versions. Don't miss this spot!
Which one do you think is Perth's best freakshake?
Pin this post!
SaveSave
SaveSave
SaveSave