If you want the full SCOOP on the best quotes about ice cream, the funniest ice cream jokes, sweet ice cream puns and epic song lyrics about everyone's favorite frozen treat, you've come to the right place! My Instagram account, @thesweetwanderlust, is a colorful explosion of desserts and travel with a punny twist! I'm a bit of a CONE-trol freak… working hard to craft captions that my followers will MELT over! If you're looking for COOL ideas on how to caption your ice cream photos, I'm (SOFT) SERVING up 50+ ideas for you!
Quotes about ice cream
Not sure what to say? Check out this compilation of ice cream quotes by famous fictional characters, authors, comedians and even a rapper or two!
Funny ice cream quotes
"I go running when I have to. When the ice cream truck is doing sixty." —Wendy Liebman
"Everyone knows that ice cream is worth the trouble of being cold. Like all things virtuous, you have to suffer to gain the reward." —Brandon Sanderson
"You can pour melted ice cream on regular ice cream. It's like a sauce!" – Chris Pratt
"When I'm no longer rapping, I want to open up an ice cream parlor and call myself Scoop Dogg." – Snoop Dogg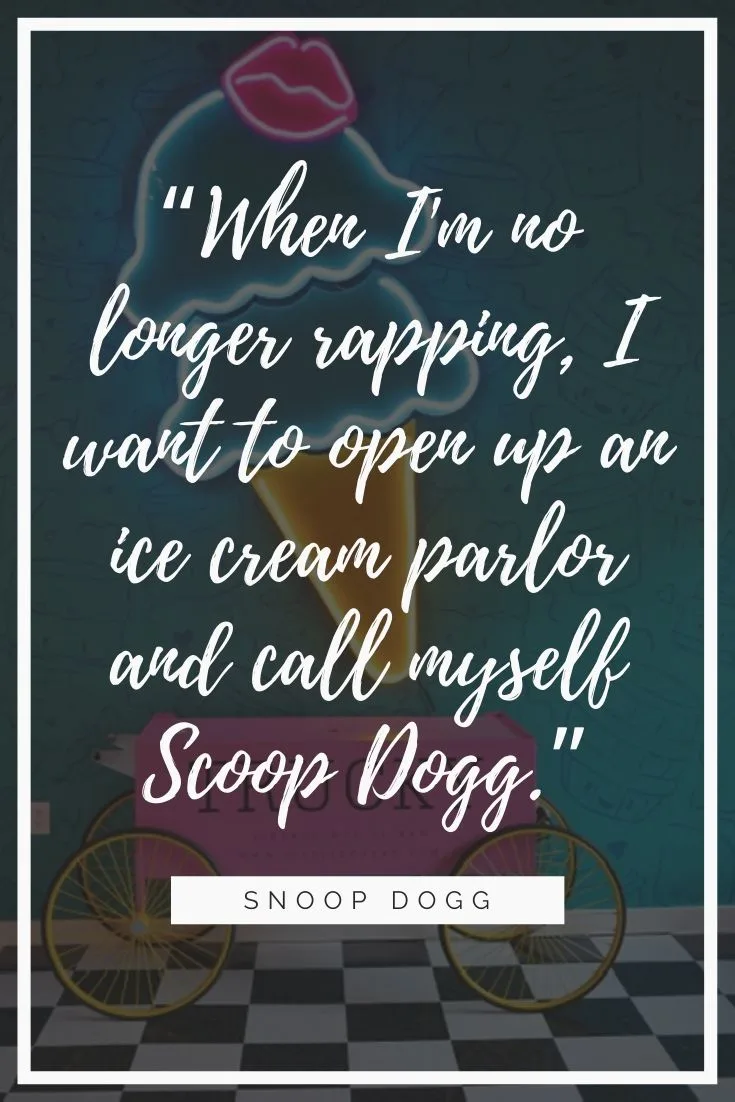 Inspirational quotes about ice cream
"Don't let your ice cream melt while you're counting someone else's sprinkles." — Akilah Hughes
"Life is like an ice cream cone, you have to lick it one day at a time." — Charles M. Schulz
Ice cream quotes for heartbreak
"If someone breaks your heart just punch them in the face. Seriously. Punch them in the face and go get some ice cream." —Frank Ocean The Sweet Wanderlust note: This is a terrible idea. Maybe just skip straight to the ice cream?
"A good night sleep, or a ten minute bawl, or a pint of chocolate ice cream, or all three together, is good medicine." — Ray Bradbury, Dandelion Wine
"Milkshakes make the world seem less sh*tty." ― Shaun David Hutchinson, We Are the Ants
More awesome ice cream quotes
"Some people are worth melting for" —Olaf, Frozen
"You can't buy happiness, but you can buy ice cream and that's kind of the same thing." — Unknown
"Forget art. Put your trust in ice cream." — Charles Baxter, The Feast of Love
"It is always sad when someone leaves home, unless they are simply going around the corner and will return in a few minutes with ice-cream sandwiches." — Lemony Snicket, Horseradish
"Ice cream is exquisite. What a pity it isn't illegal." — Voltaire
"I scream you scream, we all scream for ice cream" —Unknown
"Without ice cream, there would be darkness and chaos." — Don Kardong
"When I was a kid, I used to think, 'Man, if I could ever afford all the ice cream I want to eat, that's as rich as I ever want to be.'" —Jimmy Dean
"A day without ice cream was a day wasted." -Iain Pears
"Ice cream is happiness condensed." ― Jessie Lane Adams
Ice cream puns
Sundae funday!
Let's have a lazy sundae!
This ice cream is legenDAIRY!
Ice cream, because you are driving me crazy!
I'm a cone-trol freak!
Stealing ice cream? I don't cone-done that behavior!
You cone do it!
I love you un-cone-ditionally!
You just got (soft) served!
Have you heard the scoop?
We're gonna party like it's SHERBET day.
If you believe, anything is popsicle.
Chill out!
What's (milk)shakin'?
I think you're waffle-y cute!
I'm nuts about you!
You make me melt!
SCOOP, there it is!
Chip happens!
You and me? We're mint to be!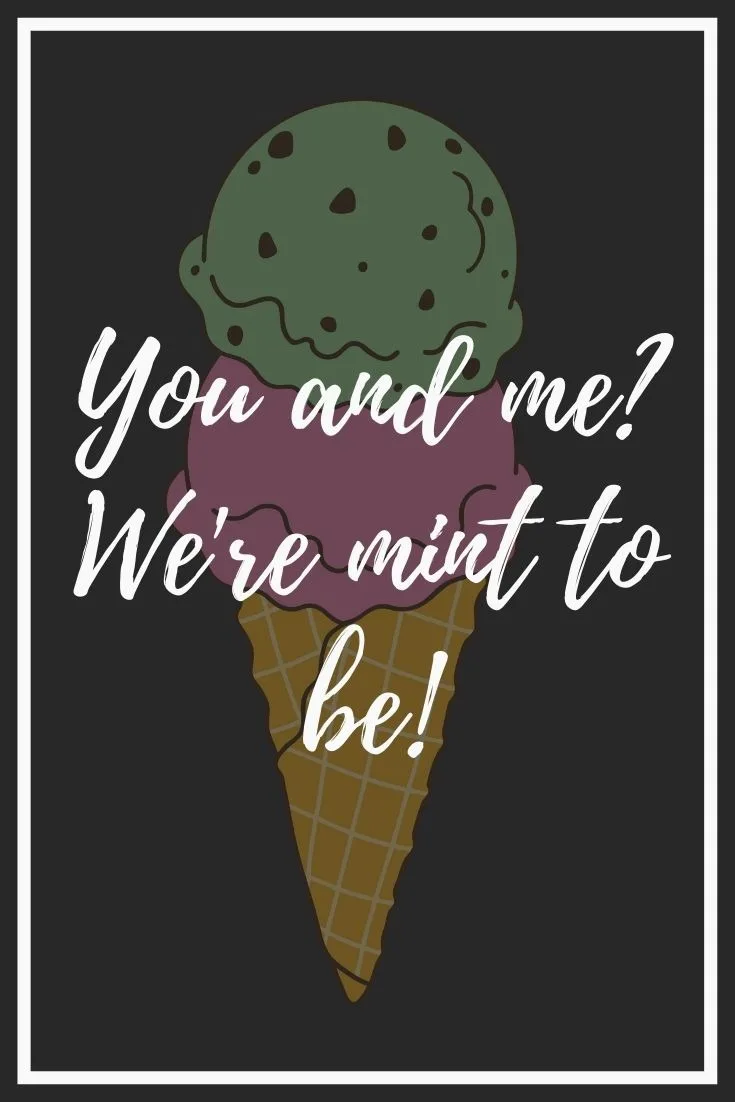 Lyrics about ice cream
Ok… so some of these lyrics weren't *technically* written about ice cream, but if the cone fits…
BLACKPINK's Ice Cream (with Selena Gomez) will leave "ice cream chillin' chillin' ice cream chillin'" on repeat in your head for hours!
"I'll stop the world and melt with you" — Modern English, I Melt with You
"You've got me chasing after you,
Like an ice cream truck" — Beyoncé, Ice cream truck
"I've still got you ice cream
Belly getting bigger or so it would seem
Hand feels empty when it's not holding a spoon
Dessert for me can never come too soon" — Pissed Jeans, I've Still got You (ice cream)
"Watch me whip." — Silentó, Watch Me (Whip/Nae Nae)
"When I dip you dip we dip" — Freak Nasty, Da' Dip
"A cloud of pink ice cream, Where every star is a candy bar, And the moon is a marshmallow dream." — Elvis Presley, Cotton Candy Land
"My milkshake brings all the boys to the yard" — Kelis, Milkshake
Need more ice cream song lyrics? Check out the best songs about dessert!
Cute ice cream Instagram captions
All you need is love (and ice cream).
I love you more than ice cream.
A balanced diet is an ice cream in each hand.
It's never too cold for ice cream.
I hate it when I'm making a milkshake and boys keep showing up in my yard.
Today's forecast: Sunny with a chance of sprinkles
You're the only one I'd share my ice cream with.
Sundaes are better with you by my side!
When the going gets tough… add more sprinkles!
I make ice cream disappear, what's your superpower?
Ice cream jokes
Q: Why does everyone invite ice cream to the party?
A: Because it's cool!
Q: How do you make a milkshake
A: Give a cow a pogo stick!
Q: How does Reese eat her ice cream?
A: Witherspoon!
Q: Where can you learn how to assemble ice cream, hot fudge, nuts, sprinkles, and a cherry?
A: Sundae school!
Q: What do you call a cow during an earthquake?
A: A milkshake!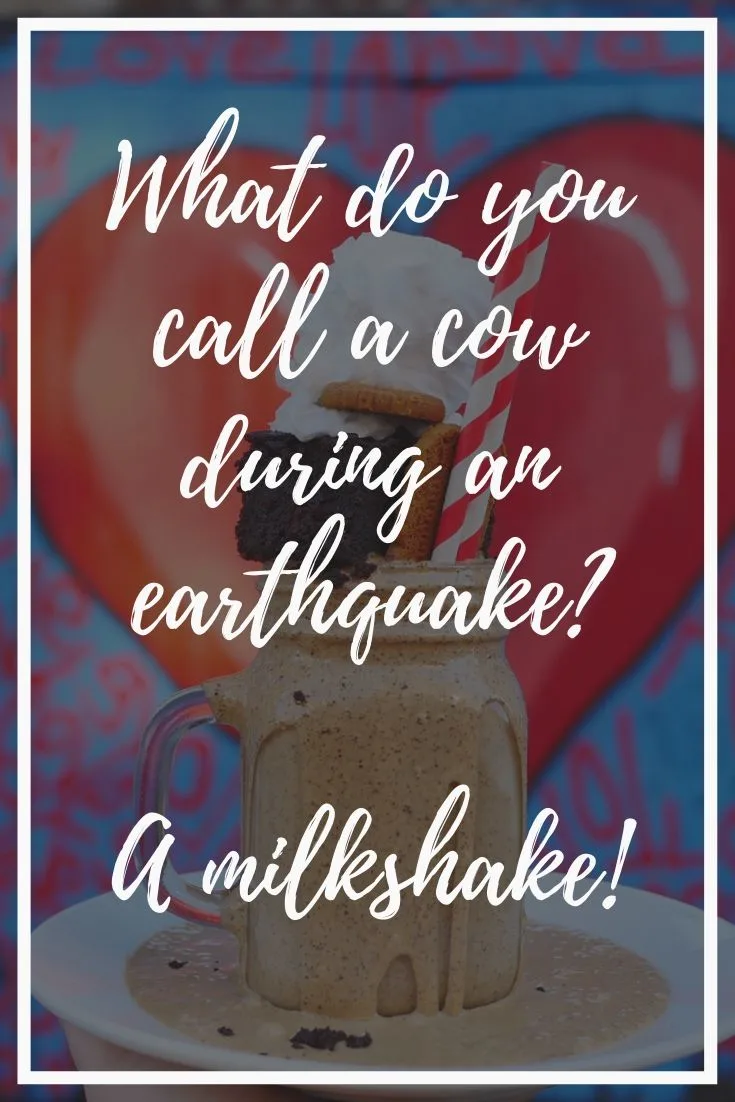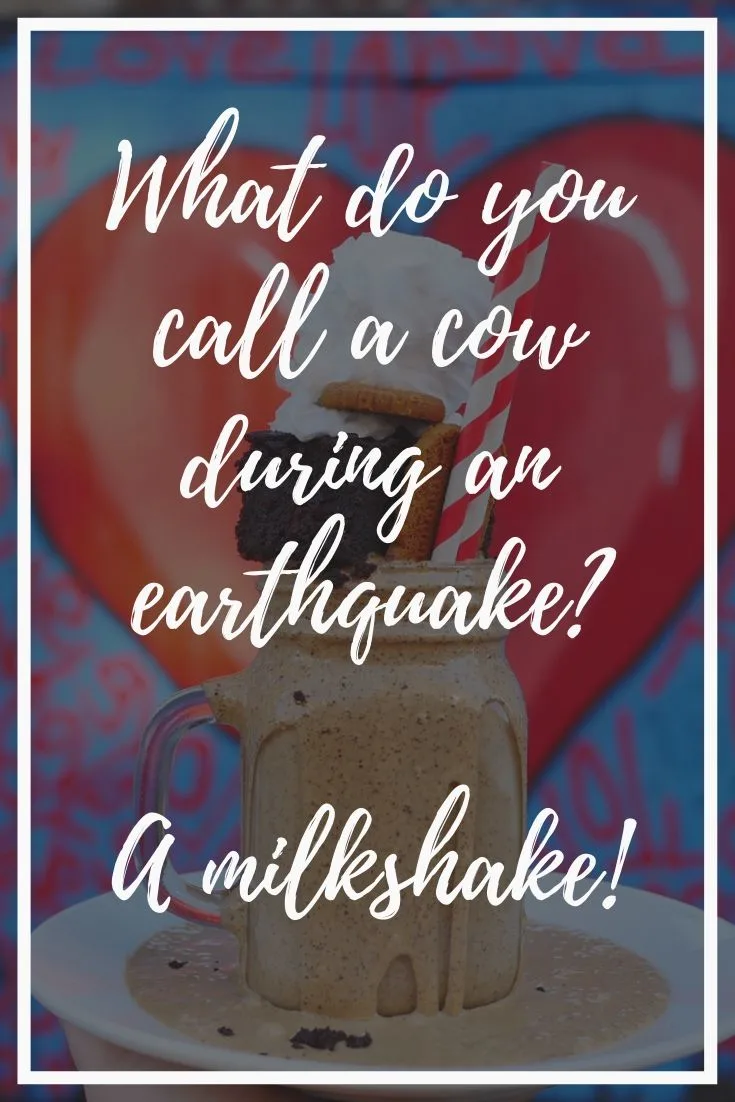 Share your favorite ice cream quotes, puns, jokes, and captions with me in the comments section!
Pin this post so you'll never freeze when writing an ice cream Instagram caption!