If you're a pro chef, you may already know most of these tricks. As for me… boiling water was number one on my very short list of kitchen tricks. But that was before I spent a week at La Pitchoune, Julia Child's summer home, cooking in her iconic kitchen.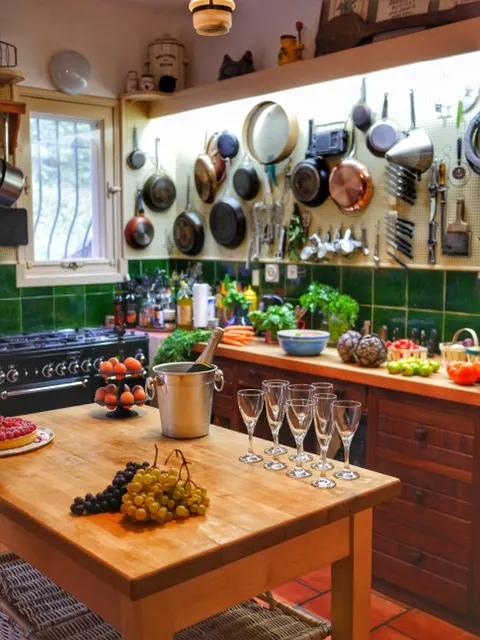 Of course, Julia Child wasn't there (she passed away in 2004), but I believe a bit of her culinary magic and winsome personality was left behind for those who continue to pass through the doors of her Provençal home.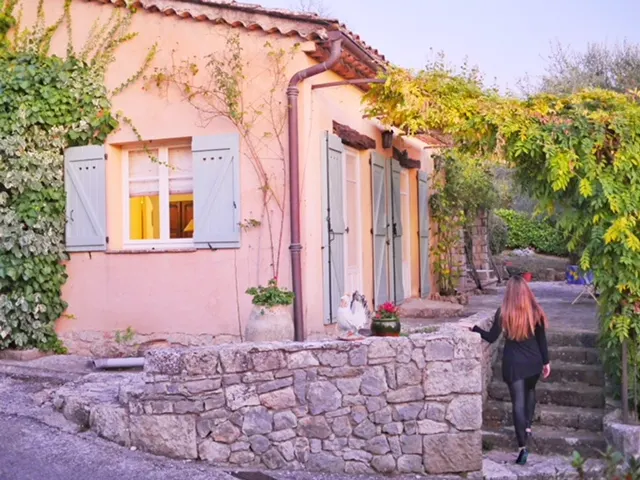 The tips and tricks I learned at The Courageous Cooking School have stuck with me and will inform my cooking for the rest of my life. Some are simple and straightforward, while others had even the most experienced home cook taking notes. I hope some of these can transform your kitchen routines as well!
Things I learned in Julia Child's kitchen
Don't throw all the vegetables in to the pan to cook at the same time. Begin cooking the hardest vegetables first, then add others based on firmness. It completely makes sense that a carrot and a mushroom should cook for different lengths of time… control the finished product by thinking ahead.

When making garlic paste, it's important to dice the garlic as finely as possible before adding a bit of salt and using the fat part of your knife to make a paste. More surface area = more flavor… so get chopping!
Do you hate it when your hands smell like garlic long after you've finished chopping? Get ready for some kitchen magic: grasp your knife between your thumb and fingers – the blunt sides, not the blade- and run your hand and the knife under cold water. Repeat with your other hand. Now smell them. Magic.

Presentation is key. If you use apples in a dish, be sure to toss them in lemon juice to delay premature browning.

Speaking of fruit… a fruit tray is a great way to add color to your table. Select a variety of fruit in different colors and mix it up by cutting some fruit into wedges, while creating cross-sections of others. Once it's plated, place a damp towel over the fruit and pop it into the fridge, where it will stay fresh for 12 hours.
To easily skin a tomato, cut a cross into the top of the tomato and drop it into boiling water. When the edges of the cross peel back a bit and before the tomato gets cooked, move the tomato into ice water. Peel the skin while it's in the ice bath. Voilà!
Salt isn't just for seasoning your food! After a visit to the local poissonnerie (fish shop), we stuffed our fresh, cleaned fish with herbs, lemons and oranges and packed them in a "sandcastle" made with salt, eggs and a bit of water. This method also works with any vegetable that can be cooked in its skin, like potatoes. The salt insulates the food and ensures even cooking. After baking, we cracked the hard, salt shell and were surprised to see the skin fall right off the fish to reveal the most tender meat. I credit this meal with changing my "I hate fish" attitude.
Before La Peetch, I purchased chicken based on price. You're probably not surprised to learn that there's a better way. For the most perfect chicken, a Heritage bird that's older than two years old is the way to go. And as far as looks go? You're going to want a chicken that's more Kim Kardashian than Pamela Anderson.
Want to season a soup or stew with hard herbs that provide great flavor, but aren't nice to eat? Make a bouquet garnis with hard herbs in the concave section of two pieces of celery. Tie together with a string and hang from the edge of the pot. Just remember to take it out before serving!
The most important thing I learned in Julia Child's kitchen is that the very best recipe is one that works for you. While Julia Child made her living and created a legacy with recipes, the Courageous Cooking School is all about recipe-free cooking. One day, we made individual portions of steak tartare. Sure, we could have followed a recipe and every one would turn out perfectly. But it's only perfect for the author of that recipe. With a fully-stocked kitchen at our disposal, we got creative. And we created six completely different variations of steak tartare. Mine was so spicy, most people hated it, but after all the taste-testing, mine was still my favorite. Who would've thought I'd go from hardly being able to boil water to eating raw steak (and loving it) in less than a week?!
I wish I could tell you I am regularly hosting dinner parties for 300 with my new skills or that I'm cooking every single night. (I'm sure my flatmates wish the same!) But I'm taking risks in the kitchen that I never would have dreamed of before. I'm perusing cookbooks, and throwing them aside to create dishes that sound good to me. I'm testing and tasting and getting better every day. I hope these tips and tricks provide a little AH HA moment for you, too.
In the words of the late, great Julia Child: Bon Appétit!

Pin this post!
SaveSave
SaveSave