At the mention of Indian food, thoughts of garlicky naan, spicy curries and loads of rice dance in my head, making my mouth water. Before visiting Kerala, I'd only eaten Indian food three times– and all three times were after planning my trip to India. I'm making up for lost time now, though.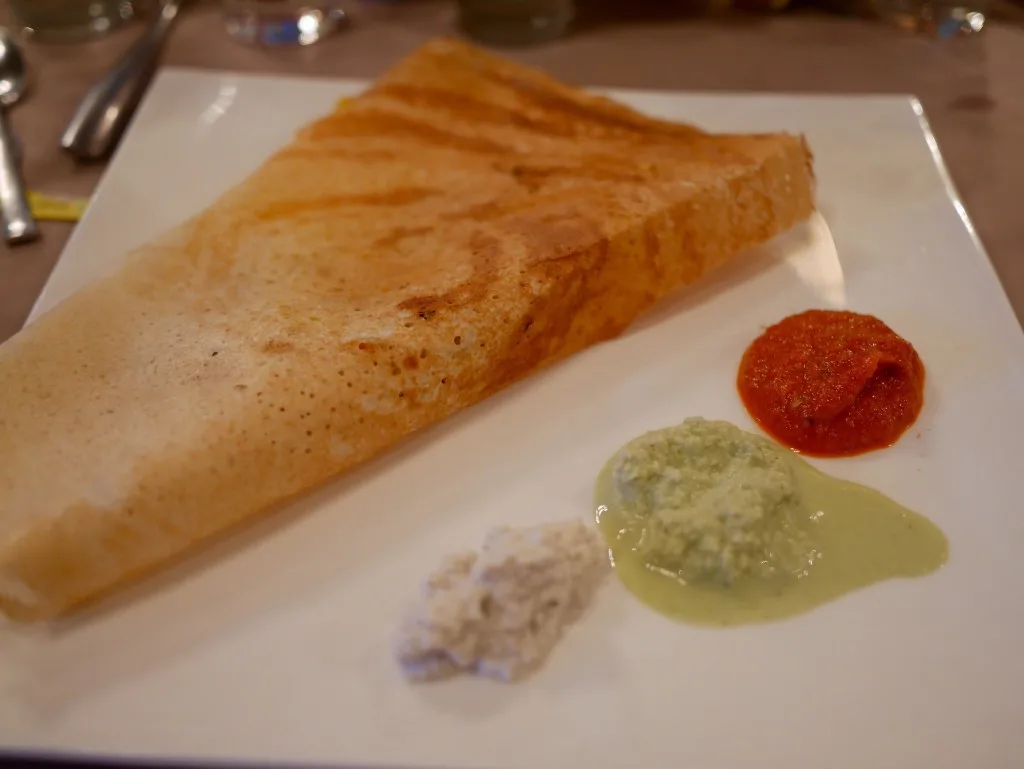 In my world, a meal is not complete without dessert. Even the most delicious, filling meal needs a little sweet something at the end. I love trying new desserts and learning about ways that a culture weaves in their favorite and most plentiful foods into the end of a meal.
Although I was told that India "isn't known for its desserts," I've really enjoyed *almost* every dessert I tried.
Top 10 sweets and desserts of Kerala
1. Palada Payasam
A sweet spaghetti soup, this is one of the desserts that we've had most on the Kerala Blog Express. It's made with sugar, butter, ada (rice), cardamom, and garnished with raisins, cashews, and sometimes carrots (so it's basically a salad!). The Spice Goddess is on our trip, and has a great family recipe you can see here. To make her recipe Kerala-stye, add cashews and raisins!
2. Rava Laddu
While staying in Wayanad, our host, Mrs. Rema made rava laddu for dessert. Similar in texture to a no-bake energy ball, these bite-sized treats are made with semolina, ghee, milk (ours was fresh from the cow on property at Pranavam Homestay), sugar, raisins, cashews, cardamom and coconut. We loved them so much that Mrs. Rema let us eat the extras for breakfast the next day!
3. Parippu Payasam
It looks like chocolate sauce… but don't be fooled! Parippu Payasam is made of lentils. This one is not my favorite… Cumin, cardamom and coconut are lovely flavors, but when you expect chocolate, there can be no substitution.
4. Chatti Pathiri
This dessert is specific to the malabar region of Kerala, and is made of many layers of thin pancakes. It can be made with savory ingredients, but I tried this sweet version at Vythiri Village Resort. Maybe I have Italy on the mind, but this layered pastry reminded me of a dessert lasagna.
5. Mutta Maala
Mutta (egg) and maala (string) is a dessert made entirely of egg, sugar and water. The egg whites and yolks are separated, and the egg yolk is poured through a small hole into boiling sugar water so the yolk looks like string. Like many of the egg yolk desserts I tried in Lisbon, mutta maala is tasty without being too sweet.
6. Bonda
We enjoyed the Indian version of banana muffins as an appetizer with Kalypso Adventures while glamping at the base of the Western Ghats.
Made with banana, jaggery, maize flour and wheat flour, they taste great with a glass of fresh one meter chai, which brings us to our next sweet treat…
7. Chai
This ain't your Starbucks chai tea latte! The Indian 'baristas' mix sugar, masala chai, and milk and pour back and forth between containers, creating a perfectly frothed tea. Since I'm working as a barista in Queenstown, NZ at the moment, I asked for tips on their method. They suggested that I practice. With water. In an area that can get wet. Looks like Cup & Cake isn't going to be serving a one meter chai anytime soon!
8. Fresh fruit juices
Coconut, pineapple and watermelon are in season this month, and the freshly squeezed juices from these fruits— while they aren't dessert— are some of the sweetest, freshest juices I've ever tried.
9. Tree tomato
Tomatoes are one of the only foods I just absolutely do not like. But, since the tree tomato was on the dessert tray, I gave it a try. For me, there were so many things wrong with this dessert. First… it's a tomato in disguise as a dessert. You cut the top off and squeeze the fruit so the edible inside squishes out. Many on our trip loved this fruit, but for me, even with the sweeter-than-actual-tomato taste, it was just too much like a tomato for me. At least I've crossed eating a tomato in India off my Be Brave list!
10. Jackfruit flambé
Ok… so this one isn't a traditional dessert in Kerala… yet! The manager of Vythiri Village Resort created this dessert especially for the Kerala Blog Express. The jackfruit is the largest tree borne fruit in the world (weighing between 10 and 100 pounds) and has deep roots in India. There's evidence that people here have been cultivating it for at least 3,000 years! It looks a little like durian, but that's where the comparison ends. Jackfruit tastes a little like pineapple, has an eggplant texture (making it a great meat substitute in many Indian dishes) and while the outside of the fruit is stinky when ripe, the smell of the pulp is a cross between banana and pineapple.
When you add that sweet, perfectly ripe fruit into a skillet of bubbly sugar, and light it on fire, you end up with a dessert that pairs wonderfully with a scoop of vanilla ice cream!
Have you tried any of these desserts? Are any of your favorite desserts from Kerala missing from the list? Let me know in the comments!
Pin this post