Looking for something sweet to top off an epic day of bungy jumping, jet boating and sky diving in the adrenaline capital of the world? When you're ready to swap the adrenaline rush for a sugar rush, this list of the best desserts in Queenstown is sure to satisfy your sweet tooth!
The Best Desserts in Queenstown, New Zealand
1. Balls and Bangles
Just after I moved away from Queenstown, Balls and Bangles opened up right across the street from the shop where I worked. The flood of tags and messages attested to the Instagram-ability of Balls and Bangles. Never one to miss a good photo-op, I traveled back to Queenstown to check out their selection. From crazy milkshakes to colorful donuts, there's a picture-worthy treat for everyone!
2. Churros stuffed with dulce de leche at Patagonia
Churros? Good! Dulce de leche? Good! Put them together and you've got a match made in heaven! Patagonia is owned by Argentinians Alex Gimenez and Lorena Giallonardo… and Argentinians know a thing or two about good dulce de leche!
If you're looking for ice cream, try it in one of their cones. The bottom of the cone is stuffed with chocolate!
3. Salted caramel truffles at Bespoke Kitchen
You might be wondering how I can know that Bespoke Kitchen salted caramel truffles are among the best desserts when I've only eaten there for breakfast. Not only are they a wonderful dessert, but I can also vouch for them as a perfect appetizer for pancakes.
4. Deep fried kiwi at Erik's Fish and Chips
What's more Kiwi than a kiwi fruit? Fresh fruit dipped in batter and rolled in cinnamon sugar, it's the perfect mix of tart, sweet, and fried. Erik has created a new kiwi classic with this one!
5. Deep fried Twix at The World Bar
Leave it to this Southern girl to find not one, but two deep fried desserts to include on the list of top desserts in Queenstown. The World Bar is one of my favorite spots in town (don't you dare miss their fried chicken and waffles), and their dessert doesn't disappoint.
6. Ginger slice at Vudu Cafe & Larder
Sweet, nutty, and oaty, the ginger slice at Vudu is one of my favorites. Also… ginger is healthy, so I'm pretty sure this goes in the good-for-you category.
7. S'mores cookie at Cookie Time
My American might be showing a little bit with this list… but two fresh-out-of-the-oven chocolate chip cookies, toasted marshmallow and melty chocolate makes the s'mores cookie a winner in my book. Even better? For just $4 more, enjoy the s'mores cookie atop a s'mores milkshake.
8. Lolly cake at Fergbaker
Until I came to New Zealand, lolly cake was not part of my vocabulary, but for this girl with a sweet tooth the size of Texas, it became a fast favorite. Lolly cake is made of crushed cookies, sweetened condensed milk and lollies that are similar to marshmallows. In addition to their lolly cakes, Fergbaker makes a Boston Cream donut that's a crowd favorite.
9. Fudge at The Remarkable Sweet Shop
Stop by The Remarkable Sweet Shop, and you're sure to be offered a taste of their fudge. It's a tiny taste and it's free, but I guarantee that taste will get you hooked and you'll be leaving with a hunk of fudge. I love the Irish Cream and the Dark Chocolate Caramel Sea Salt flavors, but the Creme Brûlée is their best seller!

10. Caramel slice at The Exchange
Enjoy a coffee and a slice for $6.80 between 2-5pm every day. I love all of their dessert options combining chocolate and peanut butter, but the caramel slice is a definite favorite!
Which dessert is your favorite in Queenstown? Have I missed any? Let me know in the comments!
11. Cupcakes at Cup & Cake (now closed-RIP)
I put in 6 months of 'undercover research' at Cup & Cake… and have come to the conclusion that their Mexican Hot Chocolate, Drunken Cherry and S'mores flavors are three of my most favorite cupcakes. In my time spent running their social media accounts (go give their Instagram and Facebook a like!) and barista-ing, I've had the pleasure of working with some insanely talented and creative people and that passion comes through when you try one of their cupcakes.
Don't even get me started on their cake pops, perfect bites of cake and buttercream dipped in white or dark chocolate… Yum!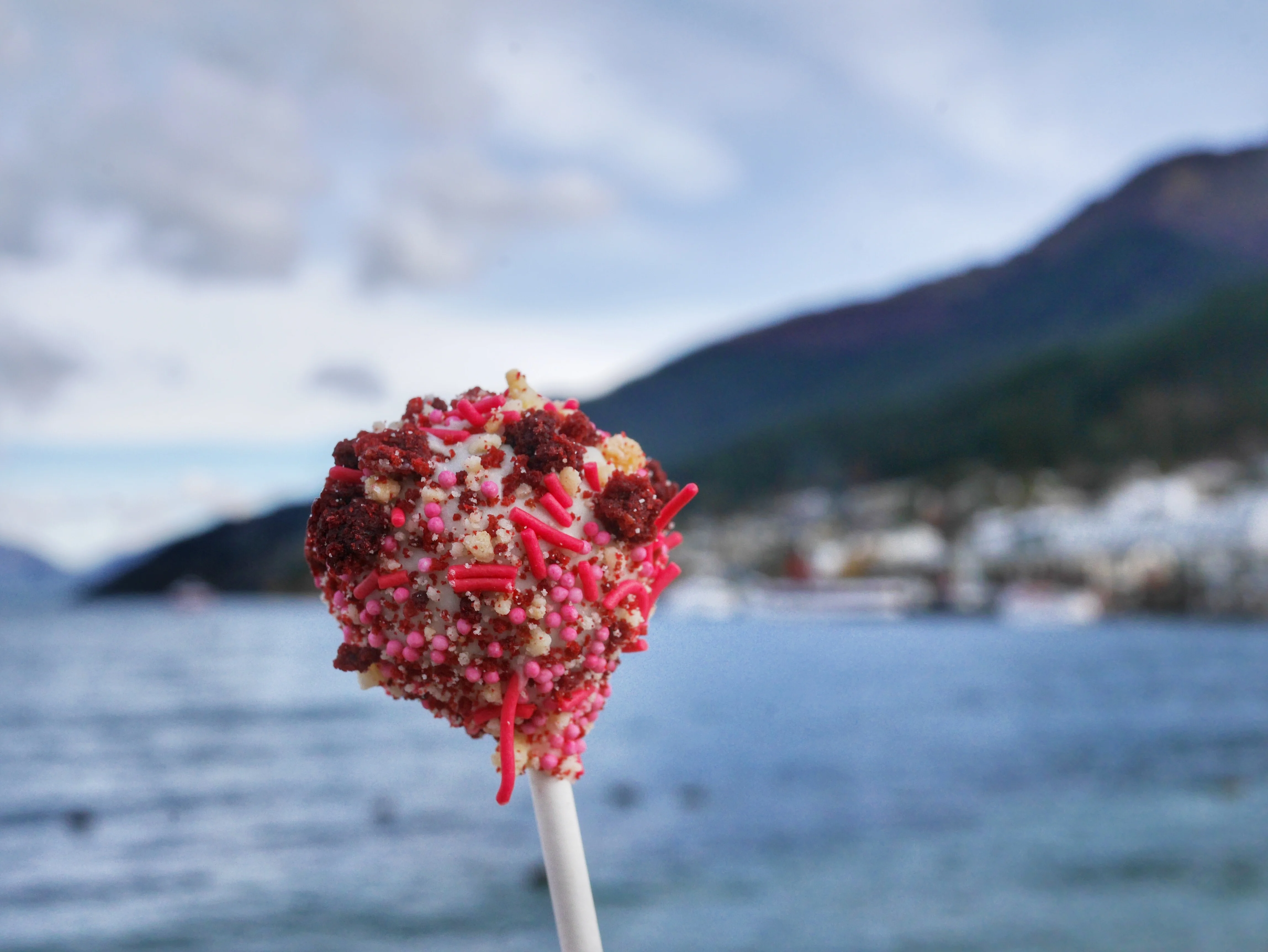 Pin this post
SaveSave