Let me tell you what I knew about Singapore before getting unexpectedly dropped off there for 48 hours because of a canceled flight: You can get in BIG trouble for chewing gum on the subway. The end.
And so when I hopped in a cab to my hotel, I wasn't sure whether I was in a safe place where it was ok to be a solo female traveler. You probably already knew this about Singapore… but I soon learned that Singapore is absolutely, 100% great for solo, female travelers. It's safe, clean, and full of friendly residents. Here, the national pastimes are dining and shopping… Which are two activities I can get behind!
From the moment you step foot in the airport, you're taken care of (hello SGD 40 vouchers, free movie theatre, and free city tours!) Seriously… check Changi Airport's website to see what you can experience while you're there. Even if your layover is only a few hours, there's something for you!
I arrived at the Hotel Jen Tanglin and was blown away by the level of service and the thoroughness of the decorators to make the hotel a traveler's paradise.
Check-in desks made out of vintage suitcases, bicycles on the wall, and a cozy sitting area were all part of the recent SGD 45 million makeover. When I swiped my keycard and the door to my room swung open on its own, I felt as if I was in a futuristic movie. And when the door closed on its own, the genre shifted slightly to horror… but I quickly got used to the self-opening door, floating bed and self-flushing toilet in the lap of luxury.
And don't even get me started on the amazing food at the Hotel Jen! It was the most extensive buffet and tastiest food I've ever had at a hotel. And ice cream and candy was available at every meal… score for the sweet tooth!
A hop-on, hop-off bus through Singapore
Although I could have happily spent the full two days at the hotel, I couldn't leave Singapore unexplored. I didn't have time to prepare for this trip by consulting a Singapore travel guide, so I got a ticket for the Hop-on, Hop-off bus for a little commentary on the city while getting the lay of the land. It was a nice ride, but if I were to do it again, I would have traveled by MRT the whole time. Since eating and drinking on the subway results in a $500 fine and littering and/or spitting carries a $2,000, it's the cleanest subway I've ever ridden. It's also super affordable and easy to use.
But… back to the Hop-on, Hop-off… After riding around for a while and learning about the Red Dot (Singapore's nickname given its small size on a map), I hopped off in Chinatown. (I bypassed Little India, because I had spent 2.5 amazing weeks in Kerala, and couldn't imagine that Little India could compare to the real deal!) I took a walk through Sri Mariamman Temple— the oldest Hindu temple in Singapore. It's full of beautiful carvings and once a year, they host a firewalking ceremony. On the day I visited, though, I had the place to myself and took my time admiring the artistry of the Dravidian style.
Trying Bingsu
Outside the temple, I met a group of girls in their early teens who asked me to fill out a survey as part of their exam. I answered several questions about the culture I'd experienced in Chinatown and was thanked profusely for being the first person to agree to complete their survey. Then I surveyed them… Where can I get some awesome dessert around here? They told me about Bibing, a cafe which serves a Korean dessert called bingsu that reminds me of snow cream.
I ended up at the cafe and asked the owner, Hector, if I could watch him make bingsu… He did one better, and taught me how to make it myself! Milk is frozen and shaved, then layered with your choice of toppings. I chose the injeolmi, which was made with soybean powder, Korean rice cake, and almonds.
And guess who showed up halfway through my bingsu preparation… the girls had finished their exam. You should have seen Hector's face as he asked "You know them??" while the group of girls waved and shouted hellos. My response? "We go way back."
Checking out Marina Bay Sands
After my bingsu adventure, I met up with my friend Sara (Fit Travels) and her husband to explore the Gardens by the Bay.…And we're back to the futuristic fairytale land. As you walk the elevated sidewalk through the Marina Bay Sands resort and look around at the city, you can imagine that all of Singapore might come to life in some sort of Transformers-esqe battle. A giant ferris wheel, a lotus shaped museum, a hotel with a surfboard on top, and sculpted trees with living skin.

Strolling the Supertree Grove
We walked through the Supertree Grove (free!) and spent the $8 to walk the OCBC Skyway to get a closer look at the Supertrees. More than just looking impressive, these trees collect solar energy and have a 'living skin' made of 162,900 plants.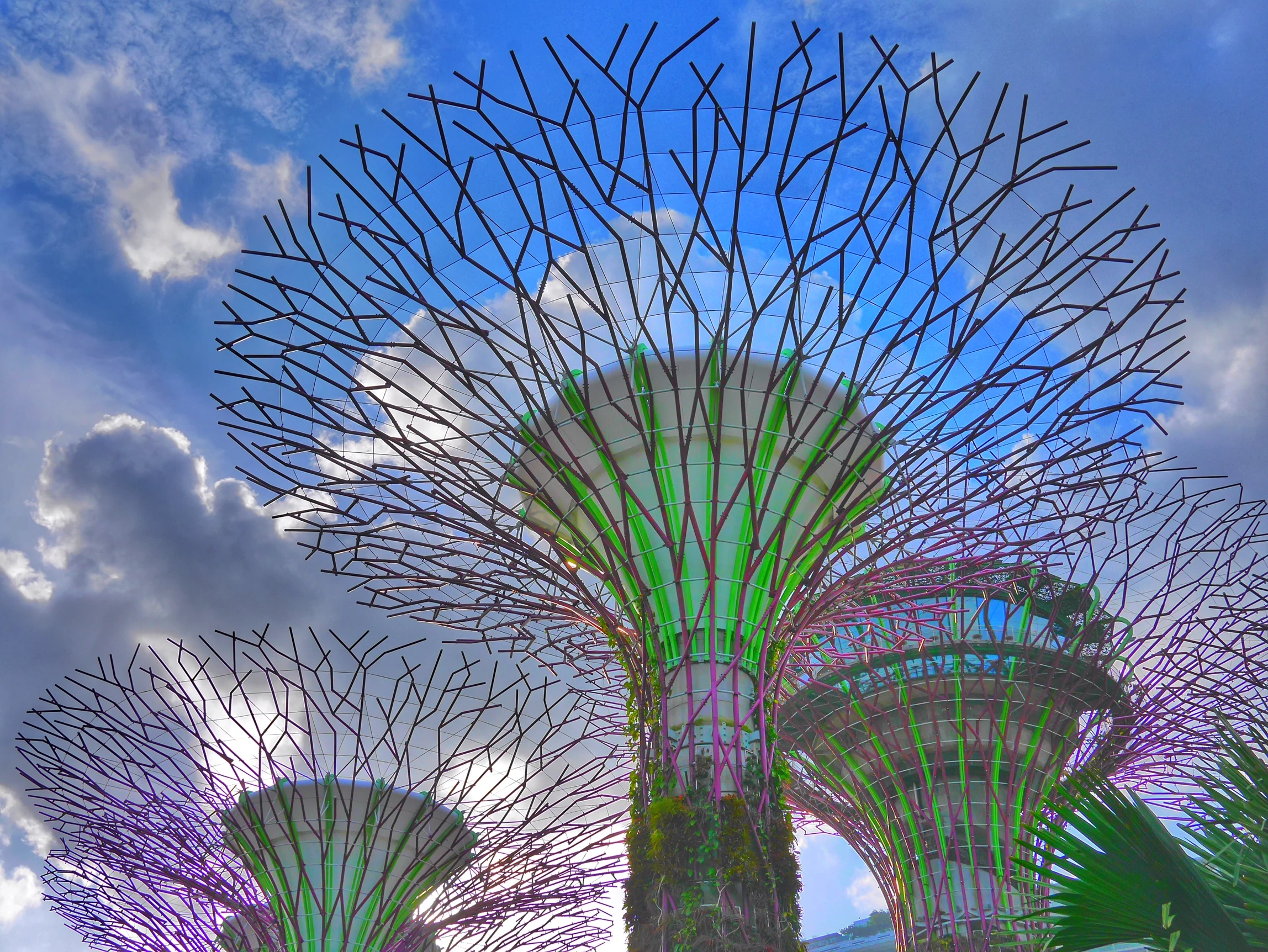 As impressive as the trees were in the daytime, we decided to take a break for a Hawker-fare dinner before coming back to Gardens By the Bay for the evening light show. Hawker Fare is Singaporean street food, and there's something for everyone. Noodles, curries and rice abound at prices that put McDonald's to shame. Try a few different meals and share with friends to try as much as possible.
We took the MRT back to Gardens By the Bay for the night show, and we were amazed at the light show and music that kept the crowd excited. Don't miss nighttime at the Supertree grove.
Day one ended with a stroll up Orchard Road, passing stores that sell purses more expensive than cars in New Zealand, and making new friends as we attempted to cross the street via underground maze (more difficult than it sounds!)
Sadly, my time in Singapore came to an end too quickly and it was back to the magical Changi Airport. Usually, delayed flights are a pain, but this goes down as best unexpected layover in my book!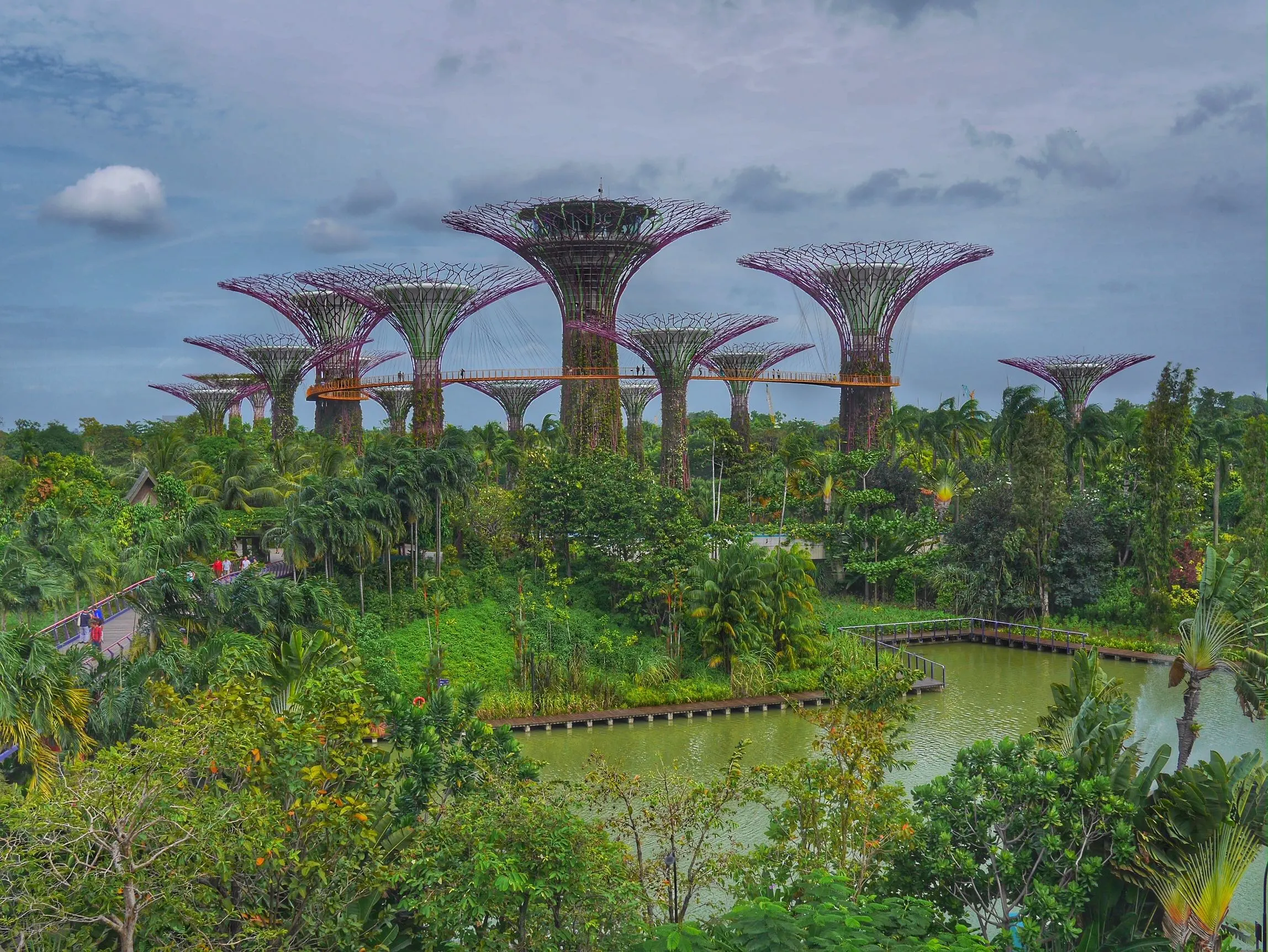 Pin this post: