On the west coast of Australia, 11.5 hours north of Perth, sits a cute town called Coral Bay. It's a tiny little tourist town set on the Ningaloo Reef. When I say "set on" the reef, I mean you can take a few steps off the shore and you'll stub your toe on it. Ningaloo Reef is one of the world's largest fringing reef systems, so instead of a multiple hour boat ride through choppy waters to reach the Great Barrier reef from Cairns, Ningaloo Reef is a 5 minute walk from the seaside settlement of Coral Bay.
The town's permanent population is 190 (as of the 2006 census), but from March to November, that number skyrockets.
There are tons of amazing things to do in Coral Bay. It's a perfect spot to swim with manta rays and whale sharks and from June to October, humpback whales migrate through the area, so it's no surprise it draws people from all ages and backgrounds. Families with small children, backpackers and "grey nomads" in caravans share space in the town's hotels, hostels and campgrounds.
When I visited, I was living on the Northwest Cape, and after experiencing many of the most amazing things to do in Exmouth, I took a weekend trip to Coral Bay. While it would be easy to fill many days in Coral Bay, this weekend itinerary was the perfect way to experience Coral Bay.
48 hours in Coral Bay
Day 1
Avoid the sheep and 'roos as you make your way to Coral Bay and check in to Ningaloo Club. With dorms and private rooms available, this is the perfect place to stay if you're budgeting, but don't want to camp. The hostel has a large alfresco dining area and a pool in case you can't wait to get wet!
One thing to note: If you fill up a glass from the tap and take a chug, you're in for a salty surprise! At the Ningaloo Club, the tap water is quite salty. It's fine for brushing teeth and showering, but don't drink it.
It's time to do a little exploring! Head down to the beach and sink your toes into the sand for a sunset.
Hungry yet? Check out Bill's for cocktails and tapas or a full meal. Their garden wall of succulents had me wondering if I'd stumbled into trendy L.A. instead of small-town Australia. This place is hopping almost every night, a testament to the delicious food.
After dinner, get some rest… tomorrow's going to be an early one!
Day 2
Rise and shine, it's brekky time! Head on down to The Bakery and grab a donut and a Diet Coke (or whatever it is that you like for breakfast) and enjoy it at a picnic table overlooking Bill's Bay. Watch out for the seagulls… if you divert your attention for even a second, they'll take Finding Nemo's "mine, mine, mine" to heart.
Check in for a Ningaloo Marine Interactions tour and get ready to have some epic encounters with the Ningaloo Reef's most amazing creatures. Some divers go a lifetime without ever seeing a manta ray. In Coral Bay, manta rays are spotted consistently, year-round!
The team at Ningaloo Marine Interactions is professional, fun and they deliver an incredible experience. I still can't decide whether the manta rays (which is the main event) or the shark dentist was my favorite part of the day. Check out my full post about seeing whales, a dugong, dolphins and turtles and swimming with mantas, reef sharks and a tiger shark here.
After your tour, expect to be exhausted… excitement really does take it out of you! Head back to the hostel, take a shower (don't forget the conditioner— that salt water does some damage) and relax… but not for too long!
Head down to the dunes for sunset. Most people climb up to the viewing platform, but this not-so-secret spot allows for some pretty spectacular sunset-watching.
Make a reservation at Fin's Cafe and grab your favorite wine from the Bottle-O, because this spot is a BYO establishment. The chilli mussels were pretty fantastic and the perfect way to end a fabulous day.
Day 3
There are other places that serve brekky, but why would you go anywhere else when The Bakery is cheap and fresh and delicious? Branch out with a quintessentially Aussie brekky pie or stick to a good ole' donut and Diet Coke.
Suit up and head down to Bill's Bay for a morning snorkel. For blow your mind, 'I didn't know awesome reefs existed this close to shore' snorkeling, face the bay and turn left, walking several minutes down the beach. Wade into the water and come face to face with Ningaloo Reef. The water of Coral Bay has a 3 hour flushing rate, which means the water is clean and clear and the coral is healthy.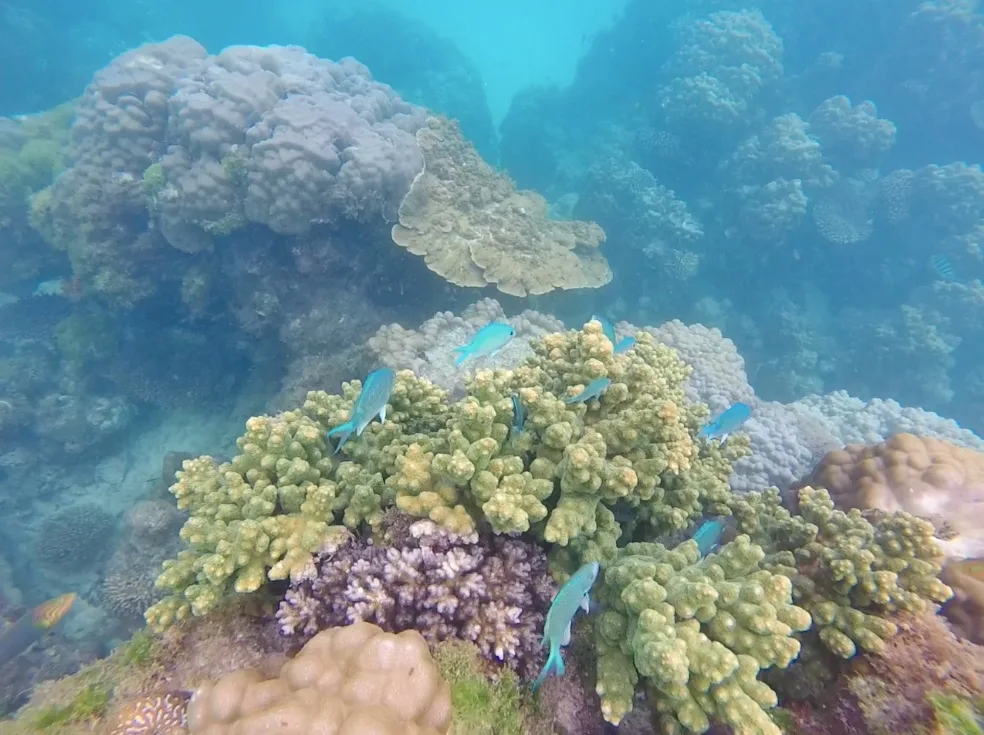 I bet you thought Ayers Rock is located in the Northern Territory. And you're right. But did you know that Western Australia has its own Ayers Rock? You can find one of the world's largest living brain coral right in Bill's Bay! To find it from the shore, face inland and line up with the two windmills on the right. (I promise this will make sense when you're there.) Turn back around to face the bay and swim out to the mooring. Now keep going.
Still haven't found it? Take your head out of the water and look for the glass bottom boats circling the coral or other snorkelers who have already found it! Swim around the amazing natural phenomenon and dive down to check out the wildlife that call WA's Ayers Rock home. Come face to fish with finned friends that are colorful and completely unfazed by a human intruding on their territory.
Or, you can take the guesswork out of the equation and join an Underwater Scooter Tour with Ningaloo Kayak Adventures. It's $60 for an hour tour over 3.5 kilometers of the Bay's best spots. One couple from our Ningaloo Marine Interactions tour loved it so much they took the same tour two days in a row! I ran out of time, and didn't get to try this tour, but I tested out an underwater scooter on my whale shark adventure in Exmouth and give it two thumbs up!
Snorkeling is a tiring activity and after your explorations, food is a must! There are a couple other restaurants in town, but we opted for another trip to Bill's. I don't know who Al is, but I'd like to thank him. The Big Al Burger at Bill's is a burger of Instagrammable proportions. Comprised of a beef patty, bacon, egg, beetroot, cheese lettuce, fried onions, relish, aioli, pineapple and (for those who are into that kind of thing) tomato on a toasted Turkish roll with chips. Carrying my burger back to the table, I saw a little old lady's eyes go wide. She wondered aloud how I was going to eat it. I gave my usual response while eating ridiculous food: One bite at a time.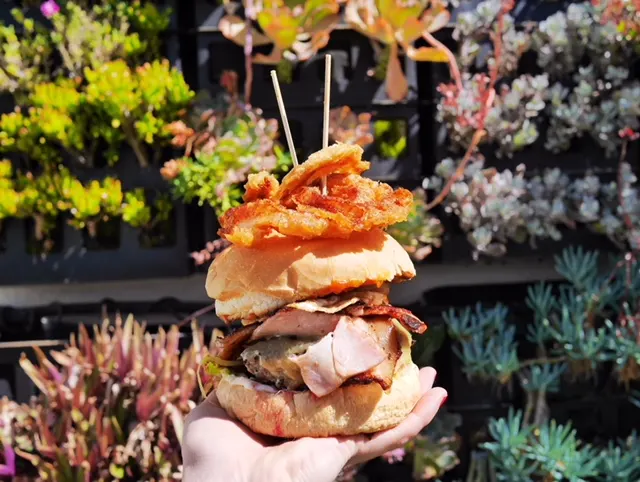 Ready for more marine magic? This time, head to the right side of the bay, where you can see a shark nursery, also known as Skeleton Bay! As far as I know, the name Skeleton Bay has nothing to do with the sharp-toothed residents. From October to March, you can see black tip, white tip and grey reef shark babies in the shallow waters.
Every Monday, Wednesday and Friday at 3pm, you can join a fish feeding session in Bill's Bay. Feeding the fish is prohibited on your own (lots of the food we feed them can be really bad for the fish), but this tradition holds strong. Feed the norwest snapper pellets as they swim right up to you. Is there anywhere else in the world that you've had large snapper circling your ankles?
Once the pellets run out, pack up the car and get one last glimpse of Coral Bay's turquoise waters and white sandy beaches. Grab a few pies at the Bakery to take home with you, and it's back to the Northwest Cape you go! Don't worry… there are at least 50 awesome activities in Exmouth waiting for you there!
Pin this post!