Known for its limoncello, beautiful deep blue water and famous visitors over the years (Jacqueline Kennedy, Sophia Loren, Clark Gable and Charlie Chaplin to name a few), Capri is a gorgeous island in the Bay of Naples. I was a little apprehensive as Capri welcomed me with ominous skies and sea-salted wind that gave me a free microdermabrasion treatment. But soon, everything turned around…
When the ferry from Sorrento arrived at Capri, I checked in at the Motoscafisti di Capri booth at dock 0 to see if trips were going to the Blue Grotto. Boats only go at certain times of day depending on the tide. At that moment, they were still sending boats, so I bought my ticket for 14€ and got my spot on the boat, only to find out that we'd be the last boat of the day. (This was at 9:30am.) Our boat chugged over to an opening in the cliffs of Capri that, if I'd been looking for the Blue Grotto on my own, I would pass right by. But the 10 other boats full of tourists gave away the fact that this was the spot. We waited and waited and I was sure we'd be turned away, but after about an hour of waiting, we were called to climb from our boat into the smaller boats that would be going into the grotto. We paid our 13€ grotto entrance fee at a floating ticket booth and crossed our fingers that what was inside would be worth the 27€ total we'd just paid.
Our guide instructed us to lay flat in the boat as he prepared to guide us through an entrance that seemed to be shrinking by the moment. (Although, that could be my claustrophobia speaking.) The gasps of tourists echoed throughout the grotto as we sat up and took in the magnificent blue waters that were the only thing we could see in the darkness of the cave.
And then our guide started singing. As long as I live, I'm not sure I'll experience a more hauntingly beautiful, goosebump-inducing moment. Welcome to Capri.
I took the cable car up to Capri and checked into my hotel. If you're ever in Capri and looking for an affordable place to stay, I cannot recommend La Tosca highly enough. The owner, Ettore, is a Capri-native who spends part of the year there, and part of the year in the U.S. When Ettore was younger, he worked at a 5-star hotel and now offers many of the personal touches of a fancy hotel at a near-hostel rate. He spent time getting to know me and the things I like to do and created a 2-day itinerary just for me with suggestions on food, hiking, and the best place to see the sunset.
I took a bus over to the city of Anacapri and hopped on the chairlift for a spectacular 360* view of the island.
On vacation as a child, my family remarked that the view was beautiful so often that I thought the view was a living, breathing thing that was following me. With all the gorgeous things I've seen recently… I may have been on to something!
If you haven't been to Capri, I bet you've never seen a unicorn in a church. But things are different in Capri and at the Church of San Michele, Leonardo Chiaiese depicted the snake in the Garden of Eden, angels, and animals (even the unicorn!) on hand-painted tiles in 1761.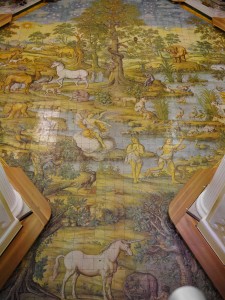 At the western-most part of the island is the faro (lighthouse), which happens to be the best spot for sunset-watching. The cove was empty except for a few brave souls who jumped in the chilly water under cloudy skies. And on this particular night, the sun set behind the clouds and below the horizon like a parent slips out of a child's room after they've fallen asleep- silently and without fanfare. I bet that cove has seen some magnificent sunsets though.
The next day came with a nice dose of sunshine, and the perfect weather for a hike. In 27AD, Roman Emperor Tiberius made Capri his headquarters and its ruins have been preserved for tourists to visit. At just under 2,000 years old, Villa Jovis is better preserved than many ruins I've seen in other places. Called "the gloomiest of men" by Pliny the Elder, perhaps he should have looked out his window a little more often?
The walk to Villa Jovis is, as I've come to expect with most worthwhile things, uphill. But along the 45-minute walk are homes with creative signs and well-tended gardens. There's another lookout point where you can see the Amalfi Coast and rock formations in the water.
As a kindness to my future seat-mate on the train, I stopped by Carthusia, Capri's leading perfume shop before I left town. Their history dates to the 1300s and their story includes a monastery, a queen, and even the Pope! Each perfume is scented with with the fragrances of Capri, making this a great souvenir to remember this beautiful island. The gentleman who helped me was knowledgable and patient, letting me sniff their signature perfumes again and again as I made a 'Sweet 16' perfume bracket— ruling them out one by one. And even then I couldn't decide and let him make the final decision. He pulled out a wild card, Via Camerelle… and I LOVED it! According to their site, "Via Camerelle's name is tied to that of the island's most famous street. The freshness of lemon and bitter orange combined with hints of sea moss and cedar wood create a fragrance that celebrates one's love of the sea, flowers and life."
And so with a new perfume and the sounds my guide singing in the Blue Grotto echoing in my ears, I boarded a ferry and said ciao to the lovely island of Capri.
"One of the great joys of traveling through Italy is discovering firsthand that it is, indeed, a dream destination." – Debra Lavinson