Welcome to the world's most liveable city! If you're looking for unique experiences, amazing food, and weird things to do in Melbourne, you've come to the right place. Not many cities cater to artists, foodies, outdoor enthusiasts, hipsters, sports fanatics, and culture hunters… but quirky Melbourne has it all! What follows are some of my favorite unusual things to do in Melbourne, gathered over nearly two years calling it my home.
Note: This post contains affiliate links. If you click on a link and make a purchase, I may earn a small commission at no extra cost to you.
First things first:
Airport transfer: Book your transfer from Melbourne Airport into the city, so your arrival is stress-free and you can start your holiday on the right foot!
Insurance: Accidents happen and it's important to have insurance that will cover you in the event of lost luggage or a medical emergency. I use Safety Wing to stay covered. Check them out to see if they're right for you!
46 unusual and unique things to do in Melbourne
1. Freakshakes
As The Sweet Wanderlust, I'd be failing at my blog (and life) mission to bring you the world's best desserts if I didn't include Melbourne's best freakshakes at the top of the list. Sure, there's culture, music, and history that make this city amazing, and if you keep reading, you'll learn all about it.
The freakshake wasn't invented in Melbourne, but it got here as fast as it could from neighboring Canberra. As I've eaten my way through the city, I've devoured countless shakes, each more creatively topped than the last. The most OTT topping: an eyeball at Sugar Buns.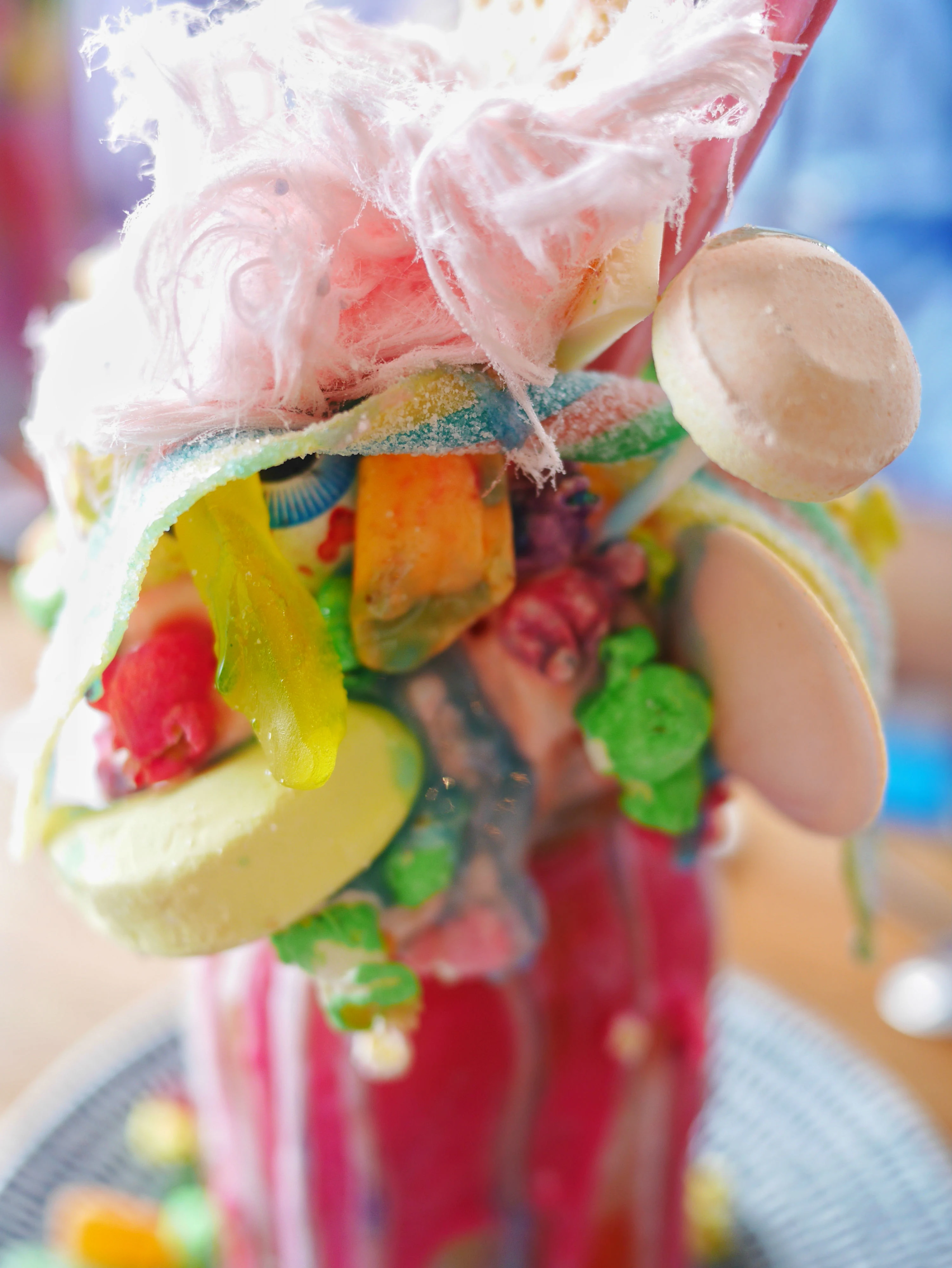 2. Brunch
Brunch is my favorite meal of the day. It's 100% acceptable to order dessert and call it a meal and you can wash it down with alcohol. Which is ok, because it's brunch!
And Melbourne does brunch better than anywhere else in the world I've ever been. Fairy floss-topped pancakes, ice cream cones garnishing waffles, and if you're into savory foods, mac 'n' cheese croquette eggs benedict with Bloody Mary hollandaise!
Not just tasty, check out some of Melbourne's most Instagrammable brunches or take a bottomless brunch cruise!
3. Yarra Valley
Rough week? Don't whine about it… wine about it! Get out of the CBD and head for the Yarra Valley. Although it's only one hour out of town, it feels like a whole new world. If you're planning a weekend in Yarra Valley, don't miss the cheese, chocolate and (of course) all the wine!
Don't drink and drive! Check into a glamping pod or belle tent for a romantic weekend (or a super fun girls' weekend). Or hop on a tour and let someone else worry about where you're going.
4. Visit the Royal Botanic Gardens
Every day, the Botanic Gardens offers free entry from 7:30am-sunset. Explore 38 hectares of garden beds with more than 50,000 plants from around the world. Stroll past tranquil lakes and sprawling lawns in this inner-city oasis.
Take a free Garden Discovery Tour at 10:30am or 2:00pm to learn more about the gardens. If you want to go deeper into the culture, join a ticketed Aboriginal Heritage Walk to experience a traditional smoking ceremony with an Indigenous guide and learn the traditional uses of plants.
5. Get your bearings with a free tram tour
The world's most liveable city is pretty awesome for tourists, too. Hop on one of the old-fashioned #35 trams, which runs in the free tram zone, for commentary about the city. One loop of the City Circle Free Tram lasts about 55 minutes and you can hop on and off at leisure to continue exploring on foot.
Melbourne's City Circle Free Tram runs every 12 minutes, seven days a week from 10am-6pm Sunday-Wednesday and 10am-9pm Thursday-Saturday.
6. Pay your respects at the Shrine of Remembrance
This war memorial, dedicated in 1934, serves to honor the service and sacrifice of the ANZACs (Australia and New Zealand Army Corps). If you happen to be in Melbourne on ANZAC Day, the dawn service is a memorable and moving way to start the day.
7. China Town
Explore China town for amazing food and delicious desserts. I love the Dessert Kitchen's unique treats— from corn ice cream topping corn on the cob to polar bears in hot chocolate, this is the spot for cute sweets!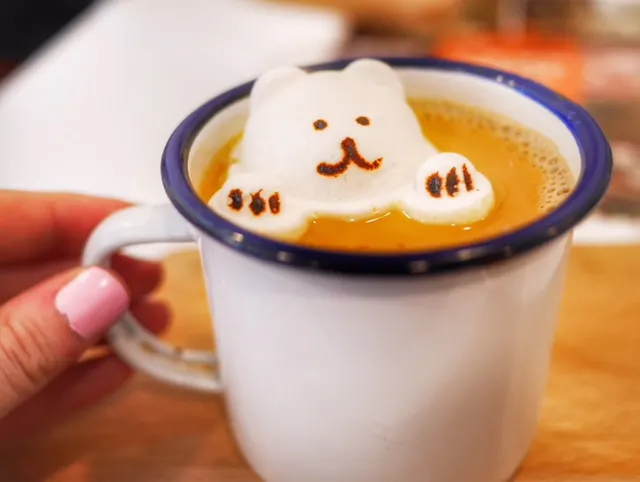 Prefer savory food to sweet? Check out this Melbourne: 3-Hour Foodie Discovery Walking Tour!
If you happen to be in Melbourne over Lunar New Year, be sure to visit China Town for parades and lion dances.
8. Sip cocktails at a secret bar
Fancy a covert cocktail at one of some of Melbourne's top hidden bars? Check out my post for a DIY adventure or join a hidden bar tour with an in-the-know local.
9. Catch a film at an outdoor cinema
If you're looking for random things to do in Melbourne… you may need to look up! From rooftops to Melbourne's Botanic Gardens to the 'G, if you want to watch a movie in a quirky spot, this city has you covered!
10. Get the perfect Instagram shot at the Brighton Beach Boxes
The brightly colored Brighton Bathing Boxes were originally built more than 100 years ago as a private location for women to change into swimwear. Today, it's the colorful charm of these boxes that draw visitors to these privately owned boxes without water or electricity. They're usually passed from generation to generation but in 2018 one of the boxes sold for $337,000AUD.
On a sunny day, you'll see tons of Instagrammers, families, and selfie-queens doing a photoshoot in front of the boxes. It's definitely one of the cool things to do in Melbourne!
11. Fall in love with the little penguins of St. Kilda
You could take a day trip to Phillip Island to see the little penguins… or you could just head to Saint Kilda! Every night, the little penguins of Saint Kilda make their way back to the rocks after a day of swimming and catching fish.
Once, I was lucky to see a penguin at 9am who stayed back to build his nest. Check out the little guy who embodies the life lesson "if at first you don't succeed, try, try again."

12. Puffing Billy
First launched in 1900, the Puffing Billy steam train was a low-cost way to open up remote areas. When a landslide blocked part of the track in 1953, a plan was made to close the line and a farewell day was organized. When 30,000 showed up to say goodbye, a dedicated group of train enthusiasts came together to save the Puffing Billy. It's still chugging along today through Sherbrooke Forest in the beautiful Dandenongs.
Book this tour for a ride on the Puffing Billy, a visit to see the kangaroos at Healesville Sanctuary, and a visit to the famous Yarra Valley Chocolaterie.
13. Explore Melbourne's alleyways and arcades
Melbourne is known for coffee, street art, and its adorable alleyways and arcades. Join this tour, which includes lunch, or this tour, which includes a chocolate tasting and a souvenir bag for one of the most unique experiences in Melbourne– a combination of beauty, history, and shopping!
14. Go for a drive down the Great Ocean Road
The Great Ocean Road is one of the most stunning trips in Victoria. Take a trip on your own, or join a tour (with morning tea and koalas!) to make sure you get the chance to see the Twelve Apostles and Loch Ard Gorge in person.
15. Have a smashing good time
Have you ever wondered what it would be like to hit a TV with a crowbar? Stop wondering and start smashing! The Smash Room in Keilor East offers all kinds of breakables for your smashing pleasure! Add in some cheeky neon signs and 80s retro vibes, and you've got one of the most fun things to do in Melbourne!
Bring your friends, family, or a date to this one-of-a-kind experience!
16. Hang out with koalas and kangaroos at Healesville Sanctuary
If you don't get out of the city, your chances of seeing some of Australia's famed wildlife are approximately 0%. Lucky for you, Healesville Sanctuary is just over an hour away and even reachable by public transport!
Get up close with dingos, koalas, kangaroos and wallabies. You can even catch a glimpse of the elusive platypus!
17. Go hipster spotting in Brunswick
Among Brunswick's Victorian architecture, op shops and music venues are Melbourne's hipsters, taking part in all the alternative things to do in Melbourne. Check them out, because whatever they're doing now is sure to be cool in a few months!
My favorite hipster joke: Why did the hipster burn his tongue?
Answer: Because he ate his food before it was cool!
18. Ghost tour
Listen to spooky stories about your favorite haunts on a ghost tour or a haunted prison tour. Is it Melbourne's ever-changing weather or was that a ghostly presence that just sent shivers down your spine?
19. Forget ghosts… let's learn about true crime!
Learn all about the seedy history of Fitzroy from an author and historian who will show you former brothels, and take you through the former crime district of Melbourne on this true crime tour.
20. South Melbourne Market
At first glance, South Melbourne Market is a foodie's paradise with fresh produce, exotic cheese, and multiple choices of ice cream vendors! Every third Saturday of the month, the market offers a To Market To Market tour for $15 which includes tastings and a reusable market bag. Book early to ensure your opportunity to meet the vendors who make the magic happen!
Dig a little deeper, though, and you'll find that the market isn't just for foodies. Shop second-hand books, get your nails done, or shop the latest local fashions. This market can keep you busy for hours! This Melbourne Multicultural Markets Culinary Culture Tour will take you to some of the city's most eclectic markets for treats you may not discover on your own.
The South Melbourne Market is open Wednesday, Saturday, and Sunday 8am-4pm and Friday 8am-5pm. From January 5 to February 23, visit the night market on Thursdays from 5:30 to celebrate summer with food and music.
21. Queen Vic Market
Queen Vic Market saved my friendsgiving celebration with a turkey and a recipe, but this market is more than just food!
Check out their clothing, jewelry, and souvenirs for a great way to bring Melbourne home with you. The Queen Vic Market is open Tuesday and Thursday 6am-2pm, Friday 6am-3pm and Sunday 9am-4pm.
Join the Melbourne: Bites & Sights Tour with Eureka Skydeck for great views, epic coffee, and a hearty snack.
22. Visit the Prahran Market
If food is your passion, then Prahran is calling your name. From my favorite grilled cheese in all of Australia at Maker and Monger to the freshest of fresh produce, this market has something for every taste bud.
Don't forget to visit Naheda's Choice, the Turkish delight stand, for sugary delicacies of all colors and flavors. This market is open Tuesday and Thursday-Saturday 7am-5pm and Sunday 10am-3pm.
Pro Tip: If you arrive at 2:30pm on Sunday (30 minutes before closing time), you'll get the best deals on produce in all of Melbourne.
23. St Kilda Esplanade Market
St. Kilda is full of colorful characters and it makes sense that its market celebrates that creative spirit! Every Sunday, from 10am-4pm, discover unique, local and handmade products sold by the artisans that created them.
24. Watch an AFL game at the MCG
Many Australians love rugby, but Melbourne is a footy town! Check out a game and cheer on my favorites: the Western Bulldogs, the Cinderella story winners of the 2016 AFL Grand Final. No games playing while you're in town? You can still get inside the MCG with a tour of the stadium.
25. Visit Melbourne's pink lake
Western Australia gets all the credit for having Pepto Bismol pink lakes. I saw a pretty awesome pink lake on Rottnest Island, but when conditions are right (warm temperatures, low rainfall, and sunlight), Melbourne's Westgate Park's salt lake changes color from blue to bright pink.
26. Stay out all night for Melbourne's White Night
I'm a bit of a grandma. I like to be in bed early and it takes a really good excuse for me to stay awake past 1am. I gladly stayed awake until after 3am for Melbourne's White Night event, and wished it was a 2-night event so I could go back and do it again. Especially for the glow-in-the-dark ice cream from 196 Below.
Every year, creatives from around the world come up with incredible light installations, projections and musical acts, and the city comes alive when the sun goes down.
I loved The Serpent Mother, direct from Burning Man, and I stood for several minutes as the buildings on Flinders Street lit up with iconic images that took revelers on a trip down memory lane.
Quirky Melbourne delivers weird things to do in Melbourne… you've just got to stay awake to experience it!
27. Shop at Chadstone
Australia's largest shopping center has a store for every taste. If you can walk out without buying anything, you're a better woman (or man) than me! Typically, malls aren't known for their culinary creativity, but Chadstone isn't like most malls.
Perch yourself on a dainty bow-backed chair at Le Mille Creperie for one of Melbourne's most affordable high teas.
Or try Scroll'd for some freshly made Thai ice cream, made right in front of you! I'm partial to the cookies 'n' cream flavor.
And DONUT miss Dashing Donuts (one of my favorite doughnuts in Melbourne) made using traditional artisan Italian dough.
28. Don your black and white attire for Derby Day at the Melbourne Cup
Did you know that Melbournians get a paid holiday for Melbourne Cup day? They love their horse racing and you can get in on the action, too! Here's everything you need to know about Derby Day.
29. Luna Park
Opened in 1912, Luna Park retains the charm of yesteryear while providing modern-day thrills to adrenaline seekers. Step through Mr. Moon's giant mouth and go for a spin on The Carousel, listed on Victorian and National Heritage Registers and built in 1913 by the Philadelphia Toboggan Company. Or take a ride on The Great Scenic Railway, the oldest continuously operating roller coaster in the world. It even rolled through World War I, making it one of my favorite unique things to do in Melbourne!
30. Visit the State Library
Australia's oldest library is located in the heart of Melbourne's CBD. Play a game of oversized chess before venturing into the library. Join a free tour, visit for a special talk or explore on your own. Be sure to climb the staircase to overlook the Domed Reading Room, commissioned for the library's jubilee. The dome is 114 feet in diameter, 114 feet high, and impressive all around!
31. Throw some i-darts
If you've got poor aim, i-darts might be the darts game for you! The plastic darts are flung into the computerized dart board which calculates your score automatically. Note: if you accidentally completely miss your board and hit the board next to you, it does not count for your score, and your neighboring players may be upset.
The i-darts pub also has beer pong. And it's kind of hilarious. As a sorority girl, I know a thing or two about beer pong. i-darts' version is nothing like the games we played in frat boys' garages, but it's probably a whole lot safer and more sanitary. This game of beer pong is played on an automated board that lights up when a ping pong ball lands in a cup. When this happens, the beer pong attendant pours a shot of beer for the losing team.
32. Dialogue in the Dark
Have you ever wondered what it would be like to be blind? Through a partnership with Guide Dogs of Australia, Dialogue in the Dark takes you on a sensory journey as you discover the challenges of navigating Melbourne in the dark, gaining a new understanding for the challenges faced by those with vision impairment.
Equipped with a white cane and a skilled blind or low-vision guide, you'll learn to navigate the city in a simulated environment, promising one of the most unique experiences Melbourne has to offer. Expect to see nothing, but learn a lot!
33. Coffee culture
As my friend Jean from the Traveling Honeybird likes to say "if you've found bad coffee in Melbourne, you've gone out searching for it." Here are her favorite places to get coffee in Melbourne. She's the coffee pro, so I know she wouldn't lead you astray! Don't want to DIY? Check out the most caffeinated tour in Melbourne!
34. Picnic at Hanging Rock
If you're into the macabre or looking for strange things to do in Melbourne, try a picnic at Hanging Rock. For a fictional group of schoolgirls, this didn't work out so well. In the 1967 novel by Joan Lindsay, a group of girls disappear from their Valentine's Day school outing. Some reappear under mysterious circumstances and others remain missing. Now, there's a creepy visitor center that explains the story and adds to the mystique of the area.
It's been years since the fictional disappearance, so I can 99.999% guarantee you'll make it out alive if you organize a picnic at Hanging Rock today. Take a group of friends to go climb the rock formations and enjoy the view. Just in case… it's always good to stay with a buddy.
35. Explore Melbourne's best street art
Want to make a splash on Instagram? The colorful laneways of Melbourne are the perfect spot to get your next profile photo while exploring the best street art in Melbourne.
Local artists and worldwide legends, like Bansky, have made their mark on the streets of Melbourne. I love checking out the street art on Hosier Lane and will often detour down the street every time I'm in the CBD to check out the newest art. It's a different experience every time you go!
Book a street art tour here.
36. Party with the bands at Cherry Bar
ACDC Laneway, named for the Australian rock band, is among the best street art in Melbourne. It's important for another reason, too, though. Cherry Bar, founded by former Cosmic Psychos drummer Bill Walsh, is an institution in the rock community, and it's not uncommon for arena-headlining acts to make their way to Cherry Bar after the encore. You never know who you might find at Cherry Bar… In the past, it's welcomed Axl Rose and The Black Keys and Jack Black is said to have danced the night away at this 200-capacity dive bar.
The bar has since moved from it's spot on ACDC Lane to 68 Little Collins St.
37. Laugh the night away at Crab Lab
For free comedy on Wednesday nights with $5 wine and all-you-can-eat free popcorn, you'll be laughing at the show… and then all the way to the bank with the money you'll save!
38. Go out on Chapel Street
Chapel Street is known for its late-night party antics and amazing food. My favorite is Mr. Miyagi's sushi taco paired with a Hello Kitty Sour. Be sure to arrive early or prepare to wait in line!
39. Check out an exhibit at ACMI
The Australian Centre for the Moving Image pays homage to film, tv, video games, digital culture and art. Most of the exhibits are free and open daily from 10am-5pm, but some, like the recent Wonderland exhibit are ticketed entry.
40. Shop 'til you drop at DFO South Wharf
Like shopping, but want to get a bang for your buck? The DFO is the best outlet shopping in town. I especially love visiting the Peter Alexander store for cute Australian-themed pajamas.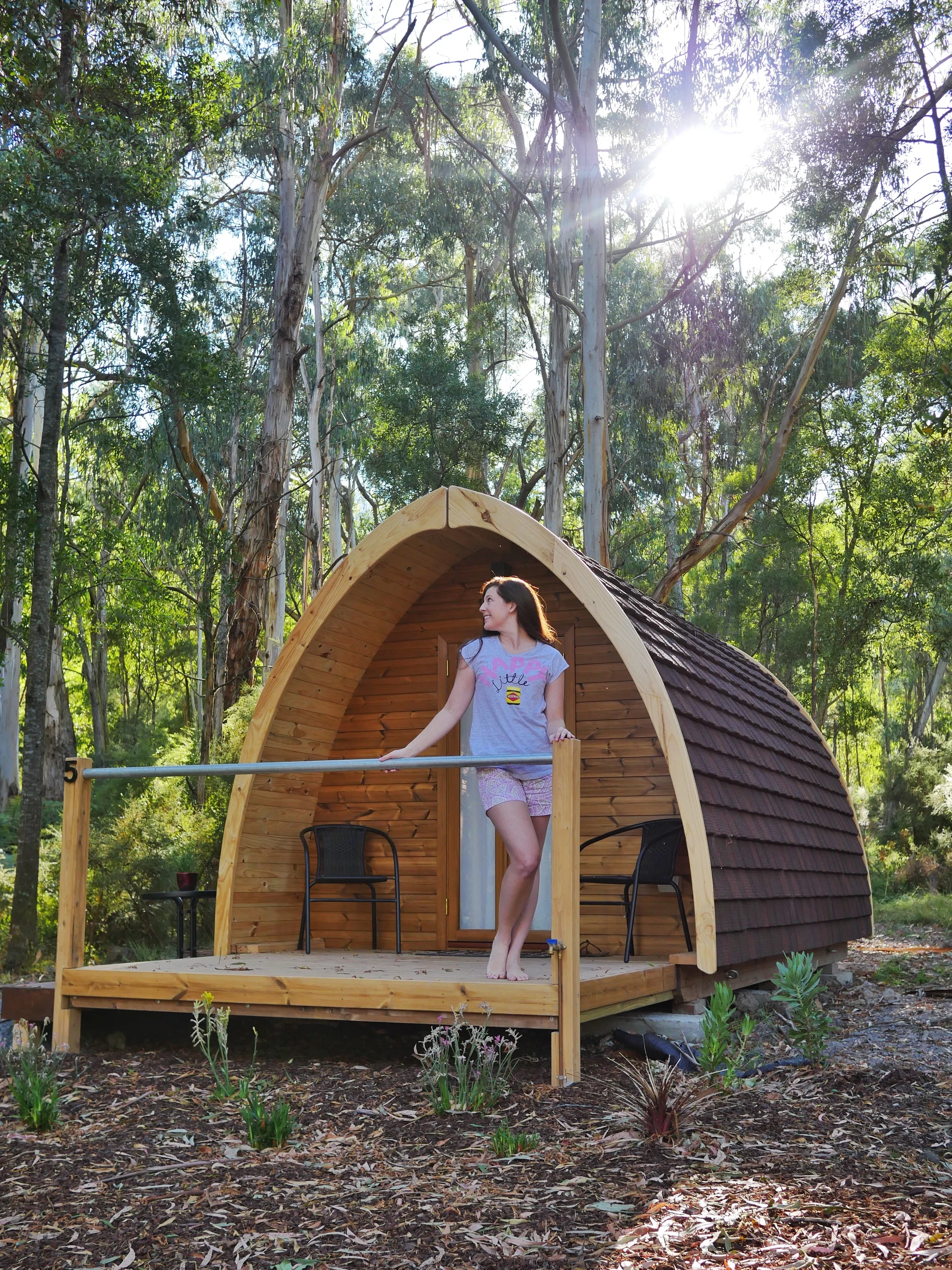 39. Go take a bike!
Melbourne's Bike Share service provides 50 bike share racks around the city if public transportation isn't your thing. Rent a bike for as little as $3/ day or $8/ week (which covers unlimited 30-minute trips). Be sure to wear a helmet!
40. Rub elbows with the tennis pros at the Australian Open
Every January, tennis pros from around the world gather to compete at the Australian Open. Coopers Saturday is a favorite for people who like tennis a little and partying a lot.
41. Night Noodle Market
Make the most of the summer weather in November at the night noodle markets in Birrarung Marr. Restaurants from across the country dream up innovative Asian-themed dishes for this hawker market. Past markets have offered unicorn buns, floating noodles, and matcha ice cream.
42. Drink a cocktail on a rooftop bar
The rooftop game in Melbourne is strong! My favorite rooftop is Sweetie and Mustache for their innovative cocktails served steaming with dry ice in a gumball machine or with gummy ocean creatures in a fishbowl.
43. Visit the Melbourne International Comedy Festival
Melbournians may be known for their all-black ensembles, but they love to laugh! From the end of March to the end of April, comedians from around the world flock to Melbourne to perform. Get in early and take a chance on some lesser-known talent for more affordable tickets.
44. Check out a loo with a view
This is one of the secret things to do in Melbourne. On the 35th floor of the Sofitel on Collins, there's a toilet with views as far as the eye can see. Thankfully, the eye can't see inside the men's restroom! There aren't any barriers from the urinal to the window so the views remain unhindered!
45. SEA LIFE Aquarium
Dive into an interactive ocean adventure with SEA LIFE Melbourne. Journey from the Australian waters full of crocodiles, sharks, and stingrays to icy Antarctica, where you can watch King and Gentoo penguins play in the snow!
46. Chill out on an ice bar tour
It's cool to be chill, and Melbourne's IceBar is the place to be! With more than 50 tons of ice, winter gear, and a free Arctic-themed cocktail, this tour is the coolest in town!
Unique Melbourne has so much to offer and this article truly is just the tip of the iceberg that is Australia's most liveable city. What's your favorite thing to do in Melbourne? Let me know in the comments!
Pin this post so you won't forget any of these quirky things to do in Melbourne!