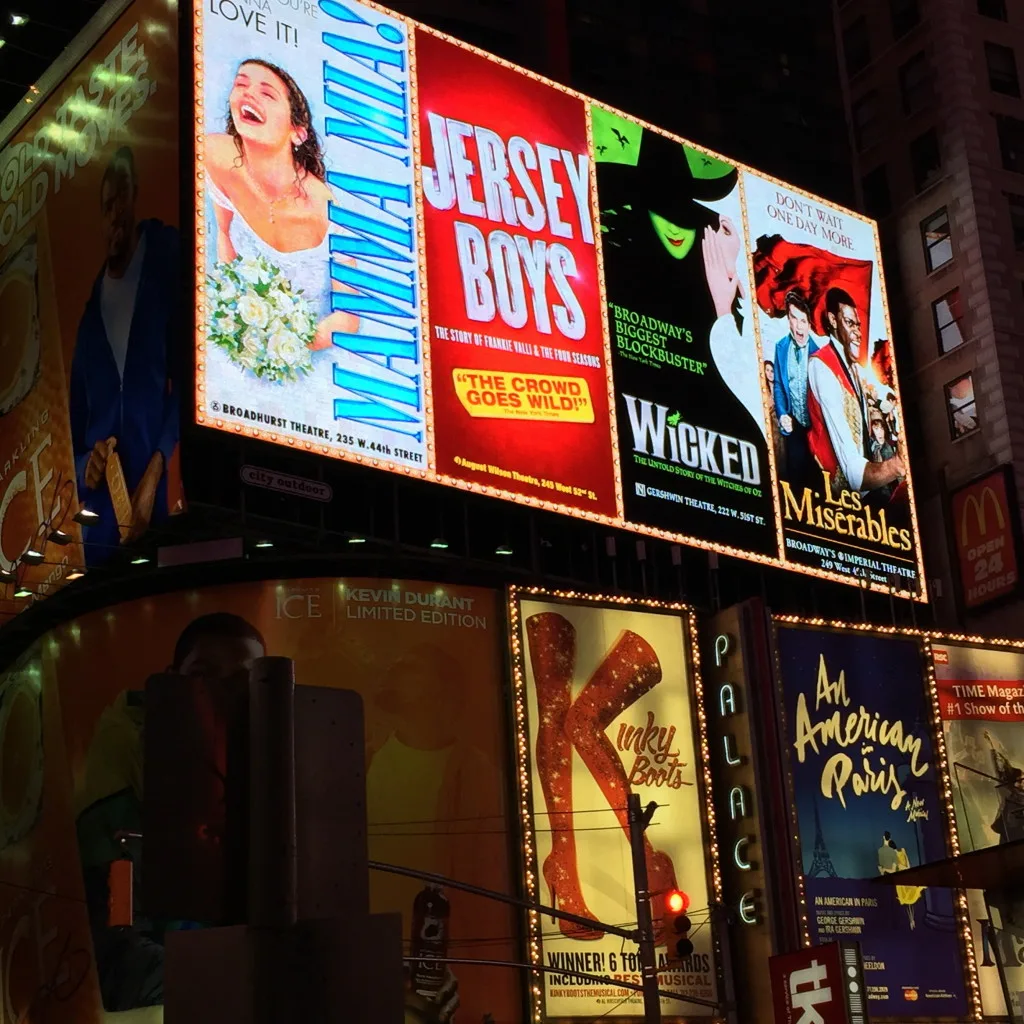 It all started with a text message from my friend Liz saying that she had found a deal for us to fly to NYC and stay in a hotel overlooking Madison Square Garden for four nights at a great price. Within 24 hours, our flights and hotel were booked, and a shared Pinboard was created. One money-saving tip I learned in this booking process– Always call the hotel to see if they'll match the discounted price or give you a better deal. For an extra $25 per person, they upgraded us from a double twin room to a room with two double beds on the 5000 Club level which includes free WiFi and breakfast.
The morning after walking around until 2:30am our first night in the city that doesn't sleep, we needed some major caffeine, so we stopped by Blue Bottle Coffee to try their New Orleans style iced coffee. Coffee, chicory, sugar, and milk-y goodness were enjoyed while watching the ice skaters in Rockefeller Center and fueling up for a 3-day adventure experiencing the best shows, shopping, and restaurants in New York City!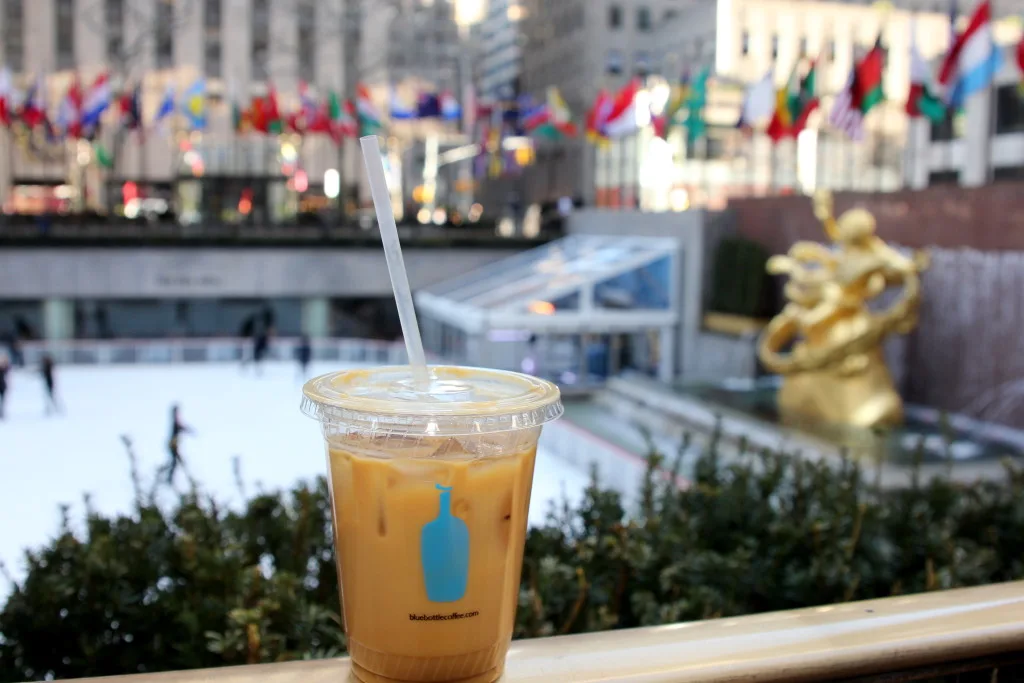 Then, we made our way up to Central Park, stopping in Century 21 with its four stories of discounted designer clothes. I'm glad this was close to the beginning of our trip, because we (a) wanted to save $$ for the rest of the trip and (b) didn't want to carry tons of stuff the rest of the day.
We danced through Central Park singing 'That's How You Know' from Enchanted walked through Central Park to the Upper East Side, and on the way, we rode the carousel (best $3 spent!) and stopped by the Central Park Boathouse. The lake was completely frozen, so it wasn't exactly the scene from 27 Dresses, but it was a perfect place to stop for a quick break.
If macarons are your thing (and really… whose thing ISN'T macarons?!), Ladurée is a must-do! My mom and I visited the Paris location a few years ago, and I've been dreaming about these perfect treats ever since. I haven't tried a flavor that isn't excellent, but there are a few stand-outs: rose petal and the seasonal cherry blossom flavors are both amazing and unique flavors.
For lunch, we grabbed noodles and gyros and sat on the steps of The Metropolitan Museum of Art, à la Gossip Girl. We listened to a group of street performers harmonize to the Oldies and counted photos being taken with selfie sticks before going inside to see the incredible art. I'm not too knowledgable about art, but a friend who's an art expert suggested these not-to-miss exhibits: European painting, Temple of Dendur, Islamic galleries, the Greek and Roman courtyard, and the George Washington Crossing the Delaware painting in the American gallery.
And since we worked up an appetite taking in all the culture at The Met, our next stop was Lady M Confections, a tiny shop with incredible sweets! The Gâteaux aux Marrons (almond flour cake with a whipped cream center and chestnut cream on top) was fabulous, but the Strawberry Mille Crêpes was the clear winner. With at least 20 layers of crêpes separated by cloud-like pastry cream and sweet strawberries–hold on, I'm booking another trip back to NYC for another slice! Just take my word and try this cake!
I don't know about you, but sometimes, this sweets-eating enthusiast needs dessert for her dessert. And so we went to Dylan's Candy Bar, a 3-story candy-lovers' paradise.
When I picked up the 'world's largest gummy bear,' which is 10 inches tall and 5 pounds, a girl passing by told me not to buy it because "have you seen how many carbs are in that?!" This store was clearly not built for her. Liz and I spent nearly as much time admiring the creative confectionery in Dylan's as we did at The Met. We took photos in the photo booth, filled plastic cupcakes and pails with bulk candy, bought brownie batter flavored candy bars… and we only got to visit the first two levels! More on that in the Day 2 blog…
We dropped off our candy, iced an ankle, applied a little eyeliner, and took a taxi over to Ellen's Stardust Diner, home of the singing waitstaff. The 'Stardusters' sang every few minutes, and got the whole restaurant smiling with favorites from Grease, Frozen, and Les Misérables. The food is a little pricy, but well worth the experience to see future Broadway stars! Last year, they lost 16 Stardusters to Broadway and other tours!
The New York Spring Spectacular was next up on our list, and the real reason behind our trip to NYC. Derek Hough and Laura Benanti joined the Rockettes for an ode to NYC through song and dance with lots of magic thrown in. We were transported from the Subway to the Empire State Building to Central Park and experienced Fashion Week and spring in New York City with the Rockettes.
After the show, we waited for a few minutes at the stage door to see if we could meet Derek Hough (total fangirls moment!) and our waiting paid off!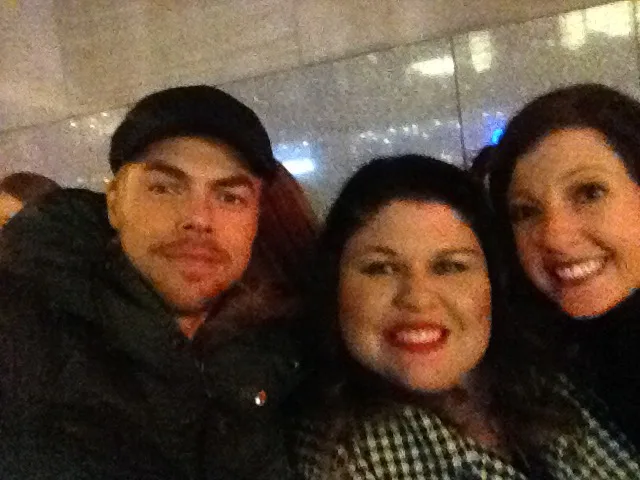 The cherry on top of this perfect first day in New York was a trip to Serendipity 3, a restaurant loved by Jackie O, Marilyn Monroe, and Andy Warhol. We tried the original Frrrozen Hot Chocolate and the Peanut Butter Frrrozen Hot Chocolate– if you only try one, I suggest the peanut butter one!
And with the chocolate rush and the excitement from meeting Derek Hough, we made our way back to the Hotel Pennsylvania and rested up for Day 2 and Day 3!
Pin this post: