Melbourne street art culture is unlike any other city I've visited. (Don't you dare call it graffiti.) Melbourne is a city abounding with creativity, as evidenced by the buskers on the streets and the art on the walls.
There are laneways aplenty and if you're not informed, you may walk past an alley without a second glance, never knowing that you missed a larger-than-life Kardashian selfie masterpiece. And so, dear readers, I've got you covered with the top spots to see great street art in the Melbourne CBD, including the famous Melbourne graffiti street where Ed Sheeran performed a couple years ago.
Where to find the best Melbourne street art
Melbourne street art map
This post contains affiliate links. If you choose to purchase using these links, I will earn a small commission at no extra fee to you.
AC/DC Lane
In 2004, Melbourne's City Council unanimously voted to change Corporation Lane to AC/DC Lane. This street is the original home of Cherry Bar (they've since moved to 68 Little Collins St), which calls itself 'pretty much the best rock n' roll bar in the world.' It's no surprise that this street is filled with images of famous musicians and lined with gig posters. When I first visited a few years ago, there were several posters welcoming Guns N' Roses to the city lining the lane. Today, there's a variety of different murals and paintings on AC/DC Lane, but you'll be sure to find nods to AC/DC, The Rolling Stones and The Beatles.
Among these paintings, Banksy, the world's most famous street artist, made his mark. Unfortunately, his work was destroyed during recent construction.
Visit these laneways with a guide or practice your photography skills with these tours:
Blender Lane
When it comes to street art, The Blender Studios is one of the most influential hubs. It's no surprise that the laneway sharing their name near the Queen Vic Market contains some of the most beautiful and innovative artwork, with aerosol, stencil, paste ups, and multimedia artwork visible in the short laneway. One of the paintings compares quality street art too chocolate… and I know both make me happy!
Caledonian Lane
When we rocked up to Caledonian Lane, we had to check our map again. This definitely isn't an overwhelmingly saturated laneway, but just as we were thinking it was a little disappointing, we came upon this gem:
Yikes– were we the kind of people who were missing the beauty?! Better add this one to the list and see the beauty for yourself.
Degraves Street
This is one of my favorite pieces of street art in Melbourne. There's something about the bright colors and order to this painting that makes me so very happy.
Drewery Lane
Drewery Lane is unlike any of the other laneways in Melbourne. It's home to Legacy House, which is committed to caring for families of those who lost their life or health to defend the nation. 'The Mosaic Man,' Sankar Nadeson has been teaching members of the Legacy family to create mosaic tiles along the theme of legacy, and is showcasing them on Drewery Lane. By 2018, there will be over 1,000 tiles on display for everyone to enjoy.
There are also a few other fun and funky murals along the walls… who wants to visit the psychedelic psychic?
Duckboard Place
Duckboard Place wraps around from the end of AC/DC Lane back to Flinders Street. This street is home to a couple larger-than-life works of art. I'm amazed at what the artists must have gone through to create these pieces, and although Hosier Lane always gets the press, I think Duckboard Place is the true location of the best street art in Melbourne.
Hosier Lane
If you're looking for the most color per centimeter, visit Hosier Lane. It's always crowded, and for good reason– every wall, rubbish bin and window is covered in paint or some other kind of art installation in this graffiti street. Melbourne's Hosier Lane is your best chance to see someone adding their mark to the lane. Graffiti is illegal without the proper permits… but you'll see plenty of spray paint happening here.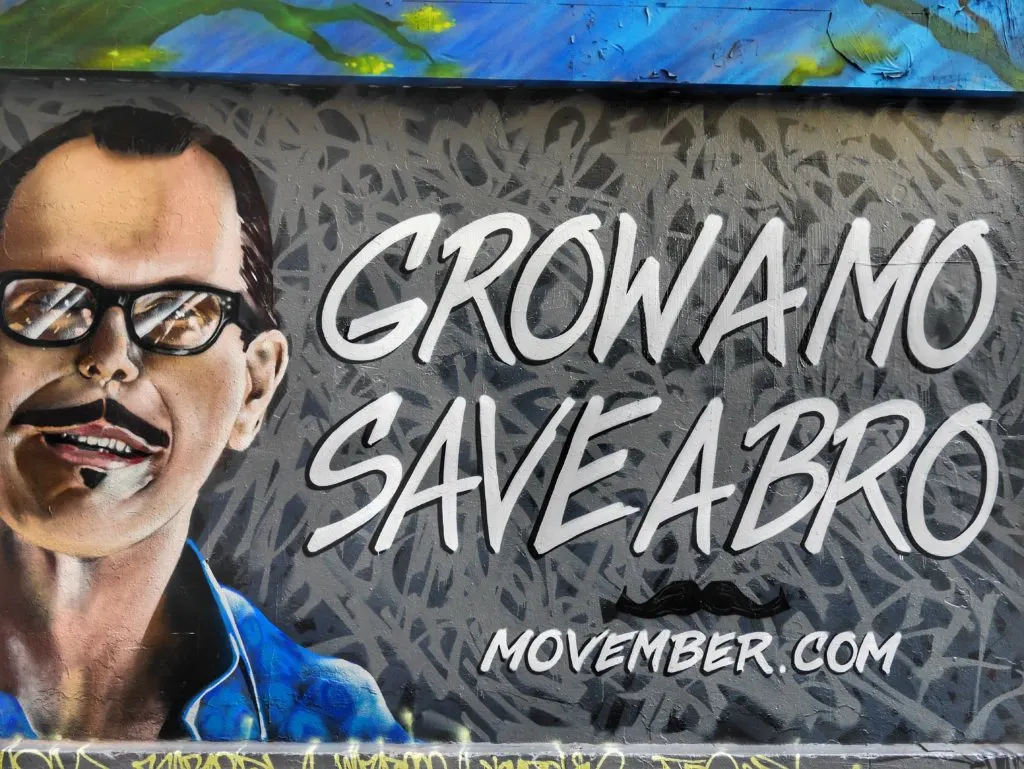 Some of the more recent art in Hosier Lane is designed to bring awareness to the 2019 bush fires.
Higson Lane
When I first published this post, I wrote "Higson is less colorful than its neighboring laneways, but it's worth a visit for thought-provoking poetry."
Well, time have changed! Thanks to the famous (and sometimes controversial) Australian street artist, Lushsux, Higson Lane has been transformed! I'm in love with his Baby Yoda street art and the colorful lineup of celebrities and animals.
Sniders Lane
Oh hey there Kim Kardashian. Just two days after the topless selfie of Kim Kardashian and Em Ratajkowski was posted on Instagram, Australian street artist Lushsux turned it into a 30-foot mural in Sniders Lane. There's about a 50% chance if there's someone in the lane when you arrive, they're taking their own #Liberated selfie…
Uniacke Court
If you love Melbourne-born street artist Deb's pin up girl-style of street art, check out Uniacke Court for a gallery of her gorgeous art, created with aerosol in 2013.
Union Lane
This teeny tiny lane always packs a pop of color. It's right off Bourke Street, so you can take in the colorful art while listening to the best buskers in town! Be sure to look all around because you never know what you'll find on Union Lane.
Looking for other fun things to do in Melbourne? Check out these 44 epic things to do in Melbourne, try some of the city's most Instagrammable brunches in Melbourne, best donuts, or visit one of Melbourne's top 5 secret and themed bars.
Which laneway is your favorite? Are there any secret street art spots I've missed?
Pin this post!