Before harvesting olives in Tuscany, I could go weeks without using olive oil. The bottle of cheap-o yellow stuff I got at the grocery store would get pushed to the back of the shelf and go bad before I could use the whole (small) bottle. Turns out… I've been using it all wrong! Between the family I stayed with (4 people) and the WWOOFers (4 people) we managed to use a whole entire liter in ONE WEEK! Olive oil was poured over bread, soup, salad, meat, pasta, vegetables… basically everything that was on the table!
Olive harvesting is a tricky business… as is any kind of farming. In 2014, all of Tuscany went without new oil because of a fruit fly infestation known as "olive tree leprosy" that caused all the olives to fall off the tree. So this was an especially exciting year to participate in the harvest. All the Italian farmers I met were abuzz with excitement as they anticipated the new oil.
As I've mentioned before, I loved my WWOOF hosts, Kirsten and Pascal. Their daughter, Anna, son Oliver and his girlfriend, Taisia also made the week memorable and so much fun. And the three other American WWOOFers were a blast to hang out with!
A typical day WWOOFing on the olive harvest
Our days began with breakfast and a couple hours harvesting. A note about harvesting… straightening my hair for half of my life has prepared me in a way nothing else could have.
At 10:30, the shofar horn was blown and we went up to the house for tea and snacks where we were usually joined by a chicken or one of their dogs. Nac, the grey one on the right is a truffle dog.

After tea, we'd go back into the fields for more harvesting. Climbing trees isn't just for kids and the view of the Tuscan countryside from the top was pretty spectacular.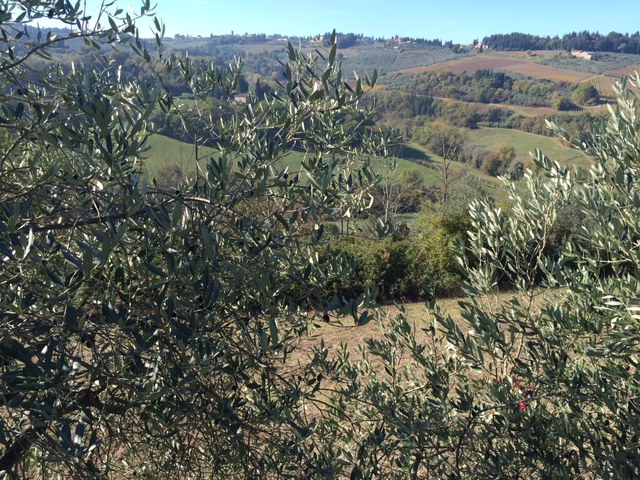 When it was time to collect, we gathered the big parachute-like netting from around the trees and picked out as many sticks and leaves as we could before transferring the olives into crates. We're not sure if the horses were being helpful or just looking for a little snack. For horses and humans alike, olives are extremely bitter straight off the tree.

After we'd filled at least 50 crates, we sent the olives off to be pressed.
Then… it was time to celebrate! Prosecco and tiramisu classes were a highlight of my trip!
TLDR: watch the video
You can see the full process from picking to pressing to the fettunta the first taste of new oil on grilled bread rubbed with garlic and topped with new oil in this YouTube video.
Kirsten and Pascal don't export their olive oil, so if you want to try theirs you'll have to join them for their other passion… hot air ballooning, which is a super romantic day trip from Florence, after which you can purchase as much olive oil as you'd like!
Or, you can have olive oil shipped from Podere Gualandi (where I helped with the grape harvest). It's going fast, but you can purchase from him for 13.5€ a bottle and 70€ for 6 and 100€ for 12.
Pin this post!