I like to play the 'last meal' game. You know… "what would you eat if you knew your next meal would be your last?" Mine always starts with calamari and ends with 100 desserts. As I prepare to leave Melbourne, I thought I'd play the 'one night in Melbourne' game. If faced with only 24 hours in the world's most liveable city (and the best place to live in Australia), what would I do? I'm lucky to have had more than a year to test out so many amazing foods, festivals, and activities and I'm not sure it's even remotely possible to scratch the surface of Melbourne in one day. But I sure as heck am going to try.
How to spend one night in Melbourne
Whether you're a Melbourne local in need of a staycation or stranded in the city due to a canceled flight (I sure hope you got travel insurance for Australia), these activities are sure to be a crowd-pleaser.
Safety Wing is my favorite travel insurance, and costs me less than $2 USD/ day. Find out if Safety Wing is right for you here.
Order a coffee
I know that coffee is a staple throughout the world… but Melbournians take great pride in theirs. They're a bit snobbish about their coffee and for good reason. Dubbed the coffee capital of Australia, this city also regularly makes the top 10 coffee destinations worldwide. The innovative roasters and highly trained baristas are always coming up with new and impressive ways to enjoy a cup of joe. You can order a coffee in an ice cream cone… which is the second-best thing you can serve in a cone. They also thought it was a good idea to serve coffee in an avocado one time… which goes to show you that even Melbourne can make mistakes.
Check out the street art
Like their coffee, Melbourne is known for doing street art really well. Their iconic laneways are laden with colorful and poignant street art. Some of the street art is beautiful, while others portray a clear political message.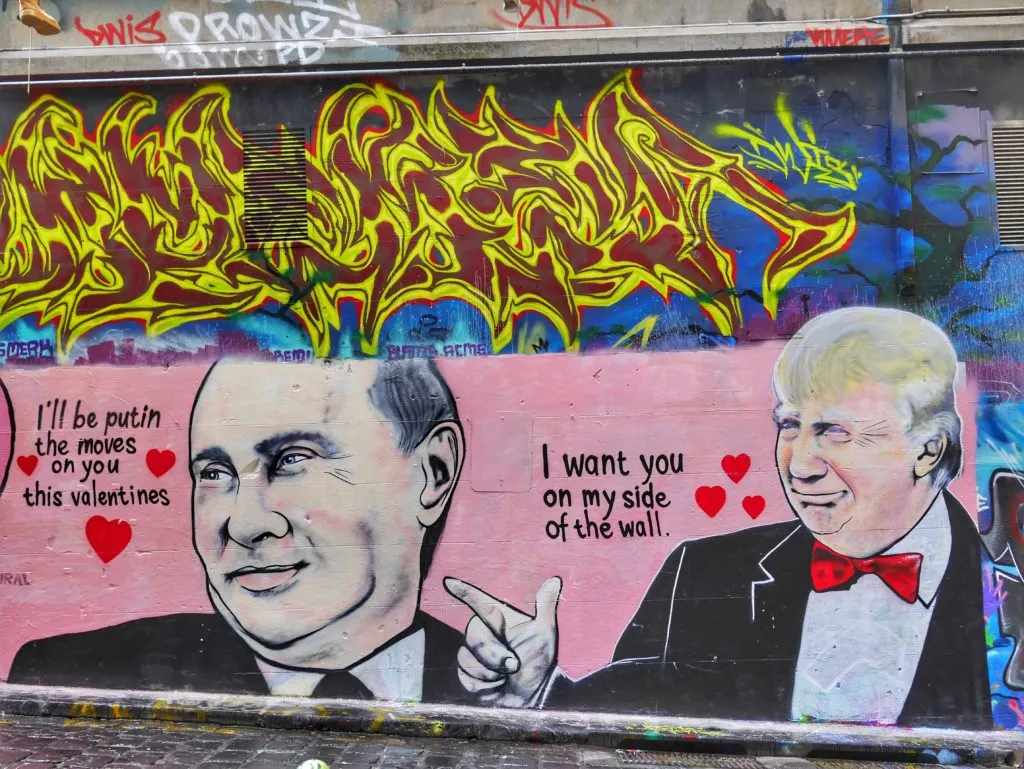 Although Bristol is Banksy's home, he seems to love Melbourne a whole lot. He's created pieces of art all around the city, so be sure to keep your eyes peeled for this famous artist's work as you discover the best street art in Melbourne.
Try a freakshake
Australia is the home of the freakshake. And while it was actually created Canberra, Melbourne has some pretty amazing shakes, too! The most delicious shake I've tried is from Rowena Corner Store. They make their shakes with real gelato and fresh toppings that will leave you wanting more (and wanting to burst at the same time).
If you're looking for the most Instagrammable freakshake in Melbourne, Sugar Buns Bakery Café and Three One 2 One will bring in ALL the likes.
For more, check out these 13 cafés serving the best freakshakes in Melbourne.
Go for a walk in the Botanical Gardens
Work off those freakshakes and take a walk around The Tan, a nearly 4km track around Melbourne's Botanical Gardens. I haven't worked out whether it's called The Tan due to its color, or if this is Aussie slang for BoTANical Gardens. Either way, it's an amazing green space just outside the CBD.
Pay your respects at The Shrine of Remembrance, built to honor the Victorian men and women who fought in World War I. Since its inception, the purpose of the war memorial has expanded to honor all who have served. This year, I attended the ANZAC Dawn Service at The Shrine of Remembrance and was blown away by the number of people gathered to honor the soldiers who have served.
Get artsy at the National Gallery of Victoria
It's no surprise this creative city loves art. There are more than 40 galleries in the city, which could be the theme of a whole entire trip here. If you only have time to visit one, though, visit the NGV, which displays Australian indigenous and non-indigenous art from the Colonial period to today. There's more Australian art on permanent display here than anywhere else in the world, so be sure to stop in. It's free entry, too, so you've got nothing to lose and culture to gain.
Hang out on a rooftop
Rooftops are so very Melbourne. You can watch a movie on a rooftop at the creatively named Rooftop Bar and Cinema. Or try a delicious (and highly Instagrammable) cocktail at Sweetie & Moustache.
Space Hotel offers an incredible viewpoint over the city. If you choose to spend your one night here, you'll be rewarded with stunning views of the city. I hope you've packed a swimsuit, because there's a jacuzzi on the roof! Chill out in the hot tub as the sun goes down over the world's most livable city. Zen out and recharge because the night is young and this city gets even better after dark!
Laugh a little (ok, a lot)
I've gotten mixed messages my whole life. 'An apple a day keeps the doctor away.' But 'laughter is the best medicine.' If that's the case, I'll forgo the apple, because laughter is medicine that goes down smooth!
From gold-coin donation shows year-round at Spleen Bar to big names during The Melbourne International Comedy Festival, there's a show for every budget.
I've seen comedians so bad my friends and I laugh at the awkwardness nearly a year after the show. And I've seen comedians who are (almost) pee-in-your-pants funny. This year, I watched Matt Okine and Tommy Little, big names who brought down the house. And last year, I saw Alex Ward's debut at the Melbourne International Comedy Festival, whose relatable storytelling and wit had me laughing for the whole set.
Eat food from a faraway land
Melbourne is a melting pot of ethnicities, and that lends to its incredible food scene. I thought I was an adventurous eater before visiting Melbourne. But before living with two Chinese students in the CBD, I thought Panda Express's orange chicken was indicative of actual Chinese food. My flatmates took me to Tina's Noodle Kitchen and applauded my use of chopsticks every time the food made it to my mouth (there was less clapping than you might expect).
Likewise, I'd never tried Vietnamese food. Thankfully, that's changed now. Uncle Restaurant is just one of many amazing and creative Vietnamese restaurants in the city. My mouth is watering now as I think about their soft shell crab lettuce cups, black wild rice with a panko-crumbed hen's egg and master stock crispy pork hock with banh hoi.
Uncle's See You Bye cocktail (Tromba Blanco tequila, lime, coriander root, lemongrass, mint, chili, palm syrup & a dash of fish sauce) shows just how adventurous the chefs (and diners) in this city can be.
Visit a secret bar
The cocktail culture in Melbourne is almost as strong as the coffee culture. And while the city is full of amazing cocktail bars, I think it's fun to work a bit for my drinks. Check out some of the city's best secret and themed bars accessed through cooler doors and unmarked entries.
Sweet Dreams
When you've laughed, drank, and partied your heart out, you'll need a spot to rest your head. Head back to the Space Hotel – they offer a range of dorm rooms and ensuite rooms with panoramic views (some even have a balcony)!
If you appreciate good value, go for the ensuite. After the big day you've had, you'll appreciate a nice big tub for soaking and room to spread out.
Brunch
Morning always comes too soon, but with Melbourne's brunches, you'll be excited to get out and eat!
Some of the most Instagrammable brunch spots in Melbourne always have a queue, so I'll share my pro tip: stop at Short Stop Donuts for a honey and sea salt donut or Tivoli Road Bakery for an almond croissant to munch on in line.
So there you have it— my "one night in Melbourne" bucket list. What would you add to the list? Share your favorite things to do in Melbourne in the comments!
Disclaimer: This post contains sponsored links and I was hosted for some of the activities mentioned in this post. As always, all opinions are my own and I'd never recommend anything to you that's not awesome!
Pin this post!
SaveSave