With only 40 hours in Perth, there was no question that I wanted to spend the majority of my time on Rottnest Island.
I took the 7:15am ferry from Fremantle and booked the last one out at 5:55pm and made a plan to see as much of the island as possible. You can bike the whole island in one day, but for the sake of time (and spending as much time taking quokka photos), we only went as far as the Wadjemup Lighthouse. Armed with a bike and snorkel hire from Pedal and Flipper, I set out to get the perfect quokka selfie and see if those Western Australia beaches were as beautiful as everyone says.
The day was even better than I could have imagined, and I want to share my secrets with you!
Quokkas
In 2015, the happiest animal on the planet smiled its way into my heart and the hearts of people worldwide when animal-whisperer, Allan Dixon's quokka selfie went viral. Nearly two years after seeing the smiley creature, I planned my trip to Rottnest Island, and as luck would have it, @daxon joined me for the day!
At first glance, you'd be forgiven for assuming the animals on Rottnest are some kind of rat/ wallaby hybrid. But when they turn their gaze upon you and flash you their famous quokka-smile, you'll lay aside any rodent fears.
Top spots for quokka sightings
Although there are between 10,000-12,000 quokkas on the island, they are nocturnal, so there are a few spots where you are more likely to see these smiley creatures. Of course there's no way to guarantee where you will spot quokkas, but these spots were lucky for us:
The Settlement
Bike parking area near Porpoise Bay
Under the trees on Wadjemup Rd on the way to Wadjemup Lighthouse
Garden Lake
Defence Rd just past Digby Dr
Tips for the perfect selfie
1. If you're using a camera with interchangeable lenses, be sure to choose one with a minimum focus distance that's shorter than your arm length. Also, be sure that the focal length is large enough to capture both you and the quokka. (See my selfie fail below.)
2. Wear clothes you don't mind getting a little dirty. To get the perfect shot, you'll want to lay down on the ground next to the quokka.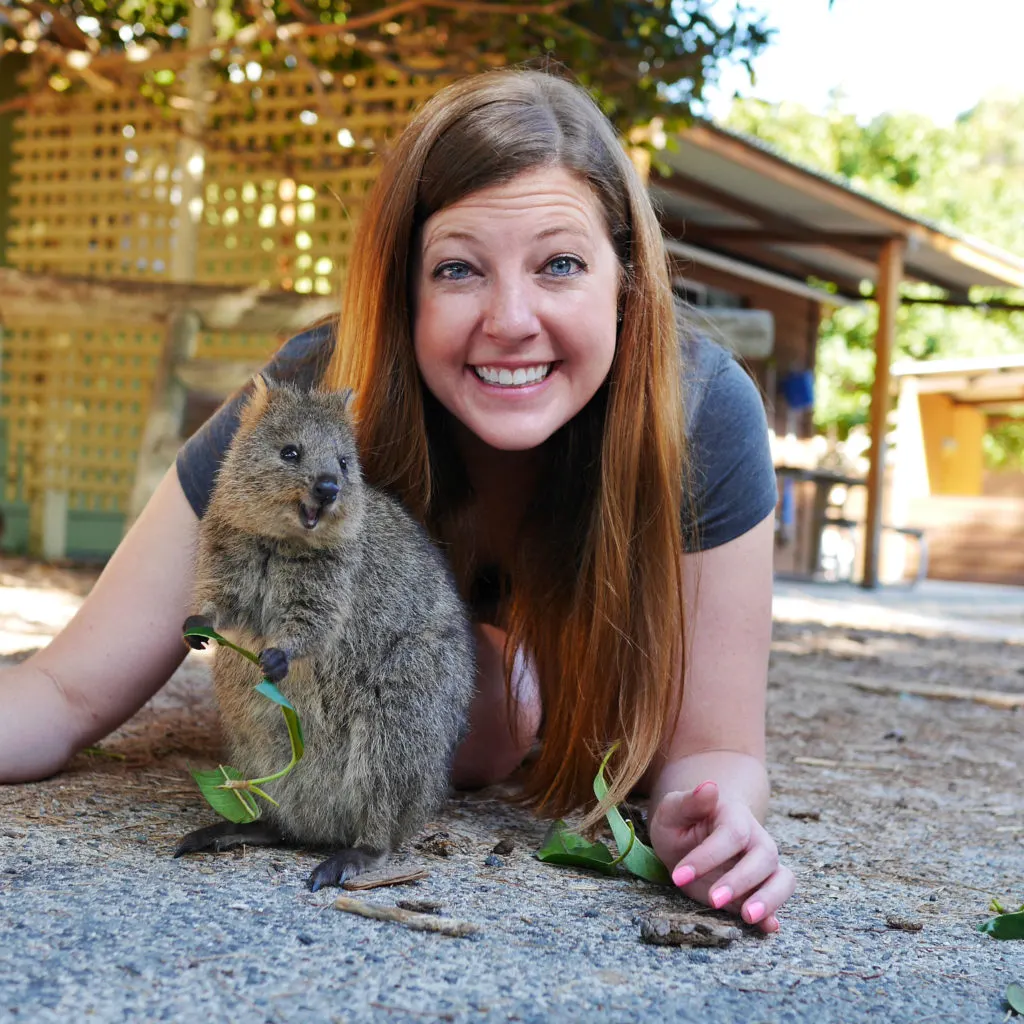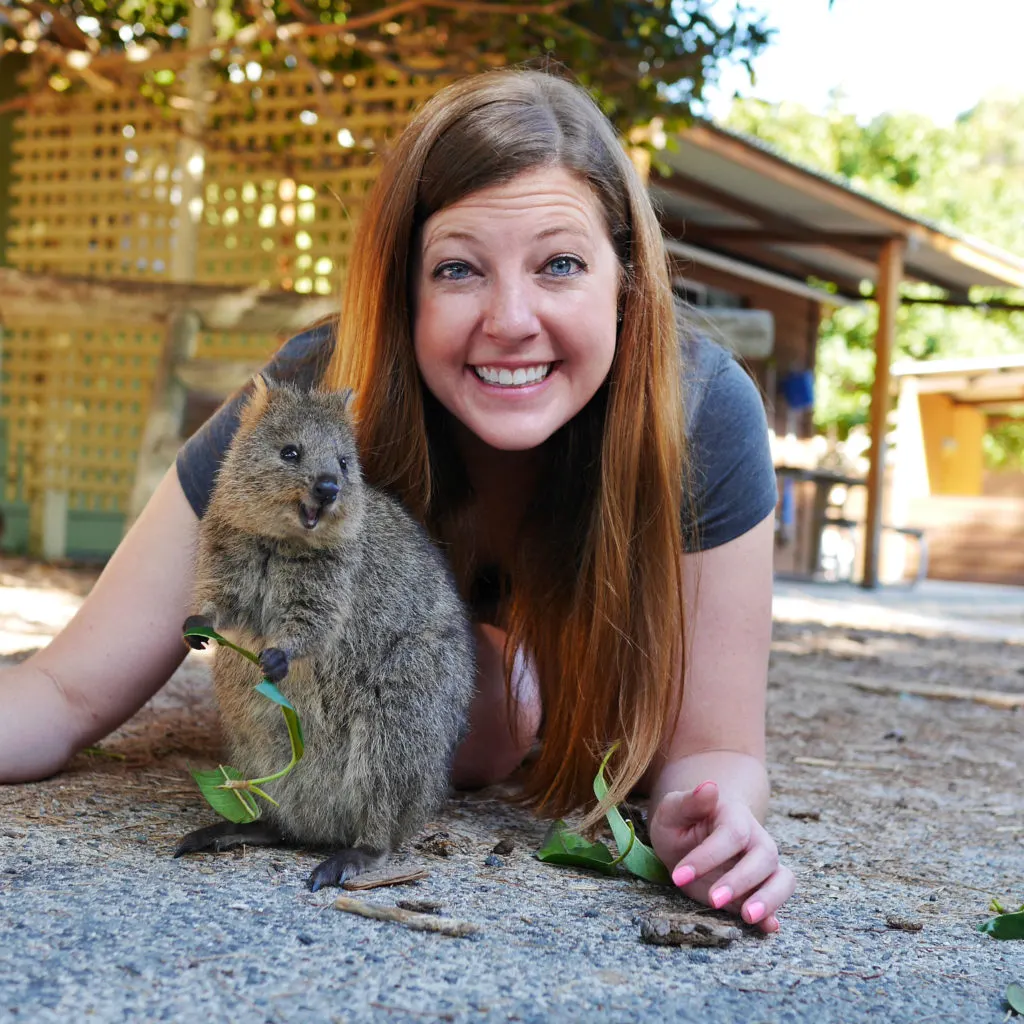 3. Be patient and take lots of pictures. You never know what you'll capture if you keep clicking…
4. Respect the quokka. Never touch or feed them and move on if the quokka is camera-shy. As you can see here, they're happy to direct the shoot!
Rottnest Island Snorkeling
Rottnest Island's beaches are gorgeous and the water beckons snorkelers. Be sure to check the Snorkel Seabreeze Map to find the best and safest spots for snorkeling. The Visitor Centre is also happy to give advice.
With limited time, we chose two snorkeling spots on the south end of the island:
Henrietta Rocks and The Shark wreck– Don't worry… The Shark wreck is named for the wrecked barge, not for our large fish friends. The hopper barge wrecked in 1939 after breaking loose from its moorings in Fremantle and wrecking on Henrietta Rocks.
Little Salmon Bay – Just past Little Salmon Bay, @daxon shared his favorite lunch spot: a private beach with a rock overhang perfect for soaking in the shade. In the water, we found some epic swim-throughs and lots of fish in the crystal clear water.
Wadjemup Lighthouse
Enjoy a 30-minute lighthouse tour and learn the history of Rottnest Island from a passionate volunteer. The cost is $9 and there are 155 steps, but it's well worth it for the 360° views of Rottnest and information about the surrounding buildings' WWII significance.
The lighthouse was automated in 1986 and the last lighthouse keeper left the island in 1990. Today, the Australian Maritime Safety Authority keeps the light running.
Pink Lake
At the moment, Rottnest Island has multiple pink lakes! For someone who can't get enough of the color pink, these lakes were nearly as exciting for me as getting to meet the quokkas.
Pink Lake is located on Defence Rd, and is currently a deep pinky red in color. There's another pink lake along the same road which is normally dry at this time of year (autumn), but thanks to some late summer rain, the lake contains water, and it's pink! The last of the occasionally pink lakes are the Pearse Lakes, which were bubblegum pink when I was on Rottnest.
Whether you're up for action or lazing on the beach for hours, Rottnest caters to all types of travelers. Skydive over the turquoise waters, scuba the deep blue, segway off-road as you learn about the island's military significance, or picnic on white sandy beaches. Which Rottnest adventure will you choose?
Disclaimer: My time on Rottnest Island was hosted, but all opinions are my own, and I wouldn't recommend anything to you that's not awesome!
Pin this post!