Cardiff, Wales is unlike any capital city I've ever visited. Forget any preconceived notions that capitals are over-crowded, ultra-busy and unfriendly. Cardiff is a breath of fresh air, and quite possibly the friendliest city I've ever visited. Strangers stopped me on the street to find out if my accent is American. I braced myself as I waited for the barrage of questions about Donald Trump and was met with 'Really?! All the way from America?' Conversation about travels seamlessly picked up from there, and the topic of our Commander in Chief never even came up.
The weather in November is dreary at best, with a constant dusting of rain that leaves you feeling like you've received a rather cold facial. The best way to escape the chilly, damp outside is to duck into the system of arcades. For any Americans out there, an arcade is an indoor shopping center, so don't go looking for PacMan or pinball machines! Cardiff has the highest concentration of Victorian, Edwardian and contemporary arcades, earning it the name "City of Arcades." I made my way around the best arcades in Cardiff and made notes on the best things to buy in each.
The best arcades in Cardiff
Castle Arcade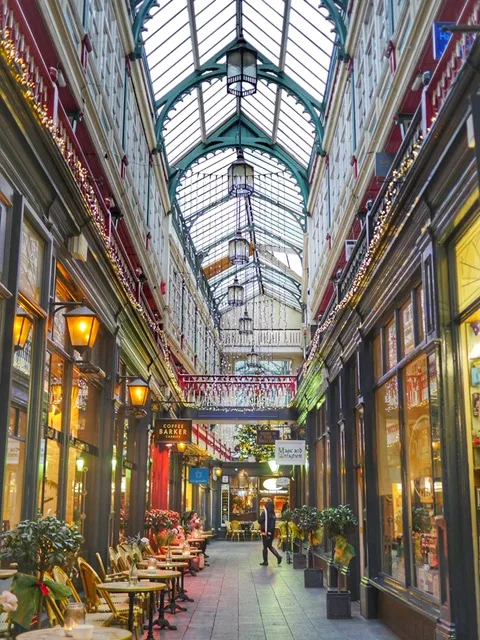 It's not nice to play favorites, but if I was going to show favoritism for one of Cardiff's arcades, it would be the Castle Arcade. Barker Gelato Ice Cream Parlour sits at the High Street entrance to the Castle Arcade, and the sister to Coffee Barker and Barker Tea House has earned accolades all on its own. The cozy, worn leather chairs invite you to sit and stay a while, and the exposed brick, colorful tiles and mounted animal skulls keep you intrigued at the eclectic nature of this shop. I ordered a Mocha Marshmallow Doughnut Shake, and enquired about this freakshake's looks and taste. The lovely barista, Beatrix, answered my questions and upon learning that I love colorful shakes, told me she'd make my shake look special.
What she made was one of the most perfect shakes I've ever seen. Even after 20 minutes of photographs, this shake held strong, and I couldn't keep myself from licking the outside of the glass because the whole shake was just that good! Rich chocolate, perfectly brewed espresso, a sugar-glazed donut, the perfect amount of whipped cream, colorful sprinkles and a Cadbury flake have me wishing I lived next door to Barker Gelato! This shake was made with love and Beatrix's pride in her work made my whole entire day!
Walk (or waddle after that decadent shake) into the arcade, where witch and wizard wannabes will be drawn into the Harry Potter themed Mayhem & Magic. Pick up some Bertie Botts or test the wands to find the one that chooses you.
Take your magical self a little further down the Victorian arcade and be sure to stop into Madame Fromage. This artisan cheese shop houses 150 cheeses from Artisan and award winning seasonal farmhouse producers. It's a favorite among locals, recommended to me by multiple Cardiffians.
Gin & Juice is currently under construction, but I hope you'll check it out and let me know how it is once it opens. Promising to serve botanicals raw press by day and morphing into a gin snug with cocktails by night, this sounds like my kind of place!
Duke Street Arcade
The Duke Street Arcade, opened in 1902 is home to multiple hair and bridal shops. At the point where the Duke Street Arcade meets the High Street arcade, though, I found Jian Chen's FINE ART. Jian's whimsical, colorful paintings caught my eye, and I'm taking home a print to commemorate my trip to Cardiff. I'm not the only one who's impressed with Jian's work. Her Ram painting was featured on the BBC One drama Ordinary Lies.
Jian's watercolor paintings merge fantasy with reality, capturing her subject not as they are, but how they could be. Pick up a smiling sloth, Highland cow, humpback whale or a kitten in a top hat in Duke Street Arcade or by visiting her Etsy shop, which ships worldwide.
High Street Arcade
The High Street Arcade is home to the Barker Tea House, decorated in the eclectic style of its sister gelato shop. This is our hostel's number one suggestion for visitors to Cardiff as it provides the quintessential afternoon tea experience with a quirky modern twist.
This arcade, opened in 1886 is home to a range of fashion shops from designer to funky vintage. And if you're at home on a board, be sure to stop by City Surf. It's one of the oldest surf and skateboarding shops in the country.
Morgan Arcade
The first-floor Venetian windows and wooden storefronts of Morgan Arcade makes it Cardiff's best preserved arcade. If you've got a dapper gentleman in your life… the Morgan Arcade can supply all the posh men's fashion you could possibly need. This arcade oozes luxury, beauty and high end gifts.
Stop for a coffee at The Plan as The Bean Vagrant, Trevor Hyam, crafts the perfect artisan coffee. Be sure to sit on the second floor to watch shoppers pass by and take a peek at the work that goes on behind the counter from the upper balcony. The Plan's coffees are brewed to order and they take pride in being part of the third wave coffee movement, aimed at improving coffee quality at every stage from farm to cup. The difference is clear and I didn't even need to add sugar to my latte.
When you're feeling the caffeine buzz, head across to Spillers Records, the oldest record store in the world. Opened in 1894, it began its life selling phonographs, wax phonograph cylinders and shellac phonograph discs. It's changed location four times, and changed its stock to keep up with the times, but is still loved and frequented by music lovers from around the world.
Royal Arcade
Built in 1858, the Royal Arcade is the oldest arcade in the city. Walking through Wally's Delicatessen and Kaffeehaus was a bit of a trip around the world in itself. Purchase marzipan from Germany, Japanese rice crackers, or Jack Daniels Tennessee whiskey fudge. Stock up on Italian pasta and cannoli, English sugar mice, French ham, Greek baklava and Hungarian czabi. The world's best treats are all in this one shop that's been serving customers for over 60 years.
My favorite shop in the Royal Arcade is Sobeys Vintage Clothing. It's not your typical vintage store, though… Sobeys specializes in vintage and reworked clothing offering individually handmade products using original vintage clothing and fabric, giving new form and a new life to an old classic. If you buy from Sobeys, you can be sure that you won't find your new (old) outfit anywhere else. Everyone knows that vintage is in right now and many shops take advantage of its popularity, charging an arm and a leg. Sobeys aims to keep their prices student friendly, and I went home with a silk blouse for £17.
Not only was I impressed that the employees of Sobeys could work there and not buy the entire shop, they were also added to the list of over-the-top friendly and helpful Cardiffians I met. As we chatted about pizza and prosecco and where to find the best dessert, it felt like we were gossiping in my (way cooler and more fashionable) friend's closet than a vintage shop.
Wyndham Arcade
I didn't make it to the Edwardian Wyndham Arcade before closing time, but I have a good excuse! Ten Mill Lane offers a two-for-one deal on any cocktail on their menu, including some unique nostalgia flavours like "Who loves orange soda?" and "Jumanji."
Waterloo Tea in Wyndham Arcade has received good reviews. Next time I'll be sure to stop in for tea and cake.
Old Arcade
OK, so this isn't an actual arcade. It's a pub. More importantly, it's a Brains Pub, which is a big deal in Cardiff. In 1882, Samuel Arthur Brain and his uncle Joseph Benjamin Brain brewed the first pint of Brains beer in a small stone brewery on St. Mary's Street.
Old Arcade is Cardiff's premier sports pub, evidenced by rugby memorabilia on the walls and an entire table of men wearing rugby jerseys, even though there was no game on the television.
I went old school and ordered a pint of the Dark, flavored with notes of coffee, chocolate and licorice. The bartender commended my choice, telling me the Dark was the most popular when he was young. Today, Brains has branched out and now carries a wide range of ales and craft beers. I've been told that their SA beer has been nicknamed 'sex appeal.' Be careful after one or two of these! Everyone looks nicer with a little SA!
Cardiff Market
Cardiff Market is another bonus arcade, as it's not a typical arcade. This two-story, Victorian-era indoor market opened in 1891, but the area has been a center for trading since the 1700s. Pass under the H Samuel Clock, renovated in 2011 at a cost of £25,000, and into the glass-roofed market.
Take in the sights and smells, but don't let distraction get the best of you. You need to get to Cardiff Bakestones for the best Welsh cake in Cardiff (and maybe even the world). Don't mess around with the fancy ones, ask for a warm traditional Welsh cake. The ladies at Cardiff Bakestones make 1,000 Welsh cakes every day, so there's guaranteed to be a warm one available. At 30p, how could you say no to this traditional treat that's part scone, part cookie and all delicious.
Need a little nice after trying all the naughty treats? Head over to the Milgi Market stall for a raw treat or some plant based fast food.
Which are your favorite arcades in Cardiff?
Shopping Cardiff's arcades is one of the best ways to get to know this beautiful city. Take in the historical sights, but don't forget to open up and chat to the people in the shops. The friendly nature of the Cardiffians I met are the reason I'll be coming back to this city again!
Pin this post!