We've all seen the photos of Cinque Terre: beautifully colored buildings perched high on cliffs above a glimmering sea. But I was convinced that it must be a trick of Photoshop… Skies couldn't really be that blue, water doesn't really sparkle, and surely a town wouldn't all paint their homes in vibrant colors.
Here's the truth: the sky is the most perfect cerulean (my favorite color from the Crayola box as a kid). And the sea glistened. And the buildings, well… they could give a rainbow a run for its money in a color competition. According to a story, fishermen painted their homes in different colors to be able to easily spot their homes from the water as they returned home from sea. One story claims that the reason the fishermen wanted to pick out their homes was so they could ensure that their wives were still in their houses. Who knows what the real truth is… but either way, it made for a beautiful collection of villages.
Monterosso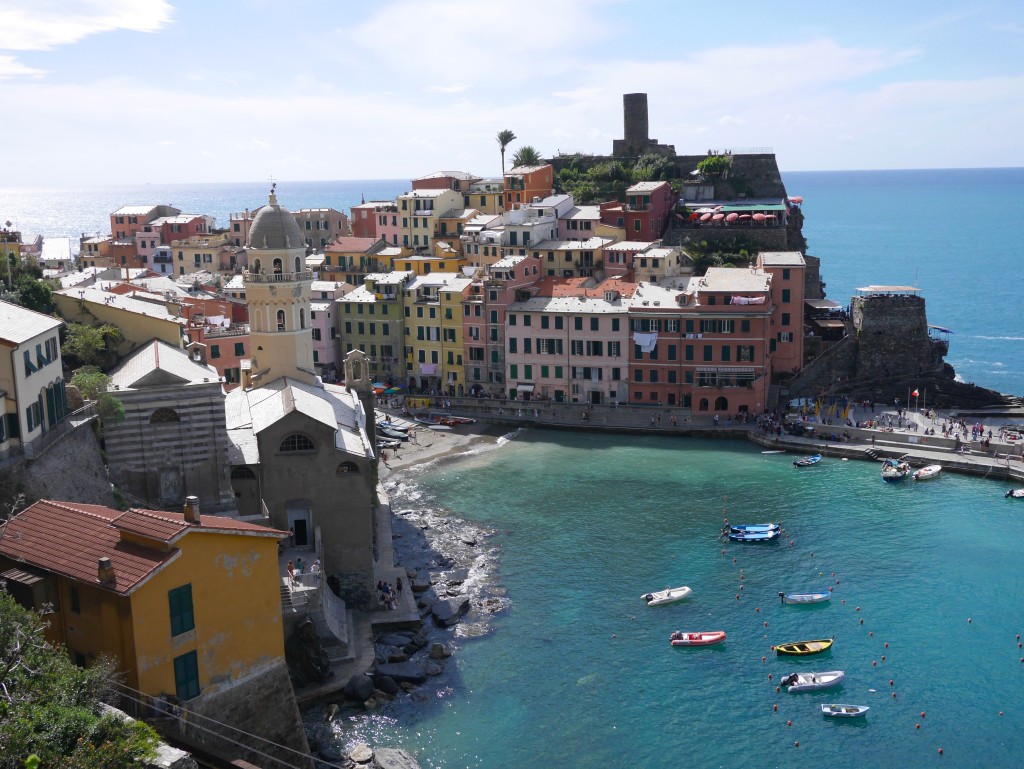 Vernazza
Corniglia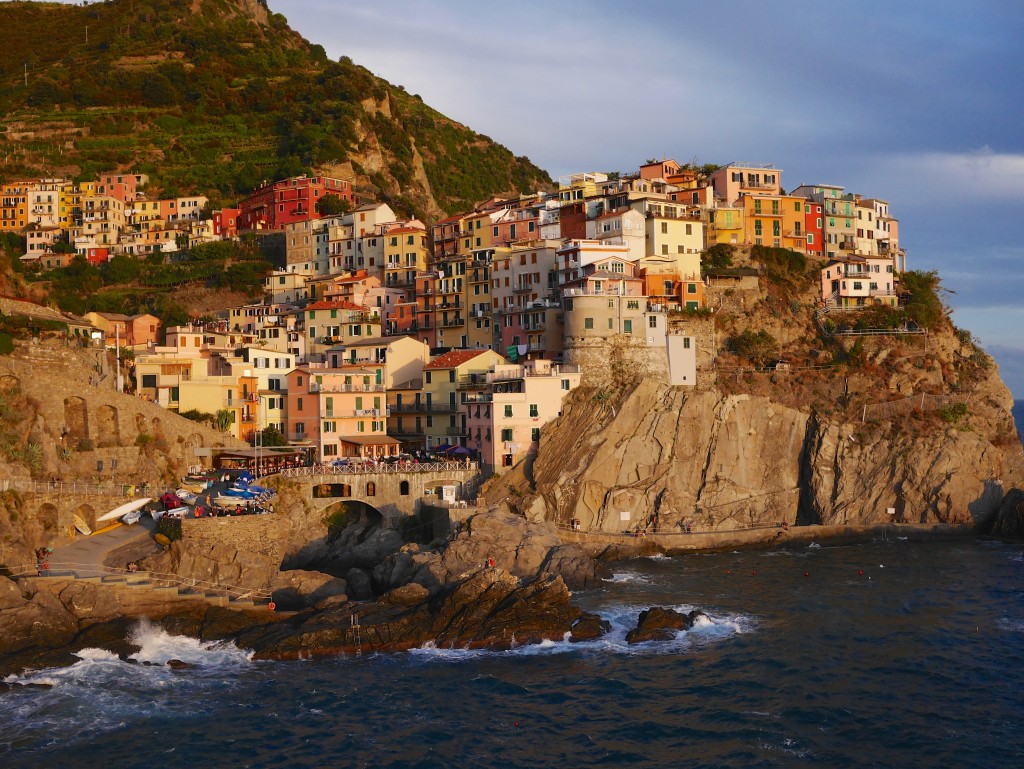 Manarola
and Riomaggiore make up Cinque Terre (Five Lands) which became a UNESCO World Heritage Site in 1997.
When I visited, the hiking path between Riomaggiore and Manarola, known as Via dell'Amore or The Love Trail, and the path between Manarola and Corniglia were closed, but it was really easy to hop on a train between cities. The Cinque Terre Card Treno allows you to hike the trails and have access to the trains between towns. It was really nice to not wait in line to buy a ticket… those single-use machines always had a long line! One more note on trains: When you're planning your trip to Cinque Terre, I suggest staying in Monterosso or Riomaggiore. Because they are the first and last villages, they seemed to have more trains that stopped in their towns. Others were sometimes passed for the bigger towns.
I got off the train in Corniglia to begin my hike and took a quick detour to see a bit of the town before beginning the hike. Also, the Blue Trail was a lot more difficult to find than I thought it would be!
I saw beautiful homes (even the laundry drying here seems more picturesque), visited a lookout point, and (of course) was drawn to Alberto Gelateria, whose sign said their basil gelato was made with herbs fresh from their garden. The woman in front of me was carrying Rick Steves' handbook for Cinque Terre, and at his suggestion requested to try the miele (honey) di Corniglia ice cream. Not one to miss a gelato experience, I followed her lead. And then tried the basilico, which reminded me of pizza in the best possible way. Both were a little too much before a hike though, so I ordered the granite di limoni locali (lemon slush). I think Italy is going to turn me into a lemon-lover!
The hike wasn't too long– about an hour, and although it had some steep stairs in the beginning, it wasn't too bad!
Upon arriving in Vernazza, I was ready for some food! Gambero Rosso had good reviews, an open table, and allowed dogs inside, so it hit all of our criteria. I ordered the seafood spaghetti and it was really tasty. It took some work to get all the seafood, but it was worth it! Everything was so fresh and I love how you can see into the kitchen from the outside to watch where the magic is made!
If I could give you one piece of advice on hiking, it is to go from the Riomaggiore side towards Monterosso. Especially the Vernazza to Monterosso hike. If you begin in Monterosso, expect nearly-endless stairs that go straight up (and up and up). It's not an easy hike either way, but when I neared Monterosso and passed hundreds of panting hikers, I knew I had made the right decision.
The view leaving Vernazza on the way to Monterosso was one of my favorites.

And knowing that the best beaches in Cinque Terre were waiting for me fueled my desire to get to Monterosso! When I arrived, the water felt so good and the tiny pebbles on the beach provided a (slightly painful) free pedicure.
The unique art on walls around the village and live music being played as you stroll along the sea made Monterosso a memorable town.

Another highlight of Monterosso was the shopping. For over 30 years, Fabbrica d'Arte Monterosso has been creating handmade, hand-painted pottery (terra-cotta) and it shows in their quality and professionalism. I love the homes (some even include laundry hanging outside the windows), Monterosso church, and other scenery that is made to hang on a wall. I was also impressed that the price of their art doesn't come with a tourist tax (read: WAY too expensive), and they charged a fair price to ship everything back to the U.S. This place is a winner in my book!
And as your day winds down, find a good spot to watch the sunset! It sets first in Monterosso (because of the mountains behind it), but my favorite spot to watch was in Manarola.
And the view from my apartment in Riomaggiore wasn't too shabby either! From sunup to sundown, the colors of Cinque Terre found new ways of showing off.
Let me, O let me bathe my soul in colours; let me swallow the sunset and drink the rainbow. ― Kahlil Gibran
SaveSave