When I think afternoon tea, I think perfect manners and pinkies up. I imagine layering scones with dainty amounts of jam and clotted cream with my grandmother (who, in my imagination, looks suspiciously like the Queen of England). What I discovered on my most recent trip to London, though, is that afternoon tea can be a whole lot of fun.
Fancy hotels all around London are catering to the millennial crowd desperate to relive their 90s childhood. Instead of the traditional high tea, themed afternoon teas are popping up all across the city, and I made it my mission to try as many of the unusual afternoon teas in London as possible.
B Bakery Gin Bus
£55 per person
Earlier this year, the B Bakery Bakery Bus Tour exploded on Facebook. It went viral, and within days, the planned dates for 2017 were sold out. Can you blame them? A boozy afternoon tea on a red Routemaster bus driving the streets of London is the epitome of cool.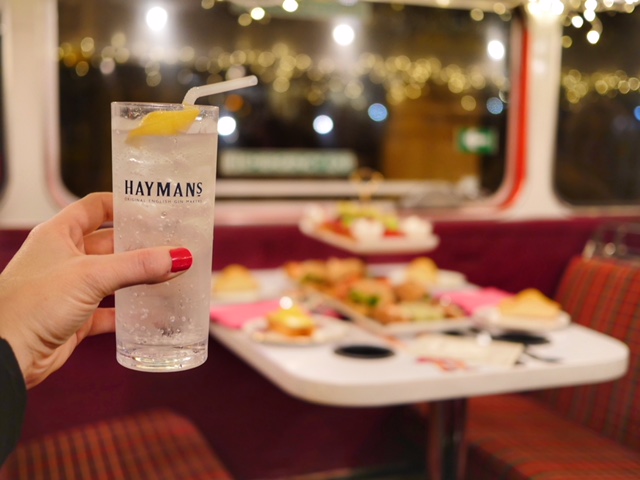 Lucky for me, they added extra dates in response to its newfound popularity, and I snagged a couple seats for a Gin Lovers Afternoon Tea Bus Tour of London in November. London is a special place year-round, but it's particularly magical at Christmastime.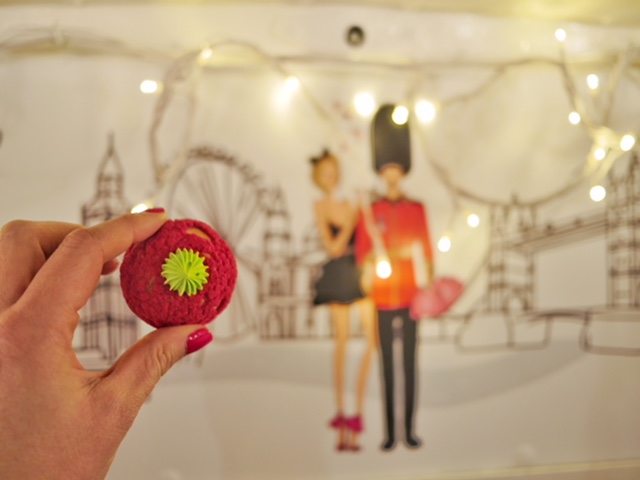 Board the bus at Victoria Coach Station to festive 80s music. Music from Wham! and Whitney Houston are toe-tapping when sober, but as the gin flows, the Routemaster quickly becomes a karaoke on wheels (at least it did for our table). Our tea-master, Marion, explained that she'd bring three rounds of drinks as the bus traveled around the city. In addition to cocktails, we could order hot drinks throughout the evening, too.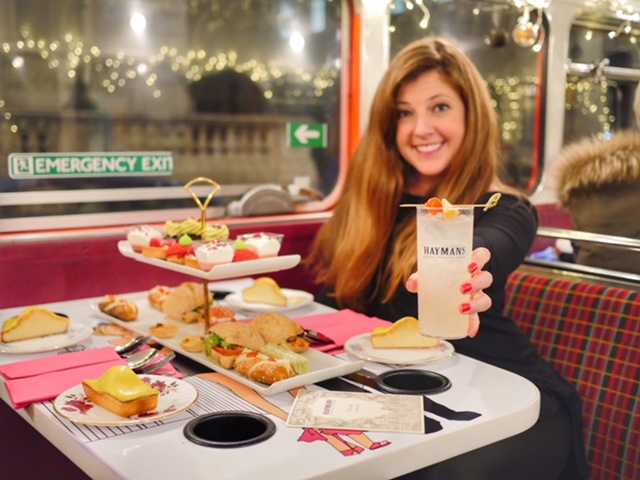 The music paused from time to time so we could learn about the historical, cultural and architectural significance of the sights as we passed. We sipped our way through the streets of Knightsbridge and paused at Harrods, known for having the best Christmas windows in London. The recorded voice overhead told us that of the 12,000 lightbulbs that adorn the store, 300 are changed every day!
Our cocktails were all made with Haymans Gin, a brand I'd never heard of until this tour. It's certainly not the last time I'll be drinking Haymans Gin, though. We began with a classic gin and tonic to appreciate the flavor of Haymans Gin before moving on to something a bit fancier. Next, we were served a glass of prosecco with gin and elderflower, garnished with an edible flower. Last, we received a gin and lemonade cocktail with a maraschino cherry garnish.
We balanced out the drinks with savory and sweet treats from Brigit's Bakery. I loved the little pink and green buns filled with salmon and cream cheese and the cupcakes were divine. There was so much food, we couldn't finish it all, so we were given cute pink lunch boxes to bring home leftovers. And as if that wasn't an awesome parting gift in itself, we all received reusable coffee cups. From now on, I'll be saving the environment in style!
B Bakery's Gin Lovers Afternoon Tea Bus Tour was the most unusual afternoon tea in London and among the most unique foodie experiences I've ever had the pleasure to take part in. Whether you're a tourist or born and bred in London, there's something for everyone.
Charlie and the Chocolate Factory tea at One Aldwych
£44 per person, £54 per person with a glass of Lallier Grande Réserve Champagne or a Cocktail Charlie
I've always loved Willy Wonka and the Chocolate Factory. There's something satisfying about watching the nice guy finish first, and I'd be remiss if I didn't mention that it's my dream to live near a chocolate river.
When I found out about the Charlie and the Chocolate Factory inspired tea at One Aldwych, I jumped at the chance to join. We were seated under the fuchsia Christmas tree, trimmed with lights, golden musical notes and brightly colored candy scenes. The tables were set with hand-drawn versions of the most famous characters from the movie, which doubled as our menu. Looking down the list at bubble-gum panna cotta with berries and meringue and chocolate caramel milk, I knew I had won the golden ticket.
It was my last day in London, so I decided to splash out with a Cocktail Charlie. The cocktail is comprised of Dalmore whiskey mixed with Merlet Sœurs Cerises cherry liqueur, chocolate bitters grapefruit juice and cherry syrup topped with champagne. Served in clear teapots on dry ice and poured into fancy long-stemmed glasses, the magical smoke started the afternoon tea off on the right foot.
We began with savory sandwiches, a quiche and Montgomery cheese scones served with bacon jam. If you're wondering what the heck bacon jam is, I give you permission to stop reading right now and call One Aldwych to make a reservation. Because that bacon jam is life. I tried to play it cool as I piled the jam on top of my scone, but it was so delicious, there was no cool in sight.
Our server asked if we'd like any extras from the savory menu or if we wanted to move on to the sweets portion. As delicious as the savory dishes were, we were looking forward to Willy Wonka's creations. And were were beginning to feel a bit like Oompa Loompas already!
The menu detailed an extensive selection of tea, and I had a hard time deciding between the Winter Spice, Winter Berry and Hibiscus and Mango Noir, but I decided to stick with the theme and chose the Chocolate Tea. It's no chocolate river, but it's the next best thing.
The scrumdiddlyuptious sweets came out on a tiered pedestal, and our server described them each in detail. The Cadbury Creme Egg is one of my favorite sweets, so I was especially intrigued by the Golden Egg, filled with vanilla cheesecake and mango. The homemade candy floss is a mystery flavor, reminiscent of an old-school British sweet shop. Can you guess the flavor?
If you're celebrating something special, be sure to let your server know!  There are even more treats in store for birthday girls or guys who visit.
The service, quality of food and atmosphere earns an A+ in my book. I'm not the only one… it earned the title of 'Best Afternoon Tea in London' from Bookatable in 2017! I'd go back for another Charlie and the Chocolate Factory themed tea any day!
JuBEElee – St. Ermin's Afternoon Tea
£29 per person, £35 per person with free-flowing Prosecco for 90 minutes
You'd better BEE-lieve that this is the best value tea in all of London. St. Ermin's is home to the very first bee apartment in London with a hive of 350,000 honeybees  For £29, St. Ermins offers a Honey JuBEElee tea, showcasing what the bees produce. I am a big fan of the ginger and honey macaron, white chocolate mousse with honey sponge and honey caramel presented in a 'cup of dirt' and the honey bee gin and tonic jelly with blackberry pannacotta.
And this is one tea where it's hard to choose whether the savory or the sweet was done better. The salt beef with honey-mustard slaw and goat's cheese with apricot chutney sandwiches were divine!  As if that's all not amazing on its own, for just £6 more, you can add on free-flowing Prosecco. After all those bubbles, it was hard to tell whether we or the bees were more buzzed.
Tale as Old as Time Tea at The Kensington
£38.50 per person , £50 per person with a glass of champagne
If I could be any Disney Princess, I'd be Belle. Hands down, no competition. She loves to read, forges her own path in life, and pays no attention to the naysayers. I think she's pretty rad.
As I was watching the new live action Beauty and the Beast (for the third time), I wished that I could have a Be Our Guest experience. I googled, just in case I'd missed a chance to dine with dancing dishes. Lo and behold, Town House at The Kensington offers a Tale as Old as Time tea… No dancing dishes, but they promise Cogsworth and Lumière's attendance.
I appreciate their commitment to theme, even in subtle menu items. We began with mini venison pie, beef ragout & saffron arancini and cheese soufflé. The starters are a nod to the lyrics of "Be Our Guest":
Beef ragout, cheese soufflé
Pie and pudding, on flambé
We'll prepare and serve with flair
A culinary cabaret
A few other stand out dishes included the chocolate clock tart, adorned with Cogsworth's face, spiced snowball macarons and of course, the grey stuff. Served in a tiny Chip teacup with a note that says "Try the grey stuff, it's delicious" and we may have been the only ones in the restaurant that couldn't help but follow up with a "Don't believe me? Ask the dishes!"
When "you shout, 'enough I'm done!'" take your speculoos Belle dress decorated with marzipan to enjoy later.
Genie's Cave Tea at Cutter & Squidge  This tea is no longer offered. Check out The Potion Room instead!
£29.50 per person, £34.50 per person with one glass of bubbly, £55 per person endless bubbly including prosecco and bellinis
Disney's Aladdin the musical is playing at The Prince Edward Theatre, and although I've probably seen more than 30 musicals in my life, this performance is in my top three. Aladdin has an incredible voice and boyish charm and the Genie steals the show with timely pop culture references.
Since we were already singing the songs from Aladdin on repeat, we kept the experience going with a trip to Cutter & Squidge for their Genie's Cave tea. Descend into the cave, to discover a 'whole new world' adorned with golden stalactites and cozy seating. This tea is not for the claustrophobic, because the cave is a tight squeeze, but worth it!
A Genie's Welcome dish is presented upon arrival. Break through the meringue to reveal raspberry, pomegranate and pashmak with Turkish candy floss 'smoke' to release the genie. Tea arrives in golden lamps… but these are genie-free (I tried).
Although Cutter & Squidge is known for its sweets, the savory scone swirls, Desert Rose tart and finger sandwiches were a nice start to the tea. My favorite part were the golden cheese clouds, which are exactly what they sound like. We each received three, but I could have eaten about 10 of them (and by 10, I mean 30).
We worked our way up to the sweet tier, and things went from good to great. The raspberry & rose tart sprinkles with pistachio 'emeralds' and Cutter & Squidge's famous 24-carat gold decadent chocolate biskie were my favorite.
If you've got 'a friend like me,' treat them to this magical afternoon tea soon… it's only granting wishes until the end of March 2018!
The Potion Room Tea at Cutter & Squidge
£49.50 per person, £79.50 per person with two alcoholic drinks and a premium goodie bag
The Genie's Cave tea at Cutter and Squidge is no more, and I was skeptical that anything could top that experience. Cue the Potion Room. As a Harry Potter fan, I love all the magic-themed experiences in London (like The Cauldron Pub). The Potion Room is no ordinary afternoon tea… this is a class for students of witchcraft and wizardry.
Upon descending the steps to the Potion Room, students receive a cloak before taking a seat at an old-school wooden desk. The afternoon is led by a Potions Master, who remained in character the entire time with more than a few surprises up her sleeves. We loved the interactive nature of the tea, where a bit of magic went a long way to enhance the experience. This tea is £49.50 per person, but it's worth every penny. Get in soon, because just like the Genie's Cave, you never know when it may disappear!
Mary Poppins Afternoon Tea at Aqua Shard
£49 per person, £66 with a glass of Veuve Clicquot Yellow Label Champagne, and £72 with a glass of Veuve Clicquot Rosé
Just a spoon full of sugar helps the medicine go down! There's not a drop of medicine in sight, but there is plenty of sugar! The Mary Poppins-themed tea at The Aqua Shard does a great job of creating appropriately Poppins-esque treats. Every aspect of the tea tied in to something from the book. Whether the smokey flavor of Bert's tea, the nod to the Banks' family's home on Cherry Lane in the flavor of a mousse or the option of plum jam (Mary's favorite) with scones, I appreciated that they stuck to the theme!
My favorite part of the tea was the truffled egg salad sandwich and the crab sandwich. The savory dishes outshone the sweet courses on this one for sure.  At £49 + 12.5% service charge, this is one of the most expensive afternoon teas I visited. While the theme is practically perfect in every way and the view from the 32nd floor of The Shard is priceless, the price is a bit…supercalifragilisticexpialidocious.
Which of these unusual afternoon teas in London do you want to try first?
These afternoon tea experiences helped me to enjoy the most stereotypically London experience with a bit of magic. I don't think I'll ever be able to enjoy a typical afternoon tea after being spoiled with these fun experiences. Have you ever tried an afternoon tea with a modern spin?
Pin this post!